Two in custody after alleged DUI driver leads CHP on chase through South Bay
LOS ANGELES COUNTY, Calif. - Two people are in custody after a police chase involving a suspected DUI driver in Los Angeles County. SkyFOX was live over the chase. 
Reports of the pursuit came in around 4:30 p.m. in the Carson area. LASD told FOX 11 that the initial call was for a possible reckless driver under the influence. The California Highway Patrol took over the chase after the driver got onto the 405 Freeway in the Inglewood area.
The driver did get caught in traffic traveling southbound on the 405, going as slow as just 9 mph at some points.Even when the driver was in relative open air, they only reached speeds of around 30 mph.
The driver then exited the 405 via the Inglewood Avenue ramp, getting on surface streets. Once on surface streets the driver stopped at a red light temporarily, before continuing on, weaving through traffic and eventually blowing through red lights as they made their way into Hawthorne.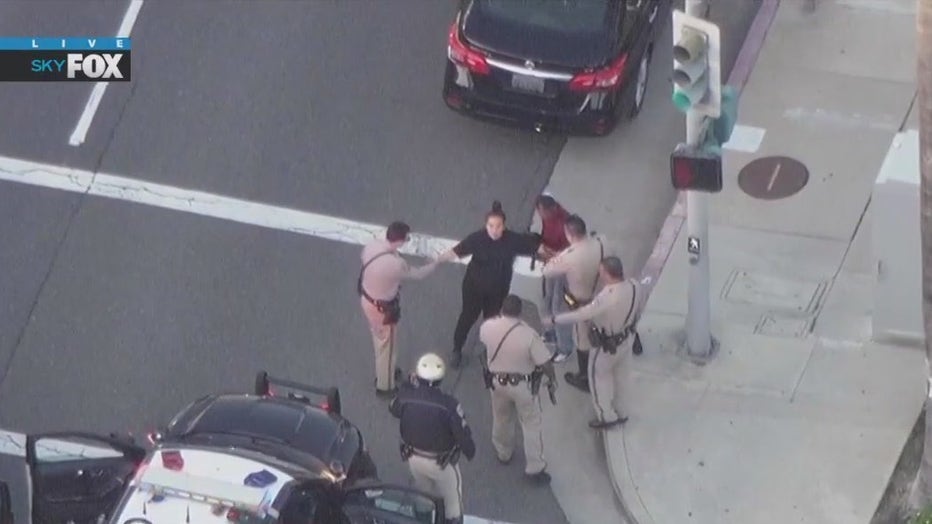 The driver then pulled to the right side of the road near the intersection of W 135th Street and Inglewood Avenue. Several moments later, a man and woman got out of the vehicle holding a dog.
LASD's Compton station told FOX 11 that they'd been informed about a "potential medical" emergency in the vehicle, but then the person refused medical treatment.
After the couple got out of the car, officers separated them and took the dog. Both the man and woman were detained.