Pilot killed after small plane crashes near Whiteman Airport in Pacoima
LOS ANGELES - The pilot of a single-engine plane has died after crashing into a residential area in Pacoima. 
The crash was reported just before noon Thursday at the intersection of Sutter Ave. and Pierce St., right across the street from Whiteman Airport.
The Los Angeles Fire Department says the crash caused two cars to catch on fire and damaged a third. The fire spread to trees and vegetation in front of a residential home, but firefighters were able to protect the house and moved the fire away from any downed power lines.
According to neighbors who live near the crash scene, the loudest sound was the plane exploding in front of their home, fiery pieces scattering all over.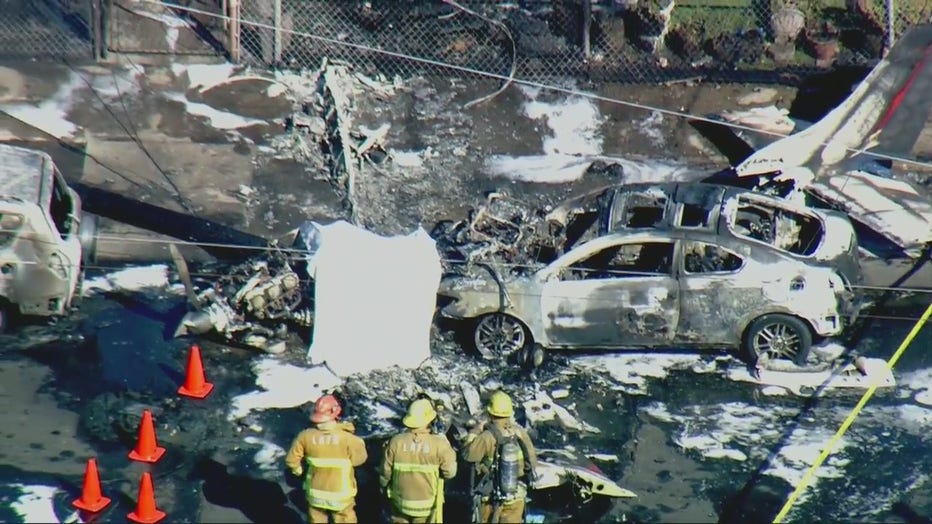 The plane was on approach to land when something went wrong. According to traffic scanners, the plane appeared to have lost engine power. 
The pilot was the sole occupant of the aircraft. No bystander was injured during the crash. Neighbors were shocked to see the scene and say all they heard was a loud boom.
Eva Avalos, 67, has lived in the tiny home across the street from Whiteman airport for 15 years, so she is used to seeing and hearing emergency plane landings on the runway. But this sound was different.
"It sounded like a car explosion," says her daughter.
Neighbors pulled Eva and her grandson out the back alley, uninjured.
FAA and NTSB officials are at the site off Sutter street, trying to piece together what happened. Residents here say that there are near misses, but usually inside the airport. It's been a while since one came this close to a home.
Luckily, Eva's place was not badly damaged. Even more fortunate is the fact that no one was sitting in the three cars which were badly burned.
Get your top stories delivered daily! Sign up for FOX 11's Fast 5 newsletter. And, get breaking news alerts in the FOX 11 News app. Download for iOS or Android.