Pedestrian dies after being struck by 3 separate hit-and-run drivers in West Adams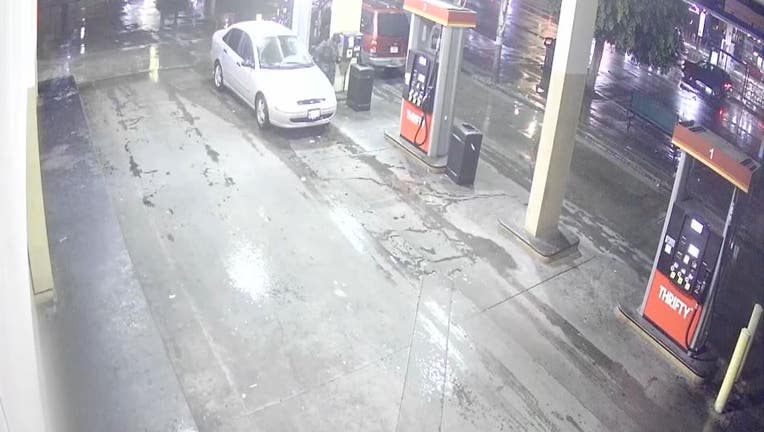 LOS ANGELES - Police are looking for the drivers who hit and stuck a 62-year-old pedestrian Thanksgiving night in the West Adams district. 
Police say the victim, Jihad Muhammad, was struck by three separate vehicles.
Muhammad was standing in the street outside a crosswalk in the intersection of Adams Boulevard and West View Street about 8:40 p.m. when he was struck by a car, possibly a white Audi A5, according to the Los Angeles Police Department.
Police say after he was struck and knocked to the ground a possible a possible white Cadillac Seville struck the victim as he laid in the street.
A good Samaritan tried to help Muhammad, but another vehicle, a possible white/gray Ford Focus, also struck the downed man, causing him to become lodged beneath the car, police said.
"That third vehicle continued eastbound on Adams Boulevard for several blocks before pulling into a gas station on the corner of Adams
Boulevard and Crenshaw Boulevard,'' police said. "The driver, an elderly black female, approximately 70 years old, pulled up to the gas pumps and exited ...to see what was under her vehicle.''
The woman then got back into the car and backed up, dislodging Muhammad, police said.
"The passenger of the vehicle exited, observed the victim on the ground, re-entered the vehicle and ... fled the scene, possibly eastbound on Adams Boulevard,'' police said.
Muhammad was pronounced dead at the scene.
Anyone with information that could help investigators identify the drivers are urged to call 424-298-7898 to speak with Detective Moreno, or 323-421-2500 to speak with Officer Lopez Del Haro.
Anonymous tips can be submitted through Crime Stoppers at 800-222-TIPS or lacrimestoppers.org.