Payment Protection Program loans may come with too many stipulations
HERMOSA BEACH, Calif. - The second round of federal stimulus money for small businesses is about to be doled out but when businesses do get that money to try to stay afloat, they run into a host of other problems. In our look at bringing back business, Sandra Endo explains how the PPP loan may come with too many stipulations.
The sand and the beach is what life is all about for former professional surfer Dennis Jarvis and his family. Jarvis is an award-winning surfboard shaper and owner of three Spyder Surf shops in the South Bay. But with the beaches closed, his cash flow is wiped out.
RELATED: Stay up to date on all coronavirus-related information
"It's been 37 years, and I've never seen anything like this," says Jarvis. "We're actually a 6-month-a-year business, and this is killing us."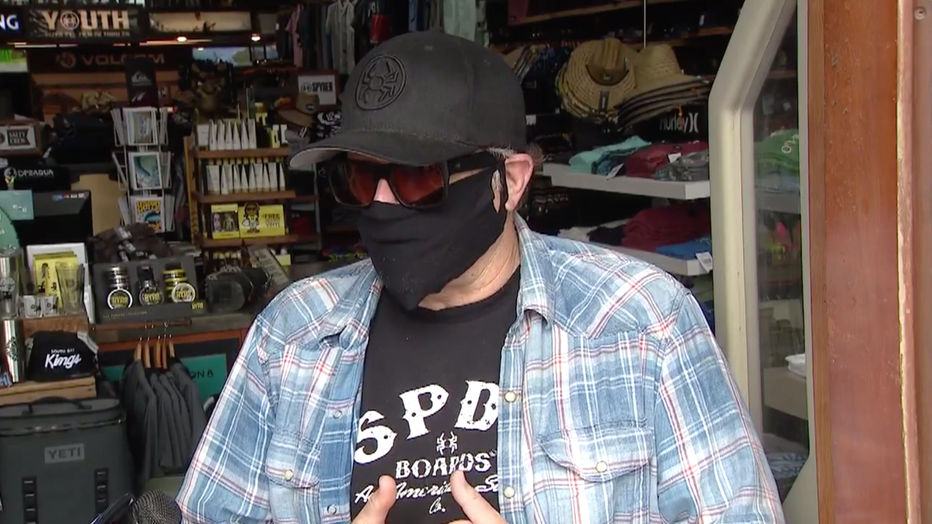 Dennis Jarvis, award-winning surfboard shaper and owner of three Spyder Surf shops in the South Bay.
He's talking about the federal Payment Protection Program (PPP), which hands out loans to small businesses. His bank notified him that he's been approved for funds in the second round, but the PPP comes with a lot of strings attached. 75% of the money has to go towards payroll, and 25% towards utilities and rent.
Jarvis says, "Once you get the check, you have 8 weeks to spend it. Well, it would be better if that was amortized over say six months. Our issue will be trying to pull some of our employees back into work when they're already getting this substantial check for doing nothing. And then, we're not even open, so we're going to be paying people for not working? It doesn't make any sense."
RELATED: Small business scored big, receives Paycheck Protection Program loan during first round
Many workers are collecting unemployment with an additional $600 a week pandemic subsidy through July, taking away a lot of the incentive to come back to work.
We talked to Doug Milnes, head of data analytics and marketing for MoneyGeek.com. Milnes says that for minimum wage workers or for those making up to $20 per hour in California, it's a better deal to be on unemployment than to be working right now.
Get breaking news alerts in the FOX 11 News app. Download for iOS or Android.
Jarvis says it feels like he's in competition with the government. Despite that fact, he's likely to get some PPP funding, but he's not in the clear and he may have to close one of his shops.
FOX 11 reached out to the Employment Development Department in charge of unemployment for a comment about this story. They responded with this statement:

"Under the federal CARES Act, the EDD automatically adds an extra $600 in federal funds to each week of unemployment benefits claimants qualify for between March 29, 2020 and July 25, 2020.  Benefits are paid on a bi-weekly cycle. The EDD has no information regarding a change to federal at this time.
While the usual requirement of "looking for work" has been waived since jobs are hard to come by right now, someone does have to remain able and available to return to work in order to be eligible to receive unemployment benefits. You can read more on our UI Eligibility Requirements page."