Orange County D.A. drops charges against Newport Beach surgeon, girlfriend citing 'lack of evidence'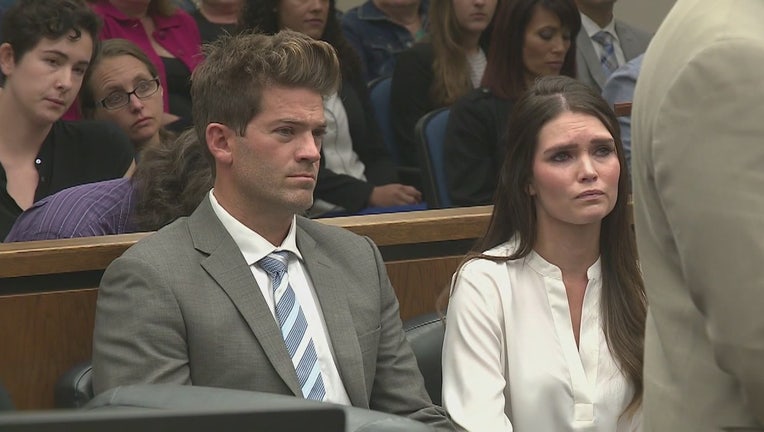 article
SANTA ANA, Calif. - Citing a lack of evidence and accusing his predecessor of mishandling the case, Orange County District Attorney Todd Spitzer said Tuesday he is dropping charges against a Newport Beach surgeon and his girlfriend who were accused of drugging and sexually assaulting multiple women.
Spitzer has long criticized the case against Dr. Grant Robicheaux and Cerissa Riley, claiming it was used for political gain by former District Attorney Tony Rackauckas during a re-election campaign. Spitzer said Tuesday a full review of the case by his office's executive team found a lack of evidence to proceed.
"There is not a single piece of evidence or video or photo that shows an unconscious or incapacitated woman being sexually assaulted. Not one," Spitzer said.
Spitzer also pointed to comments made by Rackauckas during a recent deposition in a lawsuit stemming from the case, in which the former district attorney conceded that he anticipated getting publicity by announcing the charges during his re-election campaign.
RELATED: 
• O.C. surgeon, girlfriend charged with drugging, sexually assaulting women
• New charges against OC surgeon, girlfriend accused of raping drugged women
"After the depositions, I was freaked out," Spitzer said. "I was very disturbed. I have the former elected and sworn district attorney of Orange County admitting that this case was used for campaign purposes."
Rackauckas previously told City News Service that while he conceded that the case was expected to generate publicity he did not approve the filing of charges to boost his re-election campaign.
In a lengthy news conference in which he walked through the origins of the case, Spitzer on Tuesday also accused Rackauckas of making a public "misstatement" that there may be more than 1,000 potential victims, a claim that prompted hundreds of phone calls into the district attorney's office.
Spitzer said his office will file papers this week seeking dismissal of the case. It was not immediately clear when a hearing would be held. The next court date in the case is Feb. 28, but prosecutors expect to move it up.
A hearing in a civil suit filed by one of the accusers and seeking $22 million in damages is scheduled for Friday.
Spitzer said he is willing to meet personally with all of the alleged victims in the case to discuss his reasoning for dropping the charges.
Robicheaux, 39, and Riley, 32, were charged with drugging and sexually assaulting multiple victims. Robicheaux was charged in connection with seven victims, while Riley was charged with five.
When the case was filed, Rackauckas contended the pair would take advantage of their good looks to meet women in restaurants or bars, then drug them and lure them back to Robicheaux's apartment, where they were sexually assaulted.
Defense attorneys previously pointed to Rackauckas' claim during a Sept. 18, 2018, news conference that investigators had "thousands of videos" in evidence that they said showed there could be "hundreds" or "more than a thousand" victims. The defense attorneys argued that prosecutors had not observed that number of videos at the time and none of them show evidence of rapes.
Spitzer said Tuesday his office's new review of the case backs that claim.
"I didn't create this situation, but it's my responsibility to fix it," Spitzer said.
He offered a public apology to the alleged victims, and also to Robicheaux and Riley.
"What happened to their lives and how this case materialized is nothing short of a travesty," he said.
Attorney Michael Fell, who represents one of the alleged victims, said his client is "absolutely devastated." She reported her allegations in 2018, Fell said.
"It's extremely disappointing, and extremely devastating to my client," Fell said.
Spitzer told Fell during the news conference that his client has credibility issues, referring to a driving under the influence conviction.
Attorney Philip Cohen, who represents the defendants, told reporters, "Needless to say, we are elated."
Cohen thanked Spitzer for what he characterized as an "incredibly brave and courageous" decision to dump the case. He said he sought meetings with prosecutors since Robicheaux's home was searched Jan. 9, 2018, but he was rebuffed. Cohen said he wanted to make his case there was a "dearth of evidence" to prove the claims against his clients.
Cohen said the publicity surrounding the case has "irreparably destroyed two lives." Robicheaux was a "world-renowned hand surgeon" who had a successful practice "that's gone" now.
"There are no patients, there is no work" for the doctor now, Cohen said. Robicheaux is fighting to save his medical license, the attorney said.
Cohen led the deposition of Rackauckas that elicited the statements Spitzer used to back his decision.
Spitzer said if not for the depositions, "I wouldn't know what I know," but he added he had "all kinds of mixed feelings about" such civil depositions being conducted concurrent with a criminal case.
Such depositions are "not a replacement for discovery," he said.
Cohen defended the tactic.
"It is my position that without that testimony I don't think this press conference happens today," Cohen said.
Cohen praised Rackauckas for his candor and showing up for the deposition without an attorney.
Rackauckas issued a statement denying allegations of wrongdoing on his part, and said he disagrees with the decision to toss out the case.
"I just feel terrible for the women who had the courage to come forward and give their evidence to the authorities in this case," he said. "... I just hope (the victims are) not being sold down the river for some twisted political motive."
He also said the women in the case should have been "afforded the dignity of being notified about the dismissal prior to today's press conference."
Rackauckas also pointed to what he called Spitzer's friendly relationship with one of the defense attorneys in the case, Scott Borthwick, questioning whether that friendship had a role in the decision.
"I hope the dismissal of this case was not based on the district attorney's relationship with one of the criminal defense attorneys, nor due to his political vendetta against me," Rackauckas said. "Even if all of his allegations against me and my former chief of staff were true, and they are not, the remedy should not be dismissal. My heart goes out to the women who had the courage to come forward with their complaint, because I believed their complaints based on the evidence I had before leaving office."
Spitzer acknowledged the friendship with Borthwick at the news conference, but said it did not play a part in his decision. He also noted he was friends with Fell, who attended Spitzer's wedding.