Officials push for Superfund designation for former Vernon battery recycling plant
VERNON, Calif. - Several elected officials gathered in Vernon Friday to push the Environmental Protection Agency to declare the former Exide battery-recycling plant a federal Superfind site. The designation would allow for federal funding to help clean up for at the plant that authorities said has leaked toxic and hazardous chemicals into thousands of properties in the area.
The Exide plant was home to a lead battery recycling facility, and operated for about 90 years before closing in 2015, according to the EPA. The company filed for bankruptcy in 2020, which resulted in the EPA taking over the decontamination and deconstruction of the building. That work was finished in May 2022, with the deconstruction of the lead processing smelter.
California authorities have said that the plant released toxic chemicals like lead, arsenic and mercury into more than 10,000 properties in Bell, Boyle Heights, Commerce, Maywood, East Los Angeles, Huntington Park and Vernon. The California Department of Toxic Substances Control has been dealing with the cleanup solo since May 2022. Elected officials visiting the site Friday said the cleanup efforts so far have not addressed the toxic chemicals at these other properties.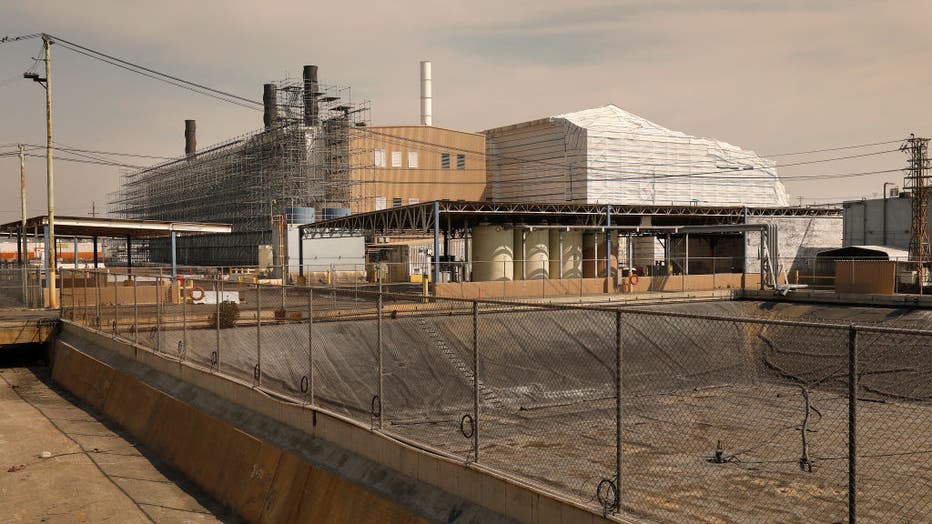 Portions of the Exide Technologies, lead-acid battery recycling plant located in Vernon are wrapped in white plastic. (Al Seib / Los Angeles Times
PREVIOUS COVERAGE: State calls for shuttered Exide plant in Vernon to be declared superfund site
"For decades, Exide dumped lead and hazardous contaminants into these communities without consequence, and it's clear to me that this community of neighbors, friends and families has been neglected by just about everyone involved," Sen. Alex Padilla, D-California, said in a statement. "There's been misstep after misstep and it's time to finally put an end to that and provide justice.
"I'm calling on the EPA to formally designate these impacted neighborhoods as a federal Superfund site to provide critical federal resources and expertise to make sure Southeast Los Angeles can count on a thorough cleanup that prioritizes the health and safety of everyone who lives here."
In 2015, the Department of Justice agreed not to prosecute Exide for violating hazardous waste laws if the company would shut down the Vernon plant and clean up the contamination in the area. When the plant closed, Exide pledged $50 million for cleanup of the site and surrounding area, but the bankruptcy settlement in 2020 allowed the company to abandon the facility. 
California is now required to pay the remaining money necessary for cleanup. In 2020, an audit found that many facilities including day care centers and schools hadn't yet been decontaminated, and only about 2,000 residential properties had been decontaminated. Now that number is closer to 4,000 officials said, meaning there's still a lot of work that needs to be done.
"As a father of two young children, we cannot let our soil be contaminated by lead where our children play," Assemblyman Miguel Santiago said in a statement. "Lead poisoning can lead to developmental delays and miscarriages. This is why I have been working nonstop with community leaders and passing legislation to increase funding, increase oversight and increase the speed of Exide's clean-up. As part of that, I am so happy to work with Senator Padilla's team to make Exide a Superfund site so we can expedite the cleanup and eliminate Exide's disastrous effect on our community once and for all."