OC Supervisors ask state to reconsider Santa Ana needle exchange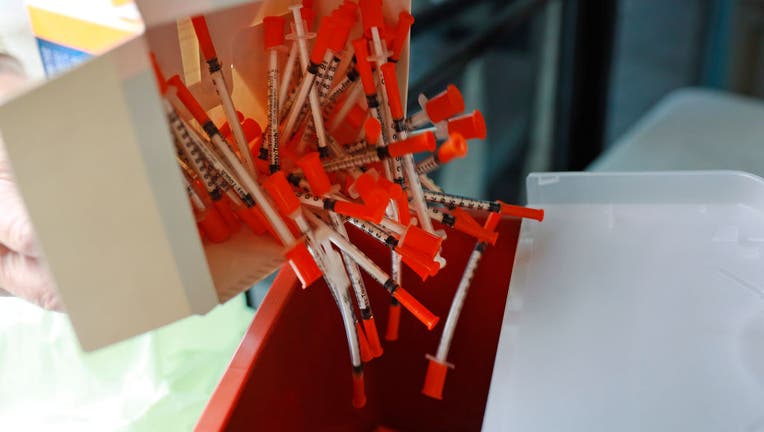 article
SANTA ANA, Calif. - Orange County supervisors voted Tuesday to ask state officials to reconsider a needle-exchange program in Santa Ana.
The program by the Harm Reduction Institute comes about five years after the county prevailed in litigation to halt another needle-exchange program based on arguments that it led to an increase of littering in the city.
"I know having been formerly the mayor of Santa Ana when we had the Orange County needle exchange program there were not only ancillary impacts, but direct impacts," Orange County Supervisor Vince Sarmiento said. "This effort is a noble one to make sure we reduce the dissemination of illnesses like HIV and Hepatitis C, but there have to be better practices. ... Until we find those better practices ... I don't see it yet. I just saw too many impacts that were too difficult to overcome."
SUGGESTED: Needle, Narcan handouts in Santa Monica parks spark outcry
The last time such a program was tried in 2018, "we found just thousands and thousands of needles in parks and schools and in our neighborhoods," Sarmiento said.
Orange County Supervisor Katrina Foley noted how Costa Mesa — when she was mayor -- joined the county's legal efforts to stop the needle exchange program.
"The court granted the injunction, but then the state decided to intercede and now we don't have the ability to prevent needle exchanges in our communities," Foley said.
Foley also noted how there were "tens of thousands of needles that were being left in the parks, community, on sidewalks and preventing the use of playgrounds."
She said "some were even landing in our flood district channels. ... I am not a fan of this program. I will do whatever I can to try to make sure that given we don't have a choice that it is operated in a way that does not increase the amount of littering in our community."
Supervisor Andrew Do noted how he "took the lead in initiating the lawsuit against the state" on the needle-exchange program in 2018.
"We faced a lot of criticism about discriminating against people and all that when we filed the lawsuit," Do said. "But there's one simple way to hold people accountable. If they're going to take on the initiative to hand out free needles then put their company's name on it. Put their nonprofit's name on it. It's easy, it's not that hard... But they don't want to be held accountable."
Do said the "legislature did an end-run around our (legal) victory and so here we are."
The supervisors on Tuesday voted to endorse a letter from the county's chief health officer, Dr. Regina Chinsio-Kwong, outlining multiple ways to administer the program.
Chinsio-Kwong, in her letter to the state, said the program in Santa Ana in late 2017 was "distributing over 80,000 syringes in a single day of operation, serving over 200 people in a single two-hour time frame, while disposing of only 20,000 used syringes per week."
Chinsio-Kwong recommended an "electronic efficient system" for the collection and disposal of syringes because past practices of a log of weighed needles in the past was "inadequate."
Chinsio-Kwong said each syringe should be stamped to show they came from HRI. She also said there should be expanded hotline hours for residents to report discarded needles and if the waste is not picked up within a day then the county should be able to pick it up and recover the costs for it.
Chinsio-Kwong also said the organization and its volunteers should have "strong knowledge" of the county's resources for substance abusers to help needle users address their addictions. She also wants more follow-up with the needle recipients to help encourage them to take advantage of substance abuse services.
"In my view, the current proposal submitted by HRI is lacking in adequate accountability for safe syringe disposal and syringe collection," Chinsio-Kwong said in the letter. "The estimated number of syringes HRI expects to collect is only 60% of what the organization expects to distribute."
Harm Reduction Institute and state officials did not immediately respond to requests for comment.