Obama, urging unity, says he's rooting for Trump's success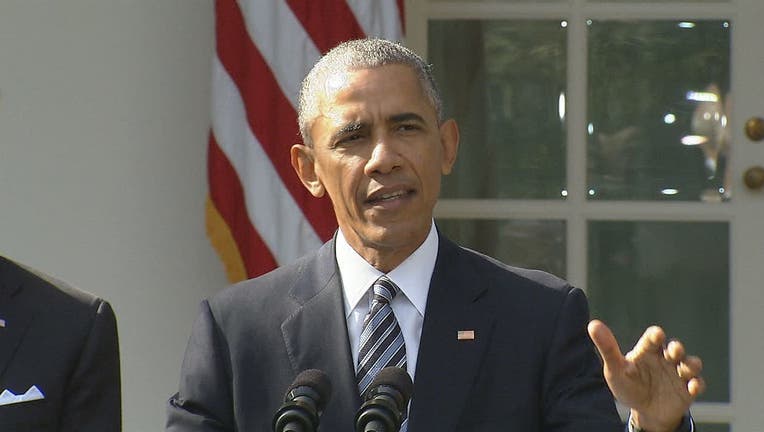 article
WASHINGTON - WASHINGTON (AP) -- In an awkward political ritual, President Barack Obama urged the nation Wednesday to join him in rooting for President-elect Donald Trump's success, even as he and his shell-shocked aides prepared to watch a successor undo much of their work.
Conceding Hillary Clinton's staggering loss, Obama vowed to do all he could to facilitate a smooth transition and to ensure Trump would be well-positioned to run the country when he takes office Jan. 20. In a brief conversation, he'd congratulated Trump by phone and invited him to sit down together Thursday at the White House.
"We all want what's best for this country," Obama said.
Obama delivered his sunny call for unity while standing in the Rose Garden, much as his predecessor President George W. Bush did after Obama's victory in 2008. It was a symbolic moment meant to signal the calm transfer of power from one president to the next.
But it was also a bit of counseling for devastated Democrats. Obama spoke to more than a hundred of his White House staffers, who stood silently, dazed, some crying, before breaking out into a prolonged round of applause that continued long after Obama returned to the Oval Office.
Obama made no direct reference to Trump's vows to erase much of what Obama has accomplished. He downplayed the notion that Trump's presidency would mean an about-face for the nation. He said the U.S. has a tendency to "zig and zag" rather than move in a straight line, and he added, "That's OK."
Obama remarks were striking after a campaign in which the Democrats declared Trump was unfit to serve and Obama told voters that "the fate of the republic" rested on defeating Trump.
The brief call between Obama and Trump in the wee hours of Wednesday, after Trump claimed victory, was a "warm conversation" and a "gracious exchange," Trump's campaign manager said.
Senate Majority Leader Mitch McConnell said Republicans would first target the heart of Obama's legacy, the health care law they have tried and failed to repeal since it was passed in 2010. With control of both chambers of Congress and the White House, they'll soon be in position to virtually gut it.
It's not clear exactly how Trump and GOP allies would go about it. But Republicans last year passed legislation that eliminated Obama's Medicaid expansion, government subsidies for insurance bought on marketplaces and some new taxes used to cover costs. The replacement would have increased the number of uninsured by about 22 million, according to nonpartisan analysts. Obama vetoed it.
White House officials said they could continue to make the case against repeal as they walked out the door. But they were largely left hoping that Republicans wouldn't follow through on their repeal pledge, once put in the uncomfortable position of taking away people's health insurance.
Other parts of Obama's legacy even more vulnerable, largely because he's relied on executive actions. A hefty list of Obama's initiatives rest on regulation, executive orders or unenforceable international agreements the next president is under little obligation to follow.
Trump has supported reinstating waterboarding and other extreme forms of torture that Obama banned. He's also vowed to tear up Obama's immigration actions and discard the Trans-Pacific Partnership trade deal Obama painstakingly negotiated.
The Republican has pledged to "cancel" U.S. participation in the international Paris climate change deal. Withdrawing would take four years under the terms of the agreement, but Trump could also decide to simply ignore its U.S. commitments to reduce carbon emission.
Trump has also criticized Obama's nuclear agreement with Iran. But he's suggested he wants to renegotiate it, rather than scrap it. It's unclear, though, how he might persuade Iran to accept less favorable terms.
But White House spokesman Josh Earnest tried to be optimistic, arguing it wasn't a given that Trump would follow through on vows to roll back Obama's key accomplishments.
"I think it is too early to tell what decisions Trump will make and what impact they will have in the priorities that President Obama has so proudly achieved," Earnest said.
___
Reach Josh Lederman on Twitter at http://twitter.com/joshledermanAP and Kathleen Hennessey at http://twitter.com/khennessey