Non-profit continues to furnish homes for former foster youth despite COVID-19 pandemic
LOS ANGELES - "I thank God for A Sense of Home" says 24-year-old Tiare Hill. She is now in a fully decorated apartment thanks to the non-profit that furnishes apartments for youth once in foster care.
When Hill says "I thank God for all of the people that came in" she means the volunteers that brought over a truckload of everything from a couch, to a bed, to a TV, to lamps, and artwork, even groceries for a month. They are all items that have been donated.
Many former foster youth have no family to help with hand-me-downs.
A Sense of Home founder, designer Georgie Smith says it's not just about a home set-up, what they call a home celebration. It's also about support and being seen. The organization has been nationally recognized.
Hill says when she emancipated from the foster care system at 21 she was homeless. She said she would couch surf, and sleep in laundromats or parks.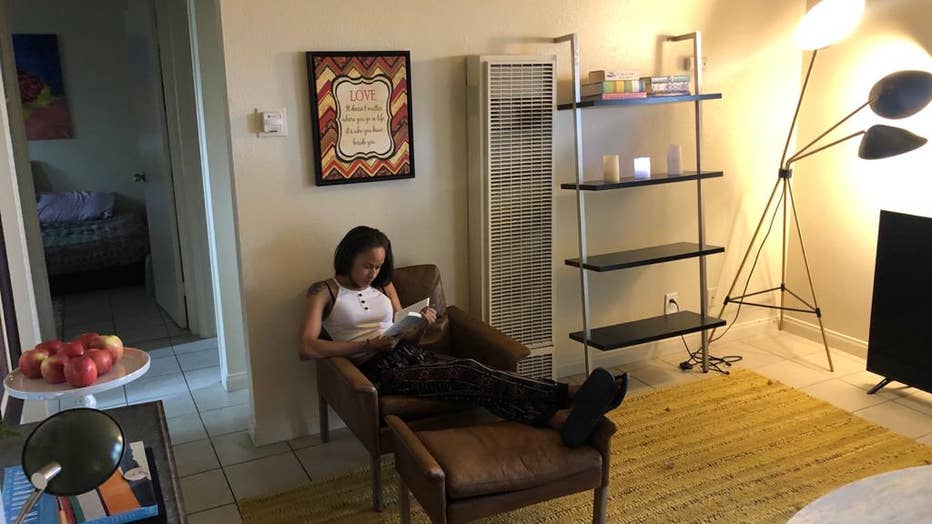 Now, she is in section 8 housing in Lynwood through transitional housing and is taking college classes. One of the requirements of the organization is that former foster youth are working or studying. A donor gave her a laptop which she'll surely need during on-line college classes due to the pandemic.
A Sense of Home normally has a flurry of volunteers at the Home Celebrations. With social distancing, Smith and just a few volunteers went in to set up Hill's apartment.
Youth now come to their warehouse to select their furnishings, delivery is made, and they do the set-up on their own.
Home furnishings are welcomed.
You can donate at https://asenseofhome.org/