Newport Beach to closes beaches on 4th of July after 2 lifeguards test positive for coronavirus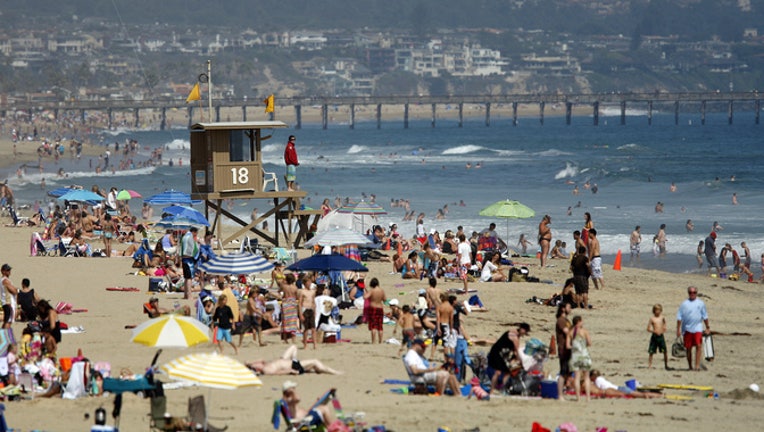 NEWPORT BEACH, Calif. - Newport Beach has announced its beaches will be closed on the 4th of July after two seasonal lifeguards tested positive for COVID-19.
After news of the confirmed cases, Newport Beach Mayor Will O'Neill called for an emergency meeting at 2 p.m. Wednesday to discuss closing the beaches in Newport Beach on the peak beach day of July 4 with the option, at the City Manager's discretion, to close for the entire weekend of the 4th.
The decision to close the beaches on the 4th passed by a 6 to 1 vote.
As a result of the positive cases among Newport Beach lifeguards, 23 lifeguards are under self-quarantine, so they would not be able to patrol the beaches over the Independence Day Holiday weekend. 
"It's a short-term loss for a long term gain," said a Newport Beach business owner in support of closing the beaches.
Get breaking news alerts in the FOX 11 News app. Download for iOS or Android.
Numerous community members called to voice their concerns during the emergency meeting. A large majority of the calls were in support of closing the beaches since the beaches at nearby counties will be closed prompting the fear that people from other counties would flock down to the Southern California coastal beach.
Nearby counties, Los Angeles and Ventura, both announced earlier in the week that their beaches would be closed for the weekend of the 4th in order to prevent large gatherings. The city of Laguna Beach also closed its beaches over Independence Day weekend.
RELATED: Laguna Beach to close its beaches on July 4 weekend as OC coronavirus cases surge
Those in support of keeping the beaches opened argued that social distancing outdoors is safer for residents than having to celebrate the holiday indoors. 
Earlier in the day, Gov. Gavin Newsom announced that all parking facilities at state beaches in Southern California will be closed for Fourth of July weekend.
RELATED: Gov. Newsom calls for immediate closure of indoor operations at sectors in 19 California counties
Newsom said Monday that Orange County, along with Solano, Merced and Glenn counties, had been added to the state Department of Public Health's watch list due to increasing percentages of positive coronavirus tests.
As a result of Orange County remaining on the list for three consecutive days, state officials were expected to recommend the closure of the county's bars. Prior to that recommendation, however, Orange County health officials announced they would be requiring all bars within the county to close.
RELATED: All Orange County bars ordered to close until further notice effective Thursday