NBA Draft: Wembanyama No. 1 pick with expectations of stardom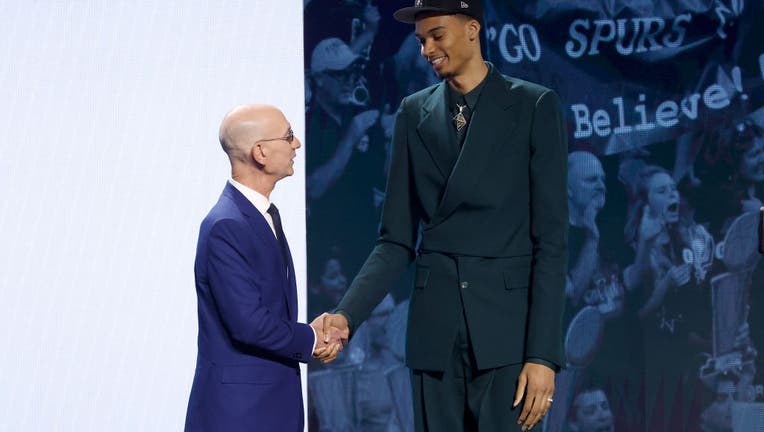 article
NEW YORK - Victor Wembanyama was the presumed No. 1 pick for months, the rare certainty in an NBA draft process that's often a guessing game.
Yet as the clock above the stage he was facing ticked all the way down to zero, butterflies set in.
"Longest five minutes of my life," Wembanyama said.
The San Antonio Spurs are confident he will be worth the wait.
The Spurs took the 19-year-old from France who arrives with enormous expectations to become basketball's newest sensation on Thursday night, triggering chants of "Wemby! Wemby" from a group of Spurs fans waving signs from the first row of seats in Barclays Center in Brooklyn.
Wembanyama comes with far more height and hype than most No. 1 picks. Listed at 7-foot-4, he dominated his French league in his final season there, leading all players in scoring, rebounding and blocked shots.
Now he makes the move to the NBA, perhaps as the best prospect since LeBron James came out of high school in 2003. Wembanyama brings a package of skills that seem perfect for the modern NBA and too vast for one player, with the size of a center and the shooting and ballhandling ability of a guard.
He teared up as he left the stage with his Spurs cap on and hugged his siblings, then joked afterward about how quickly he was handed a white-and-black No. 1 jersey with his name already on the back.
"Someone knew this was happening somehow," he said.
Just about everyone did.
Wembanyama was the center of attention throughout the draft process and sat in the middle of the green room — for the short time he was there, anyway. He smiled for young fans who screamed "Victor!" as he walked around the arena, even encouraging one to throw him a basketball that he signed and tossed back up into the stands.
The Charlotte Hornets took Alabama freshman forward Brandon Miller with the No. 2 pick.
Scoot Henderson of the G League Ignite, whose bling-filled jacket stood in sharp contrast to Wembanyama's solid green look, was the No. 3 pick by the Portland Trail Blazers.
It was during a two-game series between teams featuring Wembanyama and Henderson last October in Las Vegas that Wembanyama solidified himself as the main man in this draft, scoring 37 and 36 points in front of scouts and some future opponents. His highlights, such as a follow dunk of his own missed 3-pointer, became can't-miss content for basketball fans during the past season.
Wembanyama is the Spurs' third No. 1 pick and the first since Tim Duncan in 1997, which led to a stretch of five NBA championships through 2014 before they struggled in recent seasons.
He became the first international player drafted No. 1 without playing any college basketball since Andrea Bargnani in 2006 and ended a run of 13 straight years where a college freshman went first. Blake Griffin, a sophomore in 2010, was the last No. 1 who wasn't a one-and-done.
Henderson was originally considered the likely No. 2 pick before Miller passed him after his outstanding season for the Crimson Tide. But the 19-year-old believes the two years he played in the NBA's minor league has him more ready for NBA success.
"I'm the most prepared player in the draft. That's what I say," Henderson said. "The fact that I went there for two years just taught me so much. On the court, as well, but a lot of things off the court."
Draft history was made with the Nos. 4 and 5 picks. Twins Amen and Ausar Thompson of Overtime Elite became the first brothers to be selected in the top 10 of the same draft, with Amen going to the Houston Rockets and Ausar following to the Detroit Pistons.
"Means a lot to my family," Amen Thompson said. "We were going to be happy whoever went first. For us to go back-to-back, be the first twins to go back-to-back in the top five means a lot."
Anthony Black of Arkansas was taken sixth by Orlando, ending the run of three straight players who hadn't gone to college. But then it was right back to the international ranks when Indiana picked Bilal Coulibaly, Wembanyama's teammate with Boulogne-Levallois Metropolitans 92 whose stock soared in the postseason as the team reached the finals in the Pro A League.
The Pacers dealt Coulibaly's rights to Washington for Houston forward Jarace Walker, who was taken at No. 8.
The Nos. 10 and 12 picks were also swapped, with the Dallas Mavericks taking Kentucky guard Cason Wallace and dealing his rights to the Oklahoma City Thunder, who had taken Duke big man Dereck Lively II.
Gradey Dick of Kansas, whose dazzling red jacket resembled Dorothy's shoes from "The Wizard of Oz," went to Toronto with the No. 13 pick before Jordan Hawkins of national champion UConn was taken by New Orleans to end the lottery.
There were few trades in the first round, with the Utah Jazz making all three of their picks. They took Taylor Hendricks of UCF at No. 9, Baylor's Keyonte George at No. 16 and Brice Sensabaugh of Ohio State at No. 28.
The surprise of the first round was Villanova forward Cam Whitmore, projected to be a top-10 pick, falling to the Rockets at No. 20. Nick Smith Jr. of Arkansas went to Charlotte at No. 27 after being considered a lottery selection.
The NBA champion Denver Nuggets did not have a pick in the first round. The Miami Heat, who lost in the NBA Finals, took UCLA's Jaime Jaquez Jr. at No. 18.
Full Pick List
Round 1
San Antonio Spurs - Victor Wembanyama (Metropolitans 92)
Charlotte Hornets - Brandon Miller (Alabama)
Portland Trail Blazers - Scoot Henderson (G League Ignite)
Houston Rockets - Amen Thompson (Overtime Elite)
Detroit Pistons - Ausar Thompson (Overtime Elite)
Orlando Magic - draft Anthony Black (Arkansas)
Indiana Pacers - Coulibaly (Metropolitans 92) – Traded to Wizards
Washington Wizards - Jarace Walker (Houston) – Traded to Pacers
Utah Jazz -Taylor Hendricks (Central Florida)
Dallas Mavericks - Cason Wallace (Kentucky) – Traded to Thunder
Orlando Magic - Jett Howard (Michigan)
Oklahoma City Thunder - Dereck Lively II (Duke) – Traded to Mavericks
Toronto Raptors - Gradey Dick (Kansas)
New Orleans Pelicans - Jordan Hawkins (Connecticut)
Atlanta Hawks - Kobe Bufkin (Michigan)
Utah Jazz - Keyonte George (Baylor)
Los Angeles Lakers - Jaylen Hood-Schifino (Indiana)
Miami Heat - Jaime Jaquez Jr. (UCLA)
Golden State Warriors - Brandin Podziemski (Santa Clara)
Houston Rockets - Cam Whitmore (Villanova)
Brooklyn Nets - Noah Clowney (Alabama)
Brooklyn Nets - Dariq Whitehead (Duke)
Portland Trail Blazers - Kris Murray (Iowa)
Sacramento Kings - Olivier-Maxence Prosper (Marquette) - Reportedly traded to the Dallas Mavericks
Memphis Grizzlies - Marcus Sasser (Houston) - Reportedly traded to the Detroit Pistons
Indiana Pacers - Ben Sheppard (Belmont)
Charlotte Hornets - Nick Smith Jr. (Arkansas)
Utah Jazz - Brice Sensabaugh (Ohio State)
Indiana Pacers - Julian Strawther (Gonzaga)
Los Angeles Clippers - Kobe Brown (Missouri)
Round 2
31. Detroit Pistons - James Nnaji (FC Barcelona) - Reportedly traded to the Boston Celtics
32. Indiana Pacers - Jalen Pickett (Penn State)
33. San Antonion Spurs - Leonard Miller (G League Ignite) - Reportedly traded to the Minnesota Timberwolves
34. Charlotte Hornets - Colby Jones (Xavier) - Reportedly traded to the Sacramento Kings
35. Boston Celtics - Julian Phillips (Tennessee) - Reportedly traded to the Chicago Bulls
36. Orlando Magic - Andre Jackson Jr. (Connecticut) - Reportedly traded to the Milwaukee Bucks
37. Oklahoma City Thunder - Hunter Tyson (Clemson)
38. Sacramento Kings - Jordan Walsh (Arkansas)
39. Charlotte Hornets - Mouhamed Gueye (Washington State)
40. Denver Nuggets - Maxwell Lewis (Pepperdine)
41. Charlotte Hornets - Amari Bailey (UCLA)
42. Washington Wizards - Tristan Vukčević (Partizan Mozzart Bet Belgrade) 
43. Portland Trail Blazers - Rayan Rupert (NZ Breakers)
44. San Antonio Spurs - Sidy Cissoko (G League Ignite)
45. Memphis Grizzlies - Gregory Jackson II (South Carolina)
46. Atlanta Hawks - Seth Lundy (Penn State)
47. Los Angeles Lakers - Mojave King (G League Ignite)
48. Los Angeles Clippers - Jordan Miller (Miami)
49. Cleveland Cavaliers - Emoni Bates (Eastern Michigan)
50. Oklahoma City Thunder - Keyontae Johnson (Kansas State)
51. Brooklyn Nets - Jalen Wilson (Kansas) 
52. Phoenix Suns - Toumani Camara (Dayton)
53. Minnesota Timberwolves - Jaylen Clark (UCLA)
54. Sacramento Kings - Jalen Slawson (Furman)
55. Indiana Pacers - Isaiah Wong (Miami)
56. Memphis Grizzlies - Tarik Biberovic
57. Washington Wizards - Trayce Jackson-Davis (Indiana)
58. Milwaukee Bucks - Chris Livingston (Kentucky) 
The Philadelphia 76ers and the Chicago Bulls each forfeited their second-round picks for violating free agency rules, resulting in just 58 picks in the 2023 NBA Draft.