Murder suspects sue LA Sheriff, demand immediate release over COVID-19 concerns
LOS ANGELES - A coalition of prisoners rights organizations has sued LA County Sheriff Alex Villanueva demanding he releases any inmates at risk of dying from COVID-19 regardless of what their crimes are.
But, the sheriff says many of the inmates they want to be released are accused of serious felonies including murder and he's not letting any of them go.
FOX 11's Bill Melugin spoke to both sides
LA County Sheriff Alex Villanueva reacted to this lawsuit filed against him in state court on Wednesday by several prisoner's rights groups.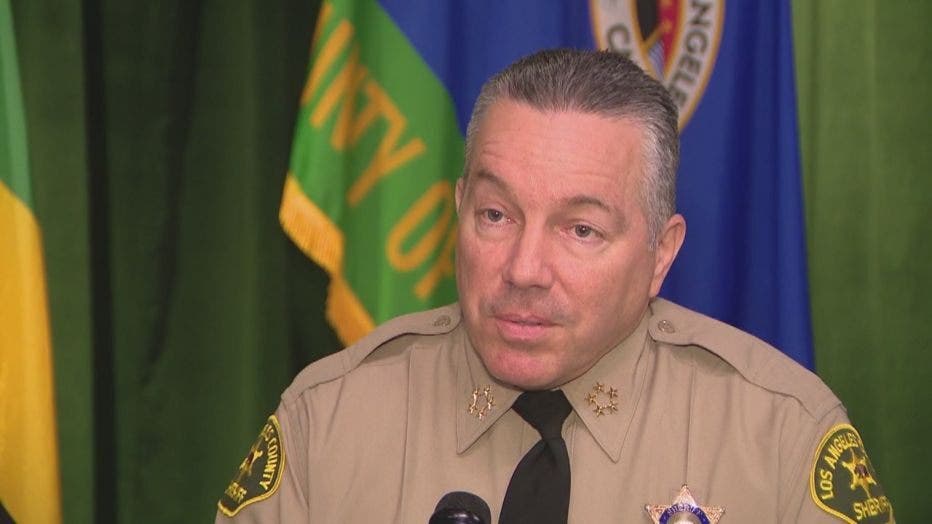 The lawsuit claims LA County jails don't adequately protect inmates from the spread of coronavirus and it demands the release of all inmates over the age of 55 or any inmate with a health condition that puts them at risk with COVID-19.
Dan Stormer is an attorney representing the plaintiffs.
Nine LA County inmates with underlying health conditions all are demanding to be released from custody…immediately.
"The goal of the lawsuit is to protect the now 12,000 prisoners from what could easily be death as a result of the coronavirus, Stormer said.
But the sheriff says…not so fast.
"That's the problem with their argument, because, among the plaintiffs, I understand there are several murder suspects, there's a carjacking suspect, there's one assault with a deadly weapon where they used a machine gun, these are some of the plaintiffs, and the average person on the street will say no, you can stay right where you're at in the jail, Villanueva said.
Get breaking news alerts in the FOX 11 News app. Download for iOS or Android.
Sheriff Villanueva tells me he's already released five thousand inmates with low-level offenses nearly 30 percent of the jail's capacity and he will not give in to the lawsuit's demands.
"We got rid of all the low-hanging fruit, we got rid of the misdemeanor crimes, people at the end of their sentence, we left behind the serious and violent felony offenses, he said.
The sheriff says some of the plaintiffs in the lawsuit are accused of murder, and other serious crimes, is that true, and how do you respond to that?
"Uh, my answer is yes that's true and so what!"
"The idea that you just say well they're a murderer so they deserve to die in jail to the COVID virus, it's nuts! he said.
Stormer says regardless of their crimes inmates have a constitutional right to have their health protected by the jail system.
"We've done everything physically possible to make sure we have defensible space, the adequate levels of medical care for the inmates, and then we can isolate and quarantine as needed. That''s ridiculous, that is a ludicrous statement of a man who clearly does not care for the safety of his prisoners."
The sheriff tells FOX 11 he will not be releasing the nine plaintiffs from custody nor does he plan to release anyone else from jail. He says there's a line you can't cross when it comes to public safety and these demands step well over that line.