Mother and daughter killed, grandmother seriously injured in Downey house fire
DOWNEY, Calif. - A young girl and her mother died during an apartment fire in Downey, fire officials said Wednesday and a woman believed to be the girl's grandmother remains in critical condition with burn injuries.
Firefighters responded to the two-alarm fire reported near Tweedy Lane and Dinsdale Street around 10:40 p.m. Tuesday.
At the scene, authorities located the grandmother outside the condo suffering from first and second-degree burns, officials said. 
The mother and her daughter were reportedly found in cardiac arrest in the bathroom on the second floor of the home, according to authorities.
"Fire conditions were extreme, making it difficult to search on the second floor. Both victims were reported to be unconscious on the second floor. The firefighters, when we do encounter something like that, we operate on what's called a rescue profile, where we risk our own lives to rescue someone else," said Downey Battalion Chief Jorge Villanueva.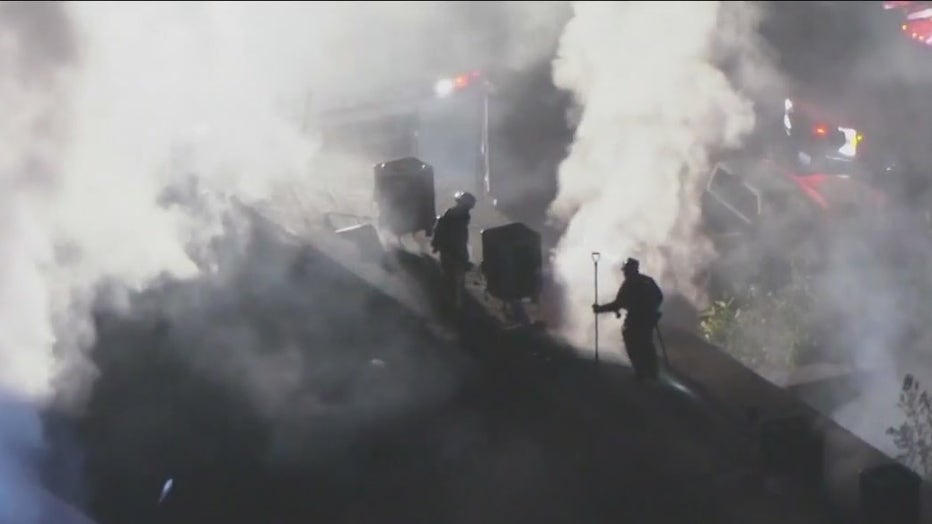 The mother was pronounced dead at the scene, fire officials confirmed. The young girl died at County-USC Medical Center, according to the fire department. The child was identified as 12-year-old Kayla Kaimimoku-Diaz, her mother has not been identified yet. 
The grandmother remains hospitalized.
Arson investigators were sent to the scene to determine what caused the fire.  
Fire officials said the blaze appeared to have started in the garage then spread to the actual apartment. The cause remains under investigation. Crews extinguished the flames in 25 minutes, and prevented them from spreading to adjacent units.
According to reports from the scene, the apartment did not have a Christmas tree inside.
City News Service contributed to this report.