Mom of autistic student killed in crash on campus believes son died due to negligence at school
ORANGE, Calif. - The mother of a special needs student killed in a campus golf cart crash announced Friday that she filed a government claim for damages against the Orange Unified School District in regards to the death of her son as a precursor to a lawsuit.
Emmanuel "Manny" Perez, who had severe autism, died on Monday after suffering major injuries in a golf cart crash on campus, school officials confirmed. The incident occurred at El Modena High School in Orange and school officials are calling it a "tragic accident."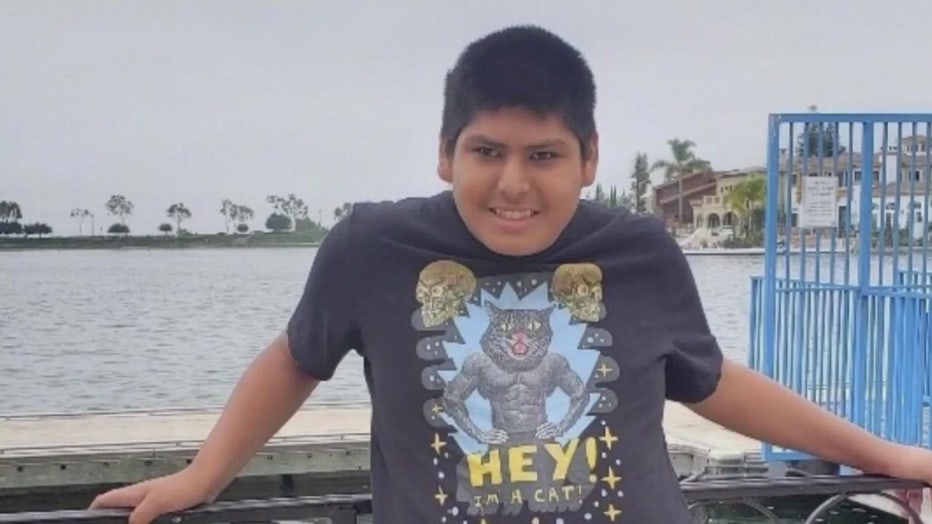 Manny's mother, Micaela Sanchez Corona, spoke to reporters Friday alongside her attorney, Robert Glassman, stating that they believe wholeheartedly that Manny died as a result of negligence by someone at the school.
"When you send your special needs son to a school he is not supposed to return home in a body bag. And based on what we know, it appears as though something dangerous and reckless happened on that day that caused this incident," said Glassman.
The Orange Unified School District said Manny ran away from his teachers and got into the golf cart. They said aids tried to get him out of the cart and tried to stop the speeding golf cart before it crashed.
Related: 
Glassman said school officials should never have let him near a running vehicle and claims the key was in the ignition when Manny got on the cart.
"This is an instance where you have a 15-year-old boy who has the capacity of a three to five-year-old, he's on the severe end of the autism spectrum, and the school allowed him and gave him access to a vehicle with a key in the ignition, with access to the pedals that could cause it to accelerate and cause great bodily injury or death, and that's unfortunately what happened a few days ago this week at the high school," Glassman said. "You don't leave a vehicle, whether it's a golf cart or any other type of running vehicle alone with a young a boy like Manny."
The attorney added that he hopes the school will take action and wants the golf carts locked up and safely stored so that students can't access them.
Glassman said the crash was captured on the school's security cameras, that video has not been publicly released.
"Once we get more information, I believe there's a video showing exactly what happened... that's going to answer a lot of questions for us," Glassman said. "But once we get that, we hope to work with the district and the family to make sure that Manny's name is preserved, that justice is made for Manny and that this doesn't happen to any other special (education) kid at that school or any other kid at any other school ever again."
When other students found out about the tragic accident they walked out of classes and held a protest claiming the school had failed the special needs student.
Now, they are demanding justice for Manny.
"They told parents that it was Manny's fault — like 'he's the was one that took off and it wasn't their fault for leaving him,'" a classmate told FOX 11. 
The Orange Unified School District superintendent's office released the following statement:
"We understand how difficult this week has been for many of our students. We sympathize with their frustration and sadness. Frankly, this anxiety is being fueled by unfounded rumors and misinformation on social media, and that is unfortunate. We continue to support our students, who are expressing grief in a variety of ways, and encourage them to meet with our on-campus grief counseling team. Our primary goal is to ensure the safety of all students at El Modena as we mourn the tragic loss of our student.''
FOX 11's Gina Silva contributed to this report.