US F/A-18 Hornet crashes near San Diego's Marine Corps Air Station Miramar
SAN DIEGO - A U.S. military aircraft crashed overnight near San Diego's Marine Corps Air Station Miramar, officials say.
A military spokesman told Fox News that one person was onboard the F/A-18 Hornet, and the crash happened in a remote area east of the base. As of midday Friday, the base said to Fox News Digital that the search for the person is still ongoing.
"We are aware of an accident involving an F/A-18 Hornet in the vicinity of MCAS Miramar at 11:54 P.M. PST," Marine Corps Air Station Miramar said in a statement. "This aircraft is not part of 3rd Marine Aircraft Wing but was operating out of MCAS Miramar. 
"The crash site is on government property east of the air station and there are no indications of damage to property on the ground," it added.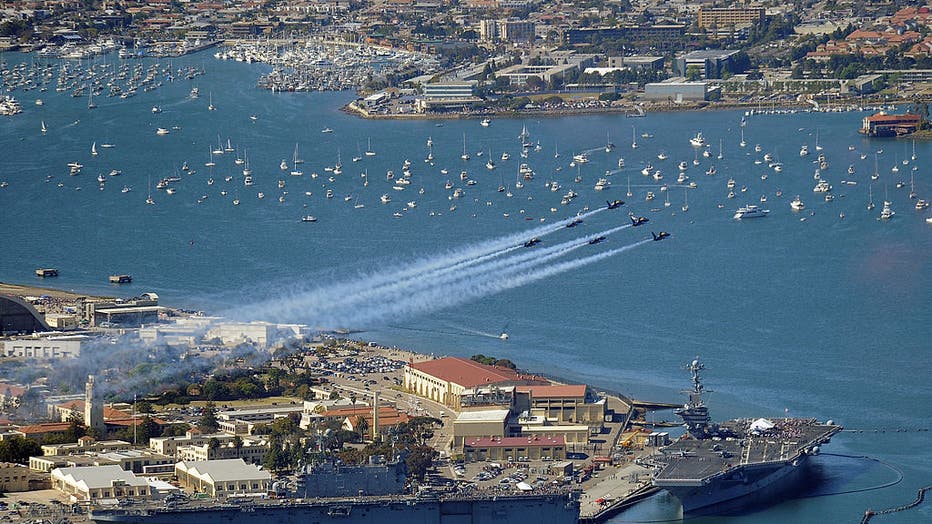 In this handout image provided by the U.S. Navy, a formation of F/A-18 Hornet strike fighters assigned to the U.S. Navy. (Photo by Mass Communication Specialist 2nd Class Roland A. Franklin/U.S. Navy via Getty Images)
The status of the individual is currently unknown.
The Navy says the "F/A-18 Hornet became the nation's first all-weather fighter and attack aircraft and was designed for traditional strike applications such as interdiction and close air support without compromising its fighter capabilities."
"The F/A-18 A-D is employed in Marine Corps fighter attack squadrons, U.S. Navy and Marine Corps Reserve squadrons, the Navy Flight Demonstration Team (Blue Angles), and various other fleet support roles," it also says.
It also described the aircraft as the "workhorse of Marine Corps tactical aviation and supports operational deployments around the globe.
"It will serve as the Marine Corps' primary bridging platform to the F-35 Joint Strike Fighter until its planned sundown in 2030," the Navy also said.