Memorial Day 2023: Tributes, events honor fallen heroes across LA County
LOS ANGELES - The first public event for Memorial Day at the Los Angeles National Cemetery since 2019 was held Monday, with Los Angeles Mayor Karen Bass among the speakers.
Bass recognized the service of fallen military members and discussed how the public can do more to serve veterans in need.
"Today is a day to remember all who have served, those who died on the front lines of war and those who died unhoused on our streets after returning home from serving this country," Bass said. "One thing is clear: Our gratitude can never match the sacrifice that they made."
SUGGESTED: Memorial Day: 5 things to know about the holiday, including its controversies
The program also included remarks by Maj. Gen. Evan Dertian, the commander of the Air Force Test Center at Edwards Air Force Base, music by the 300th Army Band and displays by Buffalo Soldier and Civil War reenactors.
The Canoga Park Memorial Day Parade also returned after a three-year absence, with an opening ceremony at the intersection of Sherman Way and Owensmouth Avenue.
The ceremony included a wreath laying at the Wall of Honor in memory of U.S. Air Force 1st Lt. Arthur "Skip" Bedal, a navigator aboard a B-26B Invader bomber killed with the other two crewman when it slammed into a mountain during a support mission for South Vietnamese troops against the Viet Cong on Aug. 16, 1963.
The crash occurred in the guerrilla-infested jungle of Quang Ngai province in central Vietnam, near the South China Sea. The crash was later attributed to mechanical failure.
Bedal's daughter Sheryl-Jo Bedal was the parade's Vietnam War honoree. She was 20 months old when her father was killed.
The 31st edition of the parade began at Sherman Way and Owensmouth Avenue and proceeded east to Cozycroft Avenue.
Its World War II honorees were 100-year-old Ethel Margolin, a WAC with the 8th Army Air Force; Barney Leone, a U.S. Navy Machinist Mate 2nd Class aboard the gasoline tanker USS Nemasket, who witnessed six Marines raising the U.S. flag atop Mount Suribachi during the Battle of Iwo Jima, depicted in an iconic photograph taken by Joe Rosenthal of The Associated Press; and Joe Weber, who also served in the U.S. Navy.
The Korean War honorees were Leon Martinez, who served in the U.S. Air Force, and Bill Bird, who served in the U.S. Army.
The parade included a flyover by a C-130J Super Hercules military transport aircraft and an appearance by members of the Naval Mobile Construction Battalion Three, better known as the Seabees, the specialized military construction unit created during World War II to support military operations. The unit has built airfields, schools and hospitals and repaired infrastructure.
The parade also included floats and musical groups.
The 50th Fiesta Days Parade in La Canada Flintridge began at Cornishon Avenue, then traveled east along Foothill Boulevard to Gould Avenue. The theme was "Golden Jubilee." The grand marshal was Miss LCF Royal Court Alumni.
Los Angeles County Supervisor Kathryn Barger, whose district includes La Canada Flintridge, was among the participants.
"As we enjoy the long weekend, I encourage everyone to take a moment to remember our fallen heroes, as well as those burdened with the loss of carrying on without their loved ones," Barger told City News Service. "We can also honor the lives of those who did not make it home by fulfilling our commitment to serve the veterans in our community.
"Every day, we must renew our promise to serve those who have served."
Barger's colleague on the Board of Supervisors, Janice Hahn, helped raise the American flag at the Memorial Day Observance at Green Hills Memorial Park in Rancho Palos Verdes.
The observance began at 10 a.m. and included skydivers, a procession of colors, including a mounted posse, civilian and military flyover and a performance by Navy Band Southwest. The keynote speaker was retired U.S. Army Col. David W. Sutherland, whose career included being commander of coalition forces in Diyala, Iraq and being the special assistant to then-Joint Chiefs of Staff Chairman Adm. Michael Mullen.
"The Memorial Day Observance at Green Hills Memorial Park is a cherished tradition for so many families, as we remember loved ones who served and made great sacrifices for our country," Hahn tweeted Monday. "I'm honored to share this day with them."
In Long Beach, the Honoring Our Fallen Memorial Day Reading of Names of the more than 7,000 Americans who have fallen in combat and training exercises since the 9/11 attacks as reported by U.S. Central Command was held at Rosie the Riveter Park, with a bagpiper tribute.
Members of Gold Star families, local active-duty military, law enforcement and first responders assisted in reading the names of the fallen in order of death as inscribed on the park's memorial wall.
The reading began at 5:45 a.m., and was organized by Honoring Our Fallen, a nonprofit organization that provides support for families of service personnel killed in the line of duty during the transfer of remains.
Los Angeles Archbishop José H. Gomez presided over a special outdoor Memorial Day Mass at San Fernando Mission Cemetery in Mission Hills, honoring the men and women who died while serving in the U.S. military.
"We pray for all those who are in harm's way today, in places all around the world. May the Lord protect them and bring them home safely to their families," Gomez tweeted.
Pregame ceremonies preceding the 6:10 p.m. Los Angeles Dodgers- Washington Nationals game at Dodger Stadium will include 30 veterans, active duty service members and first responders making an honor lap around the warning track on bicycles and a recognition for the 1st Battalion 9th Marines who served in Vietnam.
Like in all of Monday's games, all on-field personnel will wear the traditional memorial red poppy on the left side of their jerseys with "Lest We Forget" language included and there will be a brief moment of silence prior to the singing of the national anthem.
Memorial Day ceremonies and observances were also planned for Hawaiian Gardens City Hall, Lancaster Cemetery, Lacy Park in San Marino, Veterans Park in Lomita, Whittier City Hall, Acton Community Center, Cerritos Civic Center, Joshua Memorial Park in Lancaster, Paramount City Hall, Veterans Memorial Fountain in South Gate, Veterans Memorial Plaza in Pico Rivera, Veterans Park in Bell Gardens, Avalon Municipal Cemetery, Inglewood City Hall, Del Valle Park in Lakewood, Wilmington Cemetery, Huntington Park Community Center and at Hollywood Post 43 of the American Legion.
In his Memorial Day proclamation, President Joe Biden proclaimed Monday as a day of prayer for permanent peace, designating 11 a.m. in each time zone as a time during which people may unite in prayer, citing a 1950 joint resolution by Congress.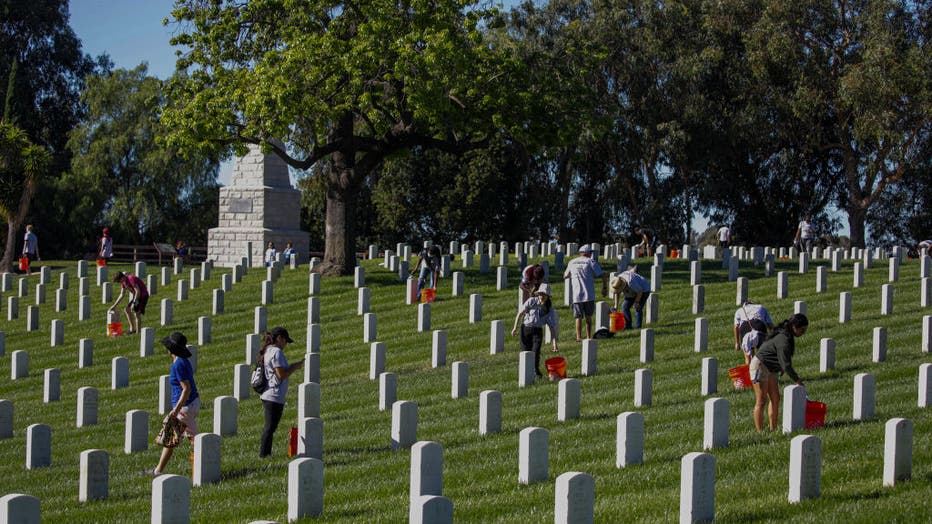 Los Angeles National Cemetery. (Irfan Khan / Los Angeles Times via Getty Images) (Getty Images)
Biden also asked all Americans to observe the National Moment of Remembrance beginning at 3 p.m. in each time zone under a bill signed into law in 2000 by then-President Bill Clinton. It was first held on Memorial Day in 2000 under a proclamation by Clinton in an attempt "to reclaim Memorial Day as the noble event it was intended to be, to honor those who died in service to our nation."
The Moment of Remembrance is a "way we can all help put the memorial back in Memorial Day," its founder Carmella LaSpada said.
Biden's proclamation also requested governors of all U.S. states and territories and the appropriate officials of all units of government to direct that the flag be flown at half-staff until noon on Memorial Day on all buildings, grounds and naval vessels throughout nation and in all areas under its jurisdiction and control.
Biden also requested the American public to display the flag at half- staff from their homes until noon Monday.
"On Memorial Day, we honor America's beloved daughters and sons who gave their last full measure of devotion to this nation," Biden declared in his proclamation. "We can never fully repay the debt we owe these fallen heroes.
"But today, we vow to rededicate ourselves to the work for which they gave their lives, and we recommit to supporting the families, caregivers, and survivors they left behind."
What became Memorial Day was first observed on May 30, 1868, as Decoration Day, a time for the nation to decorate the graves of the Civil War dead with flowers.
It was established 25 days earlier by Maj. Gen. John Logan, national commander of the Grand Army of the Republic, an organization of veterans who fought for the Union in the Civil War. It is believed that date was chosen because flowers would be in bloom all over the nation.
By the end of the 19th century, Decoration Day ceremonies were being held on May 30 throughout the nation. After World War I, the holiday was changed to honor Americans who died fighting in all wars.
The term Memorial Day was first used in 1882, became more common after World War II and declared the official name by federal law in 1967.
Memorial Day had been observed on May 30, until being moved to the last Monday in May in 1971 under terms of the Uniform Monday Holiday Act, which became law in 1968.