EXTRA's Melvin Robert and Jennifer Lahmers join Good Day LA anchor team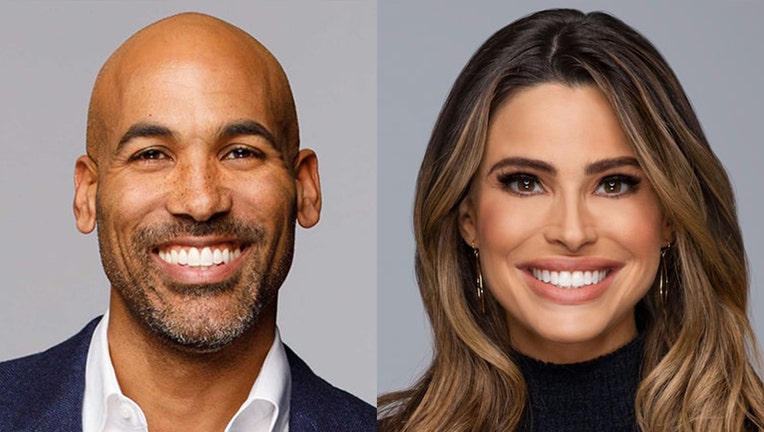 article
KTTV FOX 11 will debut a new anchor lineup for its "Good Day LA" morning show, announced station Senior Vice President and General Manager, Steve Carlston. Effective February 2023, Brooke Thomas and Bob DeCastro will anchor from 4 – 6 a.m., followed by Melvin Robert and Jennifer Lahmers from 6 a.m. – 9 a.m., and Araksya Karapetyan and Sandra Endo from 9 a.m. – 11 a.m. Lahmers, Karapetyan, Thomas, Endo and DeCastro will contribute enterprise news content throughout all seven hours of the "Good Day LA" newscast. In addition, Robert and Lahmers will continue in their roles for "EXTRA," which airs on the station weekdays at 7 p.m. and weekends at 6 p.m. With its expansions of "Good Day LA" and "FOX 11 News Special Report" in September 2022, the station now produces over 50 hours of news per week. 
In making the announcement, Carlston stated, "As we continue to enhance and grow our news product to meet the changing needs of our viewers, we are excited to enter this era with a group of versatile and engaging anchors. Adding Jennifer and Melvin to our already strong team will further integrate us with our partners at EXTRA, sharing access to events and interviews, and tying together our morning and evening programming." 
FOX 11 WEEKDAY PROGRAMMING LINEUP 
4 – 6 a.m. "Good Day LA" co-anchored by Brooke Thomas and Bob DeCastro
6 – 9 a.m. "Good Day LA" co-anchored by Melvin Robert and Jennifer Lahmers
9 – 11 a.m. "Good Day LA" co-anchored by Araksya Karapetyan and Sandra Endo
11 a.m. "SHERRI"
12 p.m. "The Jennifer Hudson Show"
1 p.m. "Dateline"
2 p.m. "25 Words or Less"
2:30 p.m. "25 Words or Less"
3 p.m. "Pictionary"
3:30 p.m. "Pictionary"
4 p.m. "TMZ Live"
5 p.m. "FOX 11 Five O'Clock News" co-anchored by Christine Devine and Elex Michaelson
6 p.m. "FOX 11 News Special Report" co-anchored by Elex Michaelson and Marla Tellez
7 p.m. "EXTRA"
7:30 p.m. "TMZ"
Melvin Robert is a native Californian, who has been a Senior Correspondent and weekend co-host at "EXTRA" since 2022. Previously, he was co-anchor of "Your Morning on Spectrum News 1," and host of "The SoCal Scene" on Spectrum News 1 SoCal. Prior to his career in television, Robert spent 11 years as a teacher, counselor, administrator, and consultant, serving a broad array of educational needs. A graduate of Loyola Marymount University, he holds a Bachelor of Arts degree in English, as well as, a Masters degree in Educational Studies, focused in Human Development and Counseling. 
Robert added, "Growing up in Inglewood, I built my morning television dreams watching the iconic 'Good Day LA' broadcast. I am humbled to carry on its legacy and am committed to earning the trust of the audience. It's an honor to serve a community that truly matters to me, filled with viewers who are my friends, family, and neighbors."
Jennifer Lahmers has been a Correspondent and weekend co-host at "EXTRA" since 2019. Prior to that, she spent 5 years at WNYW FOX 5 NY, where she served as a reporter for various station newscasts and co-host for "Good Day Wake Up."  Previously, Lahmers worked as a weekend anchor and weekday reporter at FOX61 in Hartford, CT, while also penning a weekly humor column for The Hartford Courant and a monthly column for New Haven Living. She began her career in broadcasting as a weekend news anchor and reporter at WBBJ-TV in Jackson, TN. Lahmers is a graduate of Ohio University's E.W. Scripps School of Journalism in Athens, Ohio. 
Lahmers added, "I am thrilled to return to morning news on FOX TV, with a network that has been my home for nearly a decade. I've had the privilege of being welcomed into viewers' homes in the evenings and will show Californians why I should be a part of their morning routines, too." 
KTTV FOX 11 LA and KCOP (recently rebranded as FOX 11 PLUS) are part of the FOX Television Stations, which owns and operates 29 full power broadcast television stations in the U.S. These include stations located in nine of the top ten largest designated market areas (DMAs), and duopolies in 11 DMAs, including the three largest DMAs (New York, Los Angeles and Chicago). Of these stations, 17 are affiliated with the FOX Network. In addition to distributing sports, entertainment and syndicated content, our television stations collectively produce over 1,000 hours of local news every week. These stations leverage viewer, distributor and advertiser demand for the FOX Network's national content.