McDonald's unveils shake for Grimace's Birthday, leaving social media users confused
CHICAGO - McDonald's has released a limited-edition purple shake in honor of the beloved franchise character Grimace – but the news has stirred up mixed reactions from social media users.
According to the fast-food giant, starting June 12, fans can buy the purple shake, which comes as a meal with a choice of a Big Mac or 10-piece Chicken McNuggets and French fries. 
"Get your party hat ready, 'cause we're celebrating Grimace's birthday," McDonald's wrote in a press release. 
But what does the purple drink taste like? Shortly after the announcement, there was confusion regarding its flavor.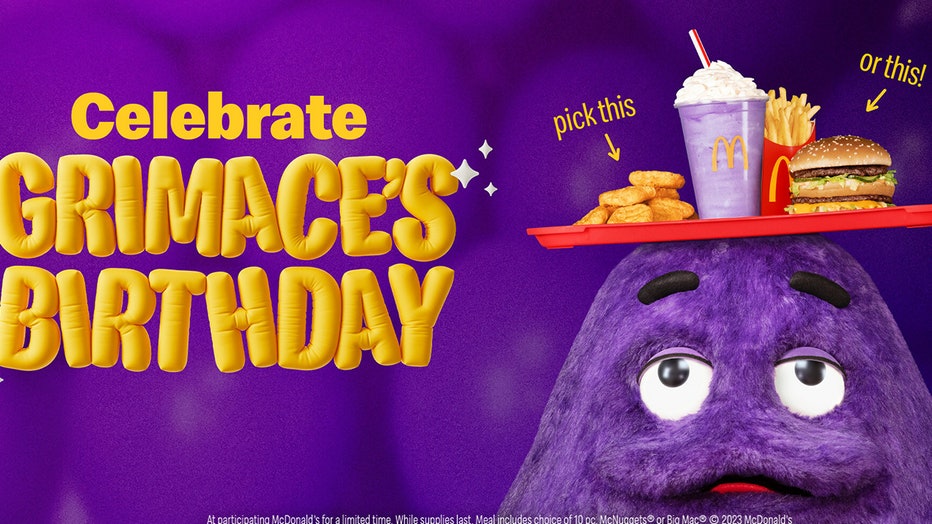 McDonald's celebrates Grimace's birthday with a special meal and shake (Credit: McDonald's)
According to McDonald's, the flavor was inspired by "Grimace's iconic color and sweetness," leading to jokes and questions about the mysterious shake.
In a TikTok video that has garnered more than 2.8 million views as of Monday, a McDonald's employee shows the Grimace shake being poured and then topped off with whipped cream.
Users were quick to comment about the flavor.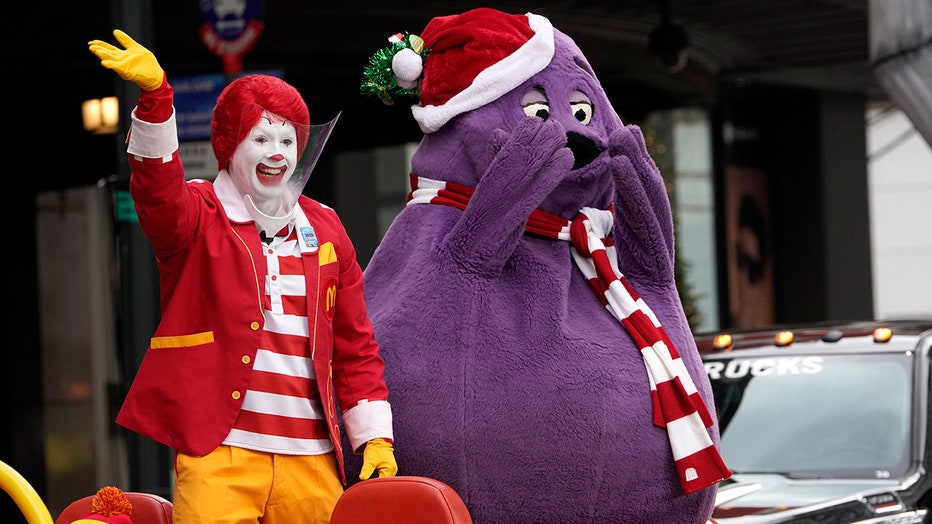 Ronald McDonald, Grimace -- (Photo by: Peter Kramer/NBC/NBCU Photo Bank via Getty Images)
"What does a grimace taste like?," one user wrote.
Another person chimed in, "What did they do to poor grimace?" 
Some users commented that the drink has a berry or blueberry flavor. Meanwhile, others noted its comparison to the purple ooze from the 2003 movie "The Cat in the Hat." 
Despite its flavor, Tariq Hassan, McDonald's chief marketing and customer experience offer said the company is excited to continue to drive their relevance with a new generation.
"Our fans have amazing childhood memories of their birthdays at McDonald's...and Grimace's Birthday is all about paying homage to the amazing, fun moments we all share," said Hassan. "Grimace is the perfect lovable icon to have McDonald's meet our fans at the intersection of nostalgia and culture."
In lieu of gifts, McDonald's said that Grimace fans can help drive a donation to a charity near and dear to Grimace – Ronald McDonald House Charities (RMHC). From June 13 – 14, fans can visit McDonald's Instagram story and share a picture of their favorite birthday memory via the "add yours" sticker. For every picture shared, they will donate $5 to RMHC up to $200k. 
About 30 years ago, McDonald's launched "McDonaldland," a fantasy world used in commercials to appeal to kids, featuring the characters Ronald McDonald, Grimace, Hamburglar, Sundae, Birdy the Early Bird, Mayor McCheese, Officer Big Mac, Captain Crook and the Professor. 
RELATED: Whatever happened to Ronald McDonald and the McDonaldland characters?
Grimace is a purple character who debuted in commercials as "Evil Grimace," a bad guy who tried to steal McDonald's shakes but was later rebranded as a good guy by the company, according to the Daily Meal.
Last week, McDonald's announced its partnership with Squishmallows to bring a "360-degree experience" to each Happy Meal, according to the toy brand's parent company Jazwares. 
RELATED: Meet the newest McDonald's Happy Meal toy: Squishmallows
There will be a total of 24 Squishmallows characters to collect, the release said, and each McDonald's location will reportedly feature 10–12 characters. Fourteen of them come with an exclusive playlist from Universal Music Group that matches the Squishmallow's personality that can be accessed via a QR code.
This story was reported from Los Angeles.