Mark Wahlberg says leaving Hollywood for Las Vegas gave children 'chance to thrive'
Mark Wahlberg joined the ongoing celebrity exodus from Hollywood last fall when he moved his family to Nevada. 
The 51-year-old actor, who recently celebrated the opening of his second Wahlburger's restaurant location on the Las Vegas Strip, says he relocated to provide a better life for his children.  In an interview with Fox News Digital, Walhberg raved about the move's positive impact on them.
"It's really giving the kids a chance to thrive," the "Father Stu" star said.
"It just has the best of both worlds. I know a lot of people, when they think Las Vegas, they think the Strip. But just about 15, 20 minutes away, there's a whole lot of other amazing areas that are all about family and community."
Wahlberg shares daughters Ella, 19, and Grace, 13, and sons Michael, 17, and Brendan, 14, with his wife Rhea Durham, 44. In April 2022, he listed their lavish Beverly Hills estate for $87.5 million and later purchased a home in the exclusive enclave of The Summit Club in Summerlin, just outside of Las Vegas.
RELATED: Brad Pitt sells LA mansion, moving to this beach town: report
The Boston native told Fox News Digital the move was "really about giving the kids an opportunity to pursue their goals and dreams."
"My daughter's an equestrian," he added. "My son's a golfer. My oldest daughter, now she's off to college. My son's a junior.
"There's lots of opportunity here as well for me. We're trying to create a studio. We're trying to build the shoe factory. We want to create lots of jobs here."
During an appearance on "The Talk" last October, Wahlberg revealed his ambitious plans for his new home city. 
"I moved to Nevada where, after this gubernatorial election, hopefully it will go to legislation and get a bill passed so we can get a tax credit for the state — build a state-of-the-art studio here and make this Hollywood 2.0," he said.
The "Boogie Nights" actor, an investor in the sneaker resale marketplace, StockX, also shared his aspirations to build a shoe factory in Sin City and a factory for his apparel line, Municipal.
Wahlberg told Fox News Digital he was excited about his future in Las Vegas. 
"We're always looking for new opportunities and new adventures," he said. "I hope to create of a lot of opportunity here. And I moved to California originally to make movies. I've made three movies in the last 15 years in LA. So, as you know, it's been difficult.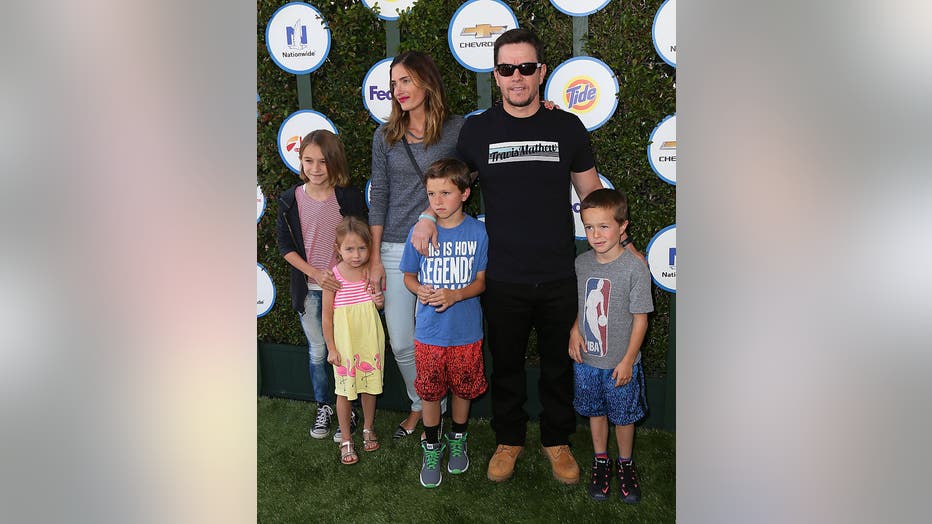 Actor Mark Wahlberg, wife model Rhea Durham and children attend Safe Kids Day presented by Nationwide at The Lot on April 26, 2015 in West Hollywood, California. (Photo by David Livingston/Getty Images)
"The kids are really happy, and it's all about them."
The former "Marky Mark and the Funky Bunch" star said it was still "absolutely" his goal to turn Vegas into "Hollywood 2.0." In addition to his on-screen film and TV career, Wahlberg has also enjoyed success behind the camera. He served as executive producer for five HBO series, including "Entourage," "Boardwalk Empire," "How to Make It in America," "Ballers" and "McMillions."
Wahlberg explained that he was hoping to enlist the help of Nevada's newly elected Republican Gov. Joe Lombardo to further his plans for a Vegas-based film studio.
"There's lots of opportunity for growth here," he said. "And the government, especially our new governor, is really looking for opportunities to create jobs outside of gaming. So we're looking to create 10,000 jobs on the studio alone. The average salary would be $100,000 more than what it is now. We want to train people both in front of and behind the camera, create jobs, most importantly, first and foremost, for locals.
"And then, after that, I think we can attract a lot of people," he said. "The housing market is great."
Wahlberg detailed some of the advantages of residency in income tax-free Nevada, where the cost of living is cheaper than California. He cited the personal experiences of a group of his employees who moved to Vegas with him.
"When I moved here, I brought probably like 15 or 20 people that work with me also moving here," Wahlberg said. "They went from three-bedroom houses that they were really struggling to pay rent for. And now they have a six-bedroom house. And it's, you know, half the cost."
"And, you know, they walk their dogs," he continued. "They're in a gated community. They've got the school right there two blocks down the road.
"It's just a much better lifestyle here and more affordable."
On Monday night, Wahlberg hosted a red carpet event for the grand opening of the second Vegas Wahlburgers location at the Shoppes at Mandalay Place inside the Mandalay Bay Hotel. The casual dining burger restaurant and bar chain was founded by Wahlberg and his brothers Donnie Wahlberg and Chef Paul Wahlberg in 2011.
In 2016, the first Las Vegas Wahlburgers opened at the Grand Bazaar Shops at the Horseshoe, which was formerly Bally's. 
On the red carpet, Wahlberg and Chef Paul were presented with the Key to the Strip. Ahead of the celebration, Wahlberg told Fox News Digital opening the restaurant at Mandalay Bay was "really exciting."
"It's actually a location that I happened to find with some of my friends that worked both at MGM and Mandalay Bay," he said. "Our first restaurant in Vegas, the Horseshoe, is our largest revenue earner in all of our 90 something restaurants in the portfolio. So it's a great market for us.
"What we find is that people from all over the country and people from all over the world who have had Wahlburgers and want a taste of home end up gravitating towards those locations. So it's really exciting."
Wahlburgers now boasts almost 100 locations across the United States, Canada, Australia and New Zealand. From 2015 to 2019, Wahlberg starred alongside his brothers and other members of their family, including Durham and Donnie's wife Jenny McCarthy in the A&E reality series "Wahlburgers." 
The show followed the development of the business and the lives of the Wahlberg family for 10 seasons. In his interview with Fox News Digital, Wahlberg reflected on whether he knew the chain would become so successful.
"I did, and I didn't," he admitted. "I obviously had a huge belief in my brother Paul as a chef and his culinary skills, which is why we decided to do the restaurants in the first place.
"Having 97 locations — we're now in Australia, New Zealand — it's hard to predict that kind of growth," he added. "I mean, we have a huge business with our retail beef at home. The show was obviously a great marketing tool for us to not only kind of show what we were trying to create as a family, but also it really gave people an opportunity to feel like they were a part of the growth of the business from its infancy and to where it is today. It was great to build the brand, great to have that kind of brand recognition."
Despite his involvement with numerous other business ventures, the two-time Academy Award nominee said he's always keeping an eye out for great acting projects. 
Wahlberg said he would still love to work with "the Steven Spielbergs of the world, the Meryl Streeps of the world, but also the next generation."
"I'm always looking for the next generation of filmmakers and talent. There's so many amazing, talented people out there. I'm always constantly looking at small films, foreign films, independent work, and I'm trying to find the next thing."
Though Wahlberg has established a decades-long career as an actor, he told Fox News Digital he is willing to audition for roles and prove himself.
"I don't mind auditioning, proving that I'm the right guy for the part, but hopefully somebody will give me a job and give me a chance," he said.
"I've had the same attitude since the late great Penny Marshall gave me my first job," he said. The late director and "Laverne & Shirley" star has been credited with launching Wahlberg's Hollywood career when she cast him as a lead in her 1994 comedy "Renaissance Man."
"If anybody's willing to take a chance on me, then I promise you I'm going to do everything that I can to be the most prepared and deliver the best. What they're looking for, what my ideas and vision for the material might be, and hopefully then that just leads me to getting another job.
"But I've had that same kind of work ethic that I've had since the very beginning, and it's worked for me. My kids are like, 'Wow, Dad, you don't have to work so hard,' or somebody else is like, 'You know, why don't you take it easy?' I'm like, 'You know what? I'm very, very appreciative of what I have, and I don't want to change what I've done to get here.'"