Man with dementia missing for weeks after being dropped off at a Torrance gas station by CHP officers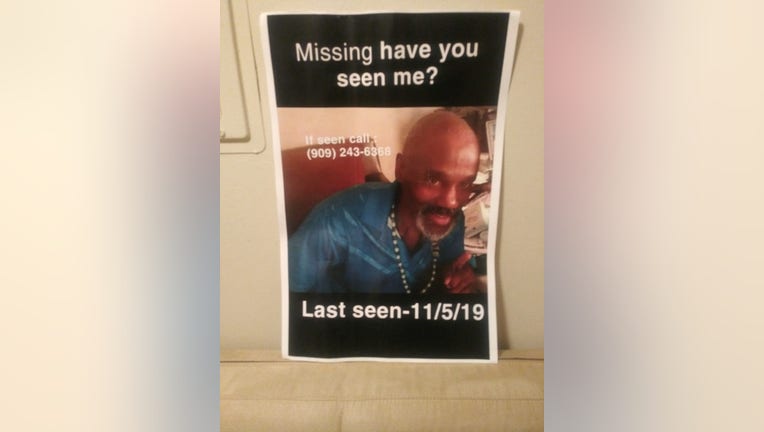 LOS ANGELES - A family is pleading for help after their loved one, who suffers from dementia, went missing after being dropped off at a gas station in Torrance by California Highway Patrol officers. 
Relatives of Douglas James, 62, say he was dropped off by CHP officers at a gas station after his twin brother was arrested on suspicion of DUI.
His relatives are questioned the actions of the CHP officers, saying they should have taken him home.
"Take him down to the station, let him call somebody,'' his son, Donte, said during a downtown Los Angeles news conference. "If you call
me, I'm gonna rush down there. And I feel like that's the right thing to do. You know, he can't get home on his own.''
According to the family, James was a passenger in a car being driven by his twin brother, Donald, on Nov. 5, when they were stopped by the CHP and Donald was arrested on suspicion of driving drunk.
"I explained to them (the officers) very clearly that my brother had Alzheimer's and dementia, and I said to please take him home, and they said they would. And they didn't,'' Donald James said Thursday.
Instead, the family contends, the CHP officers dropped Douglas and his dog, Teddy Bear, at an ARCO gas station in Torrance -- 12 miles from their home in South Los Angeles. James hasn't been seen since, although the dog was found five days later in the Wilmington area., the family says.
Donald James said that after his arrest, officers drove him back to the apartment he shares with his brother, but Douglas wasn't there. He said he "went looking all that night, the next morning, the next day, and I've been looking up until this day now.''
Mark Ravis, an attorney for the family, said relatives have "been calling all the hospitals and the morgue every day to see if there's any sign of him.''
CHP officials issued a statement saying Douglas James was able to communicate clearly with the officers, who followed policy by dropping him off in a safe, public place. But the CHP said in light of the family's concerns, the agency is reviewing the officers' actions.
Donte James said his father can give people his name, but likely would not be able to recite his phone number or even properly work the phone he had in his possession.
"I don't know if he's eating,'' Donte James said. "He's not clothed properly for the weather. You know, it's gotten cold and it's been raining. I'm just worried about his health.''