Man killed, two women injured outside Hacienda Heights house party
HACIENDA HEIGHTS, Calif. - A man was killed and two women were injured after shots rang out outside a house party at an alleged Airbnb rental in Hacienda Heights early Monday morning, police said. 
Authorities received multiple calls about a man who had been shot in the 15300 block of Manzanita Drive. 
A witness was walking his dog when he heard "an AK-47 open up," and saw a man deceased on a front lawn. 
Arriving deputies with the Los Angeles Sheriff's Department located a 33-year-old man with gunshot wounds to his upper torso. He was pronounced dead at the scene.
His identity was not immediately released. 
While at the scene, deputies became aware of a house party at an apparent Airbnb rental in the 1700 block of Vallecito Drive. Deputies had responded to the home earlier due to a noise complaint from a neighbor. 
As two women in their 20s were leaving the party, a dark sedan approached and fired several rounds, said Deputy Trina Schrader with LASD. 
One of the victims suffered a gunshot wound to her upper torso. She was taken to a hospital in stable condition.
The third victim was treated at the scene for minor injuries, sheriff's officials said. 
The home, located near the intersection of Turnbull Canyon Road and Los Robles Avenue, is advertised as a "luxurious villa," on Airbnb and lists for $539 per night.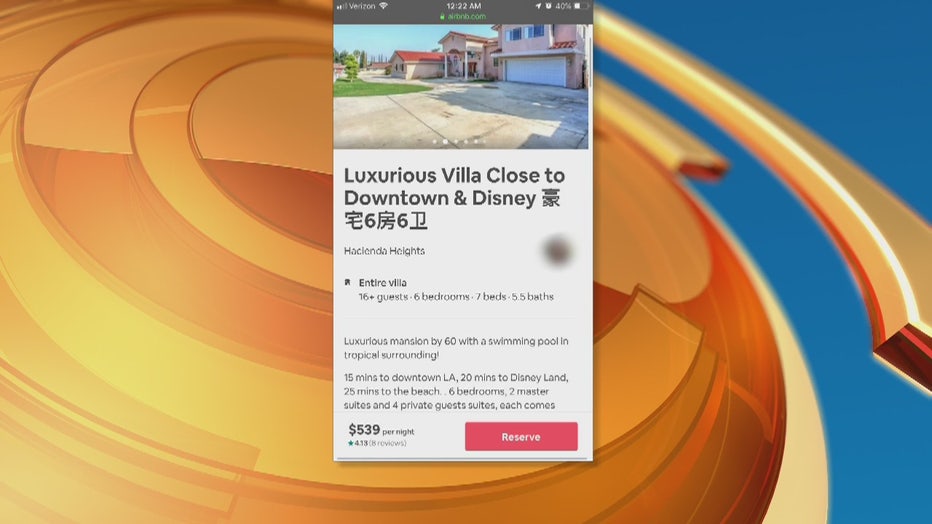 Neighbors have expressed their concerns about noise levels and an increase of violence in the neighborhood due to the rental property. 
The suspects were last seen leaving in a dark sedan.
Police believe 2-3 suspects were involved and a detailed description of the suspects was not available.