Man fighting for life after vicious road rage incident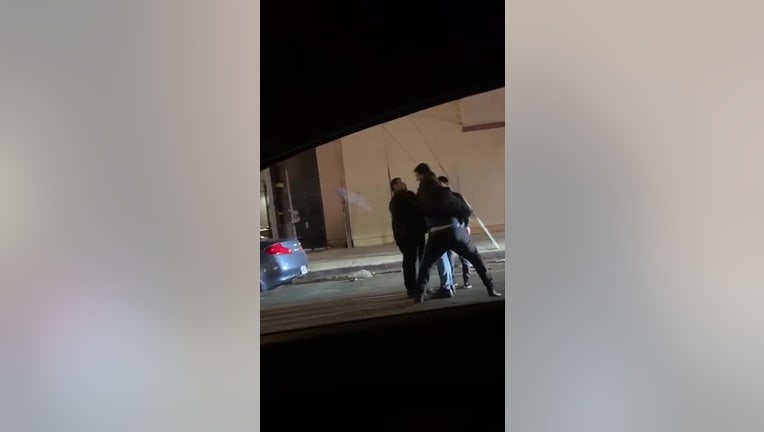 article
LOS ANGELES - A man severely injured during what's being described as a road rage incident has not regained consciousness since the incident and LAPD detectives are on the hunt for the suspects of this heinous crime.
The incident happened on Jan. 1, 2020 at about 9:30 p.m. in the area of Woodman Avenue and Victory Boulevard in Valley Glen.
Los Angeles police say the victim was in his vehicle and had stopped at a red light facing south on Woodman Avenue at Victory when the suspect vehicle, which was driving erratically, got behind the victim's car and followed the victim. The victims and suspects pulled to the curb and got out of their cars and an argument quickly erupted, according to police.
LAPD released a cell phone video showing what happens next. During the confrontation, one of the suspects punched the victim on the head causing him to lose consciousness and fall to the ground. The suspects then ran back to their car and drive off south on Woodman Avenue from Victory Boulevard.
The victim, who has not been identified, was taken to a local hospital by L.A. Fire Department paramedics where he remains unconscious.
Detectives are asking the public for help identifying and locating the suspects responsible.
The first suspect responsible for punching the victim, and the driver, is described as an Armenian man, shorth black hair, 5-feet 10-inches tall, 150 pounds, 20-30 years old, wearing a black sweatshirt, white shirt, and black pants.
The second suspect is described as an Armenian man with black hair, 6-feet 1-inches tall, 170 pounds, 20-30 years old, wearing light blue pants and a dark jacket.
The third suspect is described as an Armenian man with black hair, about 5-feet 9-inches tall, 140 pounds, 20-30 years old, wearing a dark jacket, white shirt, and dark pants.
The suspects were seen driving a black Jeep with tinted windows and California paper plates.
Anyone with information about this case is asked to contact LAPD-Van Nuys Detective R. Secor at 818-374-0062, or 1-877-527-3247 during non-business hours. Anyone wishing to remain anonymous may call L.A. Regional Crime Stoppers at 1-800-222-8477.