Los Angeles burial crypt near Marilyn Monroe, Hugh Hefner on sale for $2 million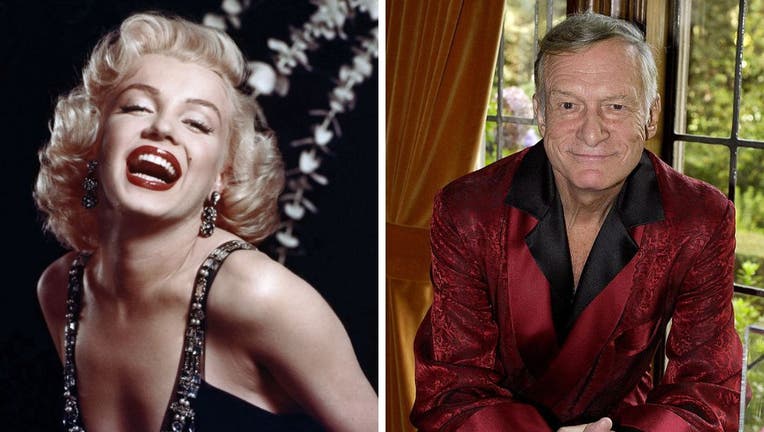 article
A burial crypt near Marilyn Monroe's is still up for sale with a price tag of $2 million. The final resting place, which once belonged to Tony Award-winning composer Jerry Herman, is located at Pierce Brothers Westwood Village Memorial Park in Los Angeles. The crypt was originally put up for sale in 2020 by Herman's goddaughter Jane Dorian.
Monroe, who starred in iconic films like "Gentleman Prefer Blondes" and "The Seven Year Itch," is presumed to have passed away in the late hours of the evening on Aug. 4, 1962, People magazine reported. The 36-year-old died from a barbiturate overdose.
The space Herman purchased is two crypts down from Monroe's, The Wall Street Journal reported. Her tomb, located in the Corridor of Mem ories complex, is often covered in lipstick kisses from fans.
"Talk about location, location, location," Dorian, a real estate agent, told FOX Business. "It's Hollywood history in a beautiful park-like setting… And who wouldn't want to spend eternity with a star like Marilyn Monroe? It's a beautiful place where you're never forgotten."
Herman, celebrated for his musical compositions in "Hello, Dolly!," "Mame" and "La Cage aux Folles," originally bought the crypt in 1997 for $75,000. According to the Chicago Tribune, he was diagnosed with HIV in 1985. By the '90s, Dorian said Herman was "looking at mortality straight in the face." Not knowing how long he had, the composer, who was residing in Los Angeles at the time, had to get his affairs in order.
"He wanted a resting place that was up to his standards," Dorian explained. "And when he discovered Westwood — I don't have to tell you all the stars who are there. He wasn't doing very well and wanted to rest alongside his dear friends and those he's loved and admired over the years."
Thanks to modern antiviral drugs, however, Herman's diagnosis was no longer a death sentence. He went on to live until 2019 when he passed away from natural causes at age 88. At the time, he was residing in Miami with his partner, real estate broker Terry Marler.
Dorian said in the later years, Herman changed his mind. He wanted to be buried next to his mother in New Jersey.
In 2020, the empty crypt went up for sale — right before the coronavirus pandemic. She noted that before his passing, Herman gave the sale her blessing.
"I think people were very frightened about their finances," Dorian said about why the crypt has yet to be purchased. "The world was turned upside down and inside out. So I think it's just one of those things that kind of slipped from the consciousness of people."
Those who invest in the crypt will eventually be in good company. Some of the numerous stars at Pierce Brothers Westwood Village include Farrah Fawcett, Kirk Douglas, Florence Henderson, Natalie Wood, Donna Reed, Frank Zappa, Dean Martin, Bettie Page and Mel Torme.
"If you're a fan of classic Hollywood, it's the only place to be," said Dorian. "There's a kind of gravity there that extends beyond a peaceful place to rest… This place happens to be in the heart of Westwood. It's tucked away and very private. It's not the type of place where someone can buy a mausoleum and keep adding to it. People come in to pay their respects and are also reminded of Hollywood royalty and history."
Playboy publisher Hugh Hefner reportedly paid a private seller $75,000 for the crypt next to the late actress. He was interred there in 2017. Monroe was both the cover and centerfold for the first Playboy issue published in 1953.
"Spending eternity next to Marilyn is too sweet to pass up," Hefner previously told the Los Angeles Times.
It's noted that Monroe didn't have a say on whether she wanted to appear in Playboy, and she never met Hefner.
In 1948, the then-struggling actress posed nude for photographer Tom Kelly and was paid $50, NPR reported. The photos were sold to Western Lithograph Co., which led to a calendar called "Golden Dreams" featuring the images. In 1953, Hefner learned that a local company owned the photos and bought the rights for $500.
"The magazine, I was told, thanks to my photos, [was] an instant sellout all across the country, an instant success," Monroe reportedly told photographer George Barris, as quoted by NPR. "I never even received a thank-you from all those who made millions off a nude Marilyn photograph. I even had to buy a copy of the magazine to see myself in it."
Hefner wasn't the only one who wanted to be buried next to Monroe.
Richard Poncher's wife Elsie alleged to the Los Angeles Times that the local entrepreneur purchased the crypt above Monroe from her ex-husband Joe DiMaggio after their divorce. She alleged that Poncher later told her that he wanted to be buried face down above Monroe. He died in 1986 at age 81.
"He said, 'If I croak, if you don't put me upside down over Marilyn, I'll haunt you the rest of my life,'" Elsie recalled.
"I was standing right there, and [the funeral director] turned him over," she added.
While being faced with financial hardship, the widow put the crypt up for auction on eBay with a starting bid of $500,000. She reached a final bid of $4.6 million in 2009, but it fell through. NPR noted that the crypt is still Poncher's resting place. Elsie died in 2014.
Los Angeles cemetery broker Baron Chu told The Wall Street Journal in 2021 that nationwide, the average price of a single cemetery plot is roughly $3,500. He noted that similar to real estate, cemetery prices are higher in large coastal cities.
The starting price for a single mausoleum crypt at Pierce Brothers Westwood Village is $47,000, the cemetery told the outlet at the time. Burial spaces start at $198,000. Chu warned he's never seen a single crypt sell for more than "a couple hundred thousand."
Dorian said she doesn't believe her offering is morbid.
"I don't think it's creepy at all," she explained. "We all pass, and we all deserve to pass with dignity. To me, Westwood allows people to celebrate life. That's one of the things these stars embodied. They depicted characters who were recognizable to all of us, ones that we love. So it is an eternal celebration of all the wonderful qualities that make us human. Whether it's Marilyn's beauty and vulnerability, to Rodney Dangerfield's zany sense of humor, to Natalie Wood's elegance — it's all there."
"I guess people have different attitudes about death," Dorian admitted. "But you know, death isn't creepy. It's beautiful to think that you will be with some of the greats of our time."
The Associated Press contributed to this report.