Long Beach and Monterey Aquariums to partner on sea otter surrogacy program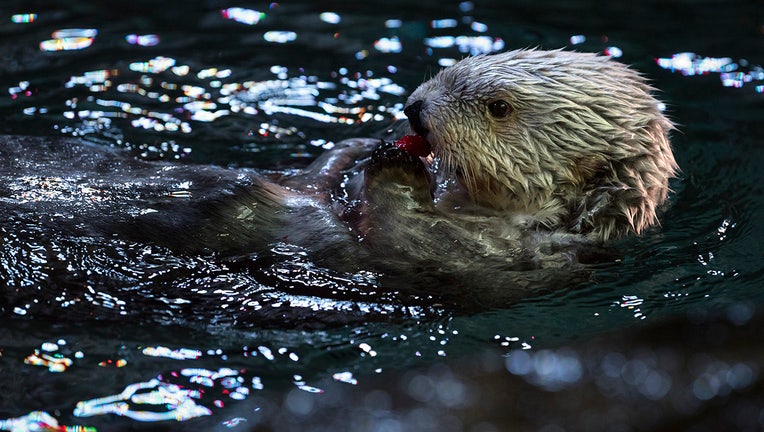 article
LONG BEACH, Calif. - The Aquarium of the Pacific Thursday announced a partnership with the Monterey Bay Aquarium on a program to help the threatened sea otter species recover off the coast of California.
The Long Beach aquarium will become a partner facility for rehabilitating rescued sea otters pups, rearing them with the help of surrogate mothers, and coordinating their release back into the wild.
The aquarium's staff hopes that a newly arrived 4-year-old sea otter named Millie, who has previously given birth, will take on a surrogate mom role.
"We are pleased to partner with the Monterey Bay Aquarium to help this threatened species recover. This program not only helps increase the chances of survival for orphaned sea otters in the wild, but also helps ecosystems off the coast of California recover," said Sandy Trautwein, the Aquarium of the Pacific's vice president of animal husbandry.
The Monterey Bay Aquarium has rescued, rehabilitated and released stranded sea otter pups since the 1980s. Its program has  been proven to help in the recovery of wild populations, Long Beach aquarium officials said.
A 2019 study found that pups released through the program, and their offspring, accounted for more than half of the sea otter population growth in Elkhorn Slough, a critical estuary habitat in Monterey Bay, from 2002 to 2016.
"We have developed this successful surrogacy program over three decades, learning the best way to care for these pups and understanding the potential benefit they bring to marine ecosystems. Partnering with the Aquarium of the Pacific will help us save more otters and benefit ocean health on the California coast," said Michelle Staedler, the Monterey Bay Aquarium's sea otter program manager.
Get breaking news alerts in the FOX 11 News app. Download for iOS or Android.   
A grant from the California's State Coastal Conservancy Sea Otter Recovery Grant Program will support the initial construction of a sea otter surrogacy facility at the Long Beach aquarium, to be built behind the Molina
Animal Care Center.
Southern sea otters are marine mammals in the weasel family "that play the important role of ecosystem engineer for their ocean habitats," according to the aquarium.
Hunted to near extinction in the early 1900s and now a protected species, they are found along the North American west coast from Half Moon Bay just south of San Francisco to Point Conception in Santa Barbara County, which is a fraction of their historic range.
California's sea otter population, which numbered just 50 in 1938, now stands at nearly 3,000, but their growth has stalled in recent years and they continue to face serious risks, including oil spills, pollution and climate change.
The aquarium will conduct a public fundraising campaign to support the surrogacy program and develop interpretative material to educate visitors on the significance of recovering southern sea otter populations. To make a donation, visit the aquarium's website or call 562-951-1701.