LAX braces for big crowds as holiday travelers head home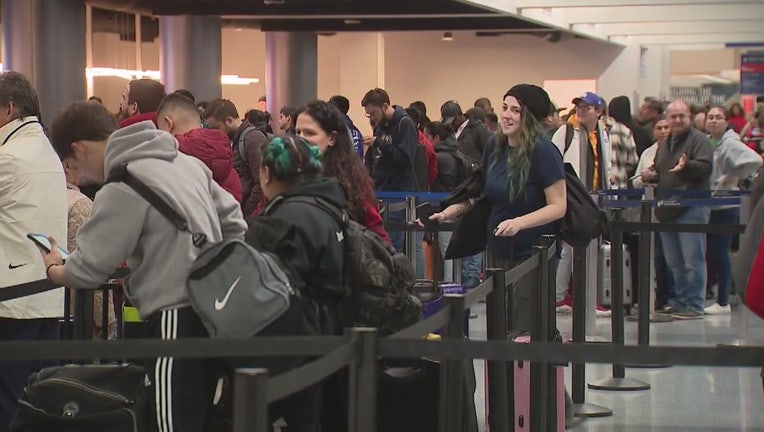 LOS ANGELES - Officials at Los Angeles International Airport cautioned holiday passengers to brace for a busy travel day with hundreds of thousands expected to pass through one of the nation's busiest airports. 
Airport officials asked passengers to arrive three hours early for domestic flights and four hours early for international flights.
The large crowds also came with heavy traffic outside the airport terminals.
RELATED: Heavy traffic at LAX as travelers return from Thanksgiving holiday
In addition to an ongoing $14 billion construction project, some travelers had to navigate the relatively new LAX-it shuttle system. However, passengers told FOX 11 the system showed signs of improvement.
RELATED: LAX increases transportation services for Thanksgiving travel period
Uber switched over a PIN system overnight to match the demand on the busy travel day and airport officials told passengers there were alternatives to get home. 
LAX was also slammed with delays due to a snowstorm. The airport warned that "heavy flight volumes continue as a result of weather delays on the East Coast."
Flightaware.com reported that more than 200 flights into or out of the U.S. are canceled as of Monday morning. Many canceled flights were at New York and Boston-area airports.
The storm dumped one round of snow on parts of the region late Sunday and could drop 10 to 20 inches total by Tuesday morning from Pennsylvania to Maine, forecasters said. Heavy snow was also possible in the Appalachian Mountains down to Tennessee and North Carolina.
Travelers could visit the LAX website for updated information on traffic, parking and travel times. 
The Associated Press contributed to this report.