Lawsuit: LAPD officer claims Garcetti repeatedly witnessed sexual harassment, did nothing to stop it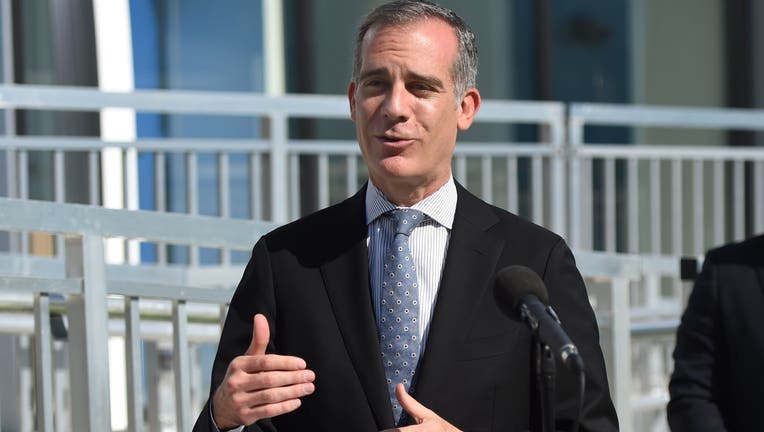 article
LOS ANGELES - A Los Angeles Police Department officer who worked in Los Angeles Mayor Eric Garcetti's protection detail is suing the city claiming that one of Garcetti's advisors repeatedly sexually harassed him over several years while in the presence of the Mayor, who he says did nothing to stop it.
According to the claim, LAPD officer Matthew Garza began working in Garcetti's protection detail in October 2013. As part of the role, the officers in the detail accompanied the Mayor at all times, which included driving him to and from his various engagements and traveling with him on out-of-town trips.
Garza alleges that Garcetti's aide, Rick Jacobs, a longtime political advisor to the Mayor, repeatedly sexually harassed him on the job for years while in the presence of Garcetti.
The lawsuit states that between 2014 and 2019, Garza was allegedly "subjected to unwanted sexual harassment by Jacobs, who is openly gay."
Jacobs could not immediately be reached for comment Tuesday.
Garza claims that over that time period Jacobs would hug him without consent stating words "to the effect of 'you're so strong and handsome'; 'your muscles are so tight'; 'I love me my strong LAPD officers'; or some other inappropriate comment."
According to the complaint, the long, tight hugs, accompanied by Jacobs' inappropriate comments made Garza "extremely uncomfortable."
"The Mayor took no action to stop the comments from being made or even identify the comments as being inappropriate. On some occasions, the Mayor would laugh at Jacobs' crude comments," the lawsuit alleges.
It claims that Garcetti was present on "approximately half of the occasions when Jacobs behaved in this way."
Garza also claims that Jacobs regularly made inappropriate comments to or in front of him. He said Jacobs repeatedly talked about his young gay lover, having "rough sex" with his gay partners, liking "big cocks" and being attracted to younger men, according to the complaint. 
Get breaking news alerts in the FOX 11 News app. Download for iOS or Android.
The lawsuit states that on four or five road trips, Jacobs allegedly reached forward from the backseat and massaged Garza's shoulders, without consent, stating things to the effect of, "you're so strong; I love my LAPD officers." 
According to the complaint, Garcetti was sitting directly next to Jacobs when the unwarranted touching was occurring but did nothing to stop him or curtail his behavior.
Garza claims that on over a dozen occassions, staffers in the Mayor's office have apologized to him for Jacobs' alleged harassing conduct and comments.
On June 18, 2020, following a leave of absence for a back injury, Garza "refused to return to the Mayor's detail because of the continual touchings, comments, and vulgar behavior directed at him by Jacobs and silently condoned by the Mayor of the City of Los Angeles," the lawsuit states.
Garza said that he lost his rank as Police Officer III + 1 in the Mayor's details, a rank he obtained around April 2014. He said that in losing his rank, he lost approximately 5% of his base salary, approximately $20,000 in overtime a year, as well as other privileges and benefits.
The complaint states that Garza will "continue to sustain damage to his reputation, and his ability to advance and/or promote in the department has been and will continue to be adversely impacted."
FOX 11 has reached out to Garcetti's office for comment and is waiting to hear back.