LAUSD superintendent releases plans for 2020-2021 school year
LOS ANGELES - With the upcoming school year rapidly approaching, Los Angeles Unified School District Superintendent Austin Beutner on Monday released finalized plans for what students can expect since campuses will remain closed due to the ongoing coronavirus pandemic.
"When the new school year starts the week of August 17, it will start without students at school. The threat from the virus is currently too great. The health and safety of all in the school community is not something we can compromise on," said Beutner. "Our goal is to have students back in schools as soon as it is safe and appropriate to do so."
According to Beutner, the objectives for the upcoming school year are to provide a safety net for students and families by providing resources that address nutrition, mental health and childcare, meeting the learning needs of students as well as protecting the health and safety of the entire school community.
Students will begin the fall semester online with a regular schedule that includes daily, live engagement between teachers and students. Daily attendance will be taken and regular assessments of student progress will be used by teachers to guide their work with students and keep families informed.
Where possible, schools will add instruction and one-on-one tutoring after school and on Saturday mornings to help students make up for lost time and accelerate their progress.
Get breaking news alerts in the FOX 11 News app. Download for iOS or Android.
Online instruction during the new school year will have more structure and standards and increased interaction between teachers and students. Schools will also provide one-on-one support, both in-person and online, for students who need it most, Beutner said.
The fall semester is scheduled to begin on August 18. Instead of jumping right into instruction on Aug. 18, students will get two days of orientation before regular instruction starts in full on Thursday, Aug. 20.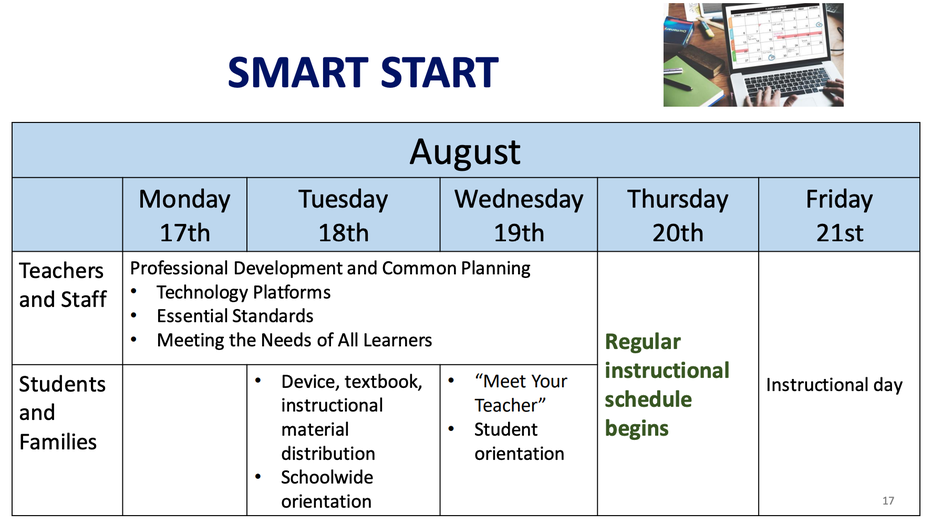 "The first few days of school will be spent continuing to train teachers and giving them time to plan together for the start of instruction. We'll also use that time to make sure students are connected with their school, have a chance to meet their teachers and have the devices and internet access and the appropriate textbooks and instructional materials," said Beutner.
LAUSD released a "sample schedule" for transitional kindergarten and kindergarten classes that calls for 90 minutes of live "synchronous" instruction and, overall, a 180-minute student day.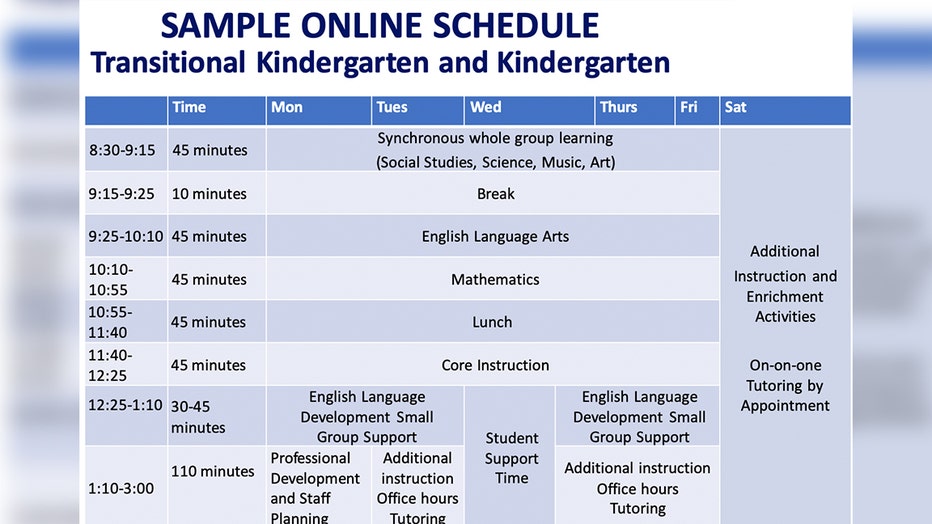 RELATED:
• LAUSD students won't be returning for in-person classes this fall
• LAUSD parents concerned about plan for upcoming school year
The district also previewed what will happen if the county's Public Health Department allows students to return for in-person learning. Should that happen, the hybrid-learning schedule calls for an AM-PM schedule for elementary age students and an alternating day schedule for middle and high schools.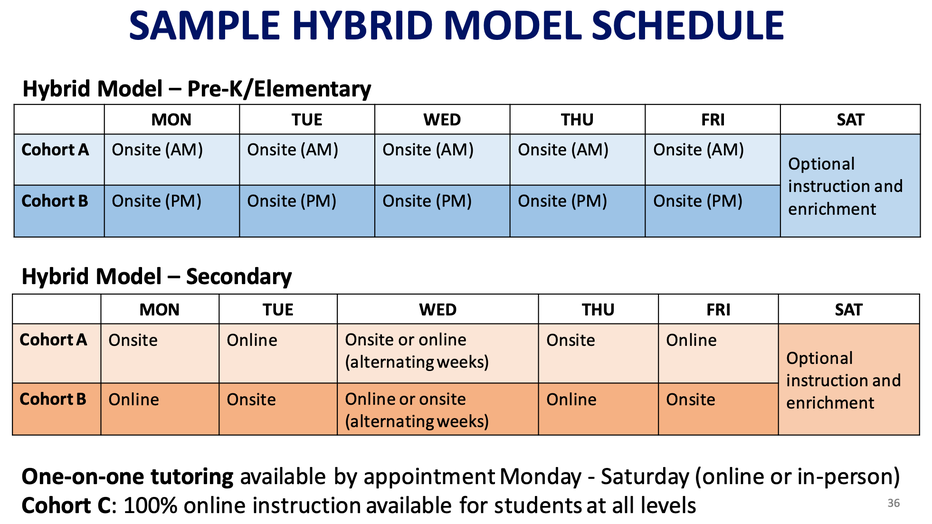 When campuses reopen, "K-8 students will have supervised care when not receiving direct, on-campus instruction." According to the slide, LAUSD staff will be in charge of supervising at libraries, community colleges, parks and recreation centers.
When schools are open to all, Beutner said there will be a need to keep students farther apart with fewer students on campus at any one time, possibly requiring a hybrid model of in-school and at-home, online instruction.
"We've covered a lot of ground today," Beutner said about the fall semester plans being announced. "This is an enormous undertaking for schools, as well as for the students and families they serve. There will be questions and, as we've seen since March, circumstances can change quickly. We'll do our best to keep everyone informed with regular town hall and school meetings, as well as ongoing surveys and focus groups to make sure we're learning about concerns and continuing to address them."
Beutner emphasized that the new school year is an opportunity for students to continue to learn, even though it will require a different approach and extraordinary effort.
"While the doors to classrooms will not be open in August, it's our goal to provide the best education possible for students so they continue to have the same opportunity. Thanks for your continued patience and support."
Click here to view part 1 of the LAUSD school reopening plan released on Monday. Click here to view part 2 of the reopening plan, which was also released Monday.
RELATED: Stay up to date on all coronavirus-related information 
In early July, the United Teachers Los Angeles urged the district to keep campuses closed amid the pandemic. UTLA said it would not be safe to return to school campuses and that distance learning is the best way to ensure the safety of students, teachers and staff.
CNS contributed to this report.