Ladera Heights residents claim man is terrorizing neighborhood and authorities haven't helped
LOS ANGELES COUNTY, Calif. - Ladera Heights residents claim a man is terrorizing their neighborhood. And so far, the residents in the area claim authorities haven't done their part to stop the man.
"Sometimes he wants to hit you," said neighbor Doris Rivera.
"He's being very aggressive," described another neighbor.
The man is accused of terrorizing a two-block area of Ladera Heights for years.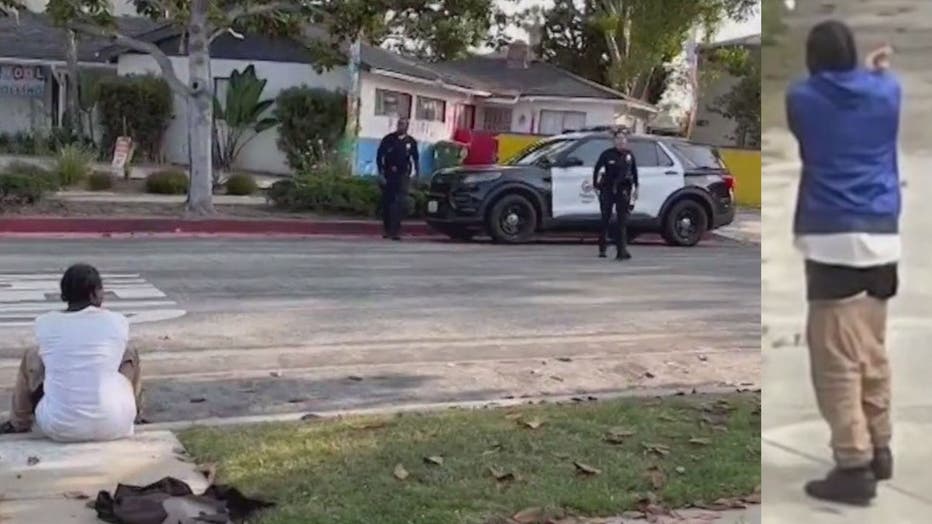 "He shakes the doors," said Alason Brag, who tells FOX 11 she has lived in the neighborhood for 16 years. "His use of profanity is unbelievable."
Brag says she loves Ladera Heights, a neighborhood where she once felt safe.
"I think that we're all frightened," Brag said.
She explained she keeps a baseball bat in her car because she fears for her safety.
"You don't know if he's going to attack you," Rivera said of the male suspect.
She said she had her share of encounters with the man. Rivera said the man tried to trap her inside her apartment.
"Sometimes I can't open the door to get out of the building," she said. "He blocks the door."
No one knows where the man came from or what his issues are. 
Neighbors shared videos of the man talking to himself, cussing loudly and openly talk about using drugs. The man's strange behaviors have scared away tenants, according to the apartment complex's maintenance staff.
All this not only happening right at an apartment complex but also near a Pre-K school. 
"He has exposed himself in front of my school," said Swarna Dealwis. "I'm afraid to send the kids outside to play."
Dealwis runs a Pre-K school on the block where the man hangs out. 
"We'd call police. They come [and] take him," Dealwis explains. "A couple of days later, he's back again, doing the same thing."
The man has been at the center of many 911 calls, neighbors tell FOX 11. One time, emergency crews were called after the man allegedly passed out in his own vomit – with drug paraphernalia left nearby. 
"He was taken away," said Chris Flight, property manager. "Less than 48 hours, back in front of the property's doorsteps… talking to himself and severely needing help."
Flight manages a nearby property where the man claims he also lives. He doesn't. Flight is among many in the neighborhood reaching out to the city for help.
FOX 11 reached out to Councilmember Traci Park. A member of her office returned our requests for comment by telling FOX 11 the council member would issue a statement regarding the Ladera Heights safety concerns.
That exchange was back in July – As of September 11, no statement has been sent to FOX 11.
"It kind of shows how broken the system is in certain ways," Flight said. "And I think there needs to be a lot of improvement."
"Do you feel the city has let you down?" FOX 11's Gigi Graciette asked.
"Of course, they did," Brag said. "But what else can I do about it?"
Court papers show the man has a history of domestic violence. He violated a court order and a judge ordered him to check into a mental health diversion program to seek help. But repeatedly the man did not comply, so the order was rescinded, court papers indicate. 
The neighborhood hopes the man gets the help he needs.
"I feel sorry for people like this on the street," said Dealwis. "In a country like this."
"He needs help," Rivera said.