LA expands COVID-19 testing to all critical workers whether they show symptoms or not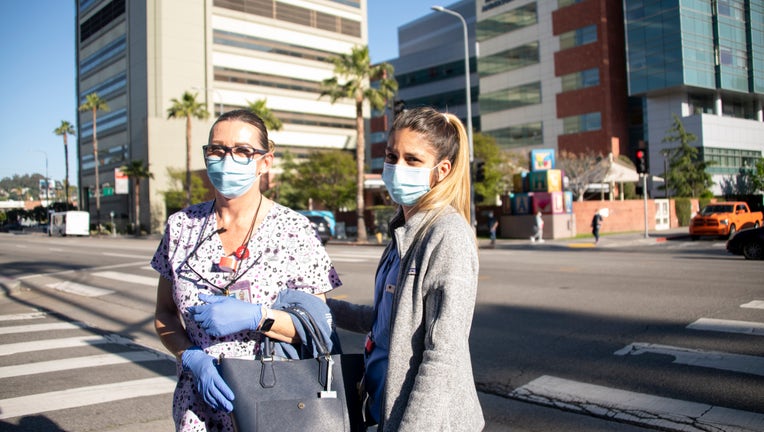 article
LOS ANGELES - The city of Los Angeles is expanding its COVID-19 testing criteria. 
Starting Thursday, April 23 testing will be available to all frontline workers whether they show symptoms of COVID-19 or not.  
Mayor Eric Garcetti made the announcement Wednesday evening during his daily press briefing. 
He says frontline workers include people in health care, grocery workers, first responders and critical government personnel. 
"We wish we could open that up to everybody but we all know that we have firefighters, police officers, doctors, nurses, janitors at hospitals, people that work in grocery stores and pharmacies that are putting themselves out on the line. And we want to make sure they are healthy and have the peace of mind knowing they're healthy and because they interact with so many people we can make sure they aren't spreading it," Garcetti stated. 
Garcetti says testing for asymptomatic people is already being done in local nursing homes thanks to the city's Rapid Response Team. 
RELATED: LA to deploy mobile test teams to nursing homes, assisted living facilities
He says over the past two days more than a thousand people, with symptoms and without, have received coronavirus tests, which includes residents of nursing homes, staff and healthcare workers. 
Workers interested in testing are asked to contact their employers on how to get priority testing. 
RELATED: Stay up to date on all coronavirus-related information
Mayor Garcetti says there are over 34 testing sites in the city.
For more information on testing facilities within LA or to make an appointment click here. 
Get breaking news alerts in the FOX 11 News app. Download for iOS or Android.