L.A. councilman seeks to ban e-scooters from Hollywood Walk of Fame
LOS ANGELES - Los Angeles City Councilman Mitch O'Farrell requested a report Wednesday from the city's Department of Transportation on potentially blocking e-scooters from the sidewalks on the Hollywood Walk of Fame due to the devices cluttering the historic monument.
O'Farrell said he would want to "geo-fence" e-scooters from accessing Hollywood Boulevard between La Brea Avenue and Gower Street, and Vine Street between Yucca Street and Sunset Boulevard to keep the public right-of-way open.
Geo-fencing basically blocks out certain portions of the city through global positioning technology. This is how the city keeps the vehicles from being ridden during its CicLAvia events, when streets are restricted to non-motorized traffic.
"The fact that we get complaints from constituents on a regular basis about the impact of these scooters on Hollywood Boulevard, I want them geo-fenced out, away from the Walk of Fame entirely," O'Farrell said. "I am very open to having this conversation after 120 days in terms of what environment in which we could discuss welcoming them back, but right now, we've given it years and it's not working and I'm not seeing improvements, especially on the Walk of Fame."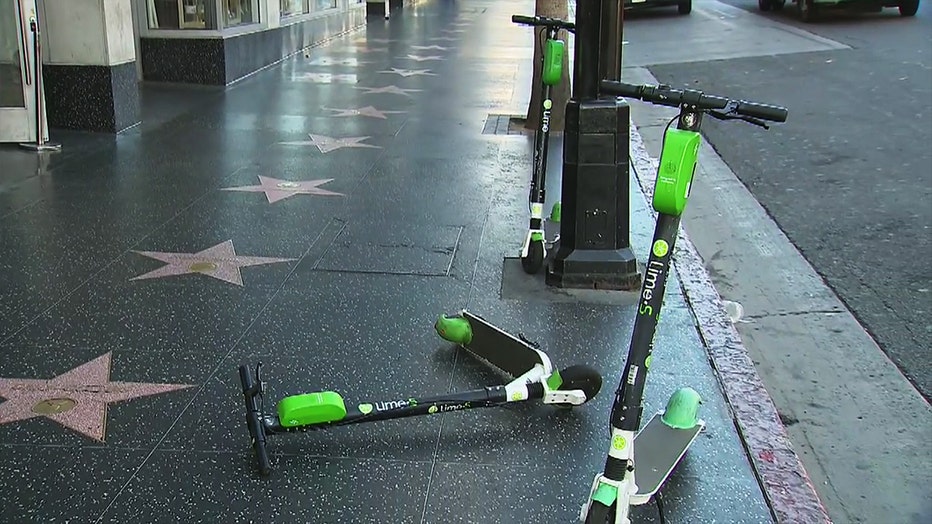 O'Farrell said every month, constituents of the Hollywood Business Improvement District pick up or readjust 2,000 e-vehicles throughout Hollywood Boulevard, and 68% of them are on the Walk of Fame.
O'Farrell said he would be willing to geo-fence the vehicles off the sidewalks but not the streets, but DOT officials said the technology they use may not allow them to specifically block them from that small of a pathway.
"There are plenty of feeder streets from the north and south that get you to the Walk of Fame, if you choose to use a scooter to get there," O'Farrell said. "So I think that it's a very reasonable request."
O'Farrell's comments were made during the council's joint meeting between the Trade, Travel and Tourism Committee and the Public Works and Gang Reduction Committee.
The city is working on extending the dockless vehicle pilot program, and a report will be presented by DOT to the council committees in four months that will have updated provisions based on results from the program that's been in effect for about a year.