Jimmy and Rosalynn Carter celebrate 77th wedding anniversary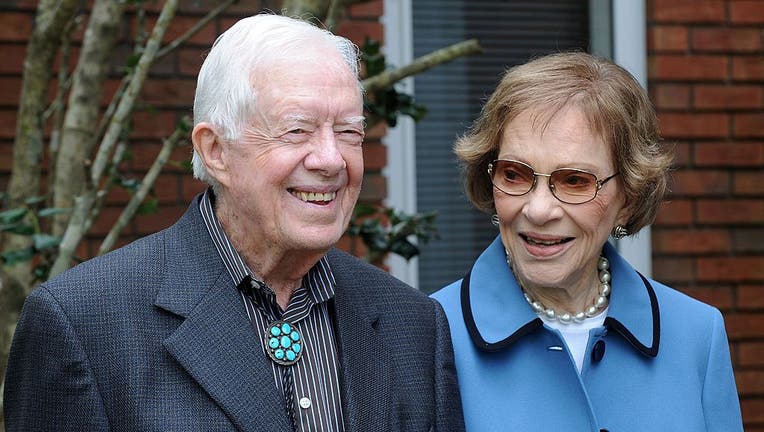 article
PLAINS, Ga. - Former President Jimmy Carter and human rights figure and mental health advocate Rosalynn Carter are celebrating 77 years of love and marriage Friday.
Seventy-seven years ago Friday, a U.S. Navy midshipman from the small Georgia town of Plains, exchanged vows with a woman he'd met and fell in love with years earlier. Little did they both know that their marriage would become the longest of any presidential couple.
The two met in Georgia when Rosalynn was almost a newborn, but the two didn't really get to know each other until Jimmy came home from the U.S. Navy Academy. His younger sister set him up on a date with Rosalynn, a family friend who already had a crush on the future Georgia governor and U.S. president.
During their second diamond anniversary celebration, Rosalynn recounted how she didn't care for dating young men while growing up and never thought she'd get married.
"I didn't know how to talk to them, I didn't want to go out with them," she said. She added that she used to urge her mother to tell suitors calling for her on the phone that she wasn't around.
The Carters were married in 1946.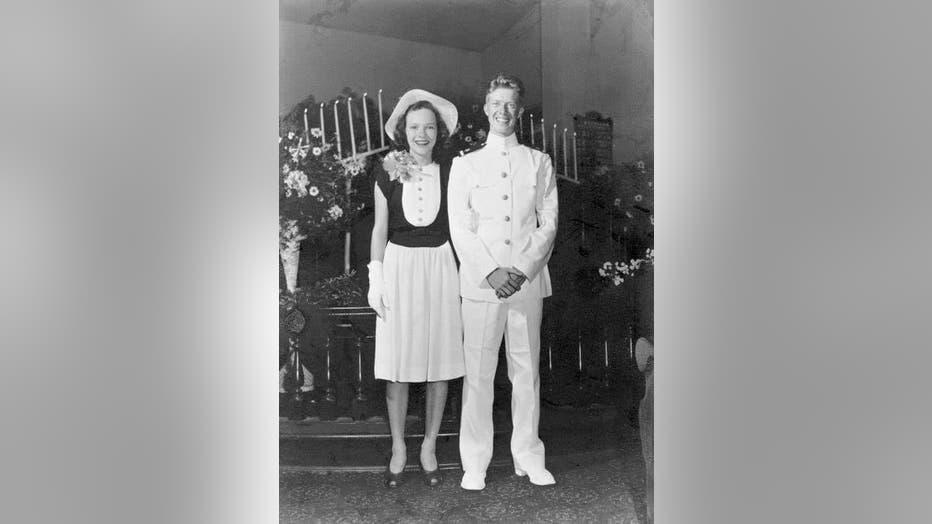 Jimmy and Rosalynn Carter were married in Plains, Georgia on July 7, 1946. (The Carter Library and Museum)
Jimmy resigned from his military career in 1953 after the death of his father, James Earl Carter Sr. 
The two would develop a partnership working in the farm supply business, which they continued even when Jimmy got involved in politics. Rosalynn would say she knew more about the business than he did and would take her advice about things.
After taking over his family's farm, Jimmy Carter emerged as a community leader and won a bid for a seat in the Georgia Senate in 1962. 
That was the beginning of a political career that led him to the governor's mansion in 1971, and then the White House in 1976.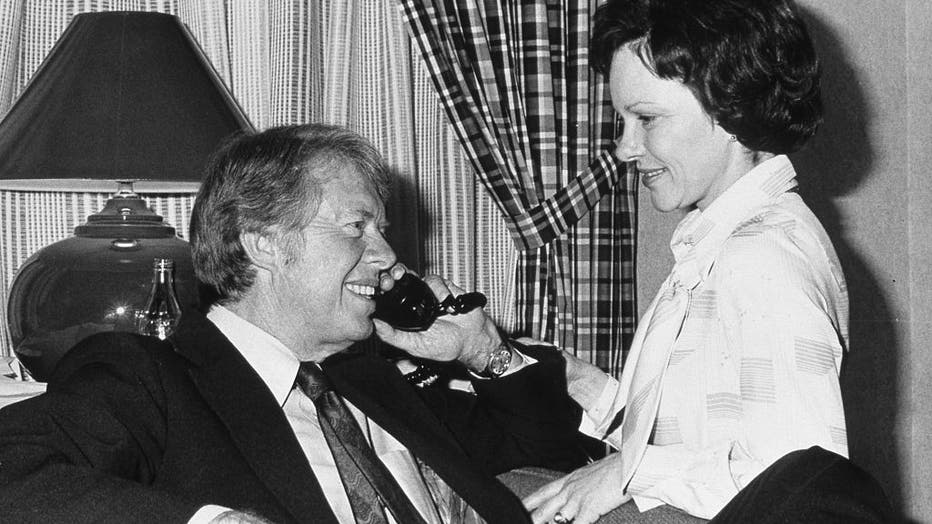 Jimmy Carter and his wife, Rosalynn Carter, talk on the telephone after his victory in the Pennsylvania Primary election on April 27, 1976. (Photo by Mikki Ansin/Getty Images)
During her husband's administration, Rosalynn became an esteemed advocate of mental health. She was active as the honorary chair of the President's Commission on Mental Health, which helped pass the Mental Health Systems Act of 1980. The law outlined rights for mental health patients to receive the protection and services they require and placed emphasis on the mental health needs of minority populations.
Jimmy Carter lost his re-election bid in 1980 to Ronald Reagan, but Rosalynn has said the trail made the couple stronger. She said she loved campaigning and it had made the couple even stronger together.
The couple's humanitarian efforts continued after their White House residency. 1982, the co-founded founded The Carter Center, an organization dedicated to educating the public and furthering human rights initiatives.
While sidelined due to the COVID pandemic, both remained active into their 90s through working with Habitat for Humanity and various activist causes and philanthropy through the Carter Center.
The pair also have enjoyed hobbies together for years — sometimes even competitively. Before they became frail, they enjoyed playing tennis, hiking and cycling together. Both prolific writers, they sometimes raced to finish drafts of books. Fishing often involved competition, too, and they continued to fish on their property in Plains. They added bird watching in recent decades as they slowed down physically.
"Jimmy and I are always looking for things to do together," Mrs. Carter said, adding that it is also important for each of them to have "some space".
The couple also remains big supporters of the home teams like the Atlanta Braves and Atlanta Hawks. The pair was even caught a few years back on the Hawks' "Kiss Cam" twice which took the internet by storm both times.
According to the Jimmy Carter Library, on his 75th birthday, Carter was asked to name the most important thing he had ever done. His reply: "Marrying Rosalynn."
The 39th president is 98 and has been in home hospice care since February. The former first lady is 95 and has dementia. The Carter family has not offered details of either Jimmy or Rosalynn Carter's condition but has said they both have enjoyed time with each other and a stream of family members, along with occasional visits from close friends, in recent months.
"As we have looked back at their legacy, it has been really wonderful to see the outpouring of support and respect and love," grandson Jason Carter said recently. "That word love is really the one that defines certainly their personal relationship, but also the way they approach this world."
Beyond their longevity, both Carters credit their long marriage to open communication and their shared Christian faith.
"Every day there needs to be reconciliation," the former president said in 2021. "We don't go to sleep with some remaining differences between us."
The Associated Press contributed to this report