Jaime Lee Curtis, several other actors test positive for COVID after Golden Globes
LOS ANGELES - At least three celebrities who attended last week's Golden Globe Awards in Beverly Hills — Jamie Lee Curtis and "Banshees of Inisherin" co-stars Colin Farrell and Brendan Gleeson — have since tested positive for COVID-19, keeping them from attending this weekend's Critic's Choice Awards. Michelle Pfeiffer was also forced to miss this weekend's awards show after also testing positive.
Curtis revealed her positive test on Instagram Friday, showing a picture of three separate positive at-home tests. Curtis voiced her frustrations that the diagnosis kept her from other awards season events, including Sunday's Critic's Choice Awards.
"F--- COVID," she wrote. "Sadly, this head cheerleader is not going to be at all the weekend festivities cheering on her friends and colleagues." Curtis was nominated for Best Supporting Actress at the award show for her role in "Everything Everywhere All At Once."
SUGGESTED: Golden Globes 2023 results: 'The Fabelmans,' 'Banshees' snag best picture awards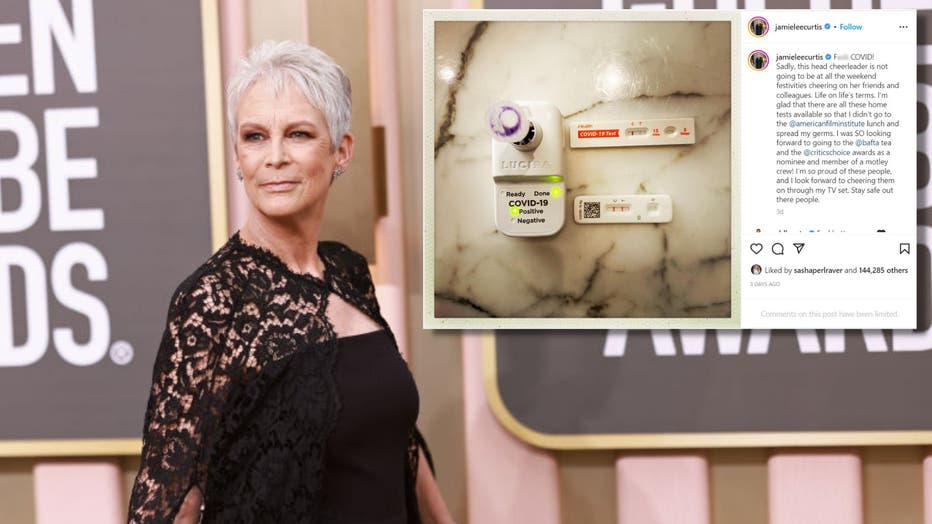 Jamie Lee Curtis attends the 80th Annual Golden Globe Awards at The Beverly Hilton on January 10, 2023 in Beverly Hills, California. (Photo by Matt Winkelmeyer/FilmMagic) 
Pfeiffer shared a picture of her positive at-home test on Sunday with the caption "I'm so sorry to be missing the Critic's Choice Awards. Yep, COVID," before further explaining in a full post. Pfeiffer was nominated for Best Actress in a Limited Series or TV movie for her work in Showtime's "The Fair Lady." Pfeiffer was also expected to present Jeff Bridges with a Lifetime Achievement Award at Sunday's event.
"Banshees of Inisherin" co-stars Farrell and Gleeson were also unable to defend their titles as Best Picture winners at the Golden Globes after both testing for the virus, a representative for Farrell told the Hollywood Reporter. Farrell took home the Best Actor award at the Golden Globes, but lost out to Brendan Fraser for his role in "The Whale" at the Critic's Choice Awards. "Banshees of Insiherin" also lost out to "Everything Everywhere All At Once" for Best Picture Sunday.
Last week, the Golden Globes returned to television for the first time in two years after a lack of diversity in the Hollywood Foreign Press Association led to a boycott of the event. Last week's rejuvenated ceremony drew a near-record low audience according to a report from the Associated Press, pulling in just 6.3 million viewers, the second-smallest audience for the annual ceremony. For comparison, the 2021 show had 6.9 million viewers and the pre-COVID 2020 ceremony had more than 18 million people watching.