Investigators seek motive in Saugus High School shooting
SANTA CLARITA, Calif. - Investigators Friday turned their focus toward what may have motivated a suspected shooter to open fire at his high school in Santa Clarita for sixteen seconds of terror on his sixteenth birthday. 
The shooting, which authorities called an active shooter situation, left two students dead and several others injured. The suspect, who was in custody, was listed in "grave condition." 
Sheriff's officials said detectives "worked through the night going through each and every crime tip and screenshot received from our community members regarding our area schools," the department said in a tweet.
Six victims and the suspected shooter were transported to area hospitals. 
Four patients and the suspected shooter were rushed to Henry Mayo Hospital in Valencia, where a 16-year-old girl and a 14-year-old boy died, sheriff's officials said. A fourth student was treated and released.
Two other students were taken to Providence Holy Cross Medical Center. A 15-year-girl, who suffered one gunshot wound below her belly button, was airlifted. The bullet lodged to her hip area and required surgery to remove the bullet. A 14-year-old girl, who was taken to the hospital by ambulance, had injuries that were considered "superficial," by health officials. Both girls are expected to make a full recovery, health officials said Friday morning in a press conference. 
The Los Angeles County Sheriff's Department has yet to identify the teen suspect. However, neighbors and others said the shooter was 16-year-old Nathaniel "Nate" Berhow.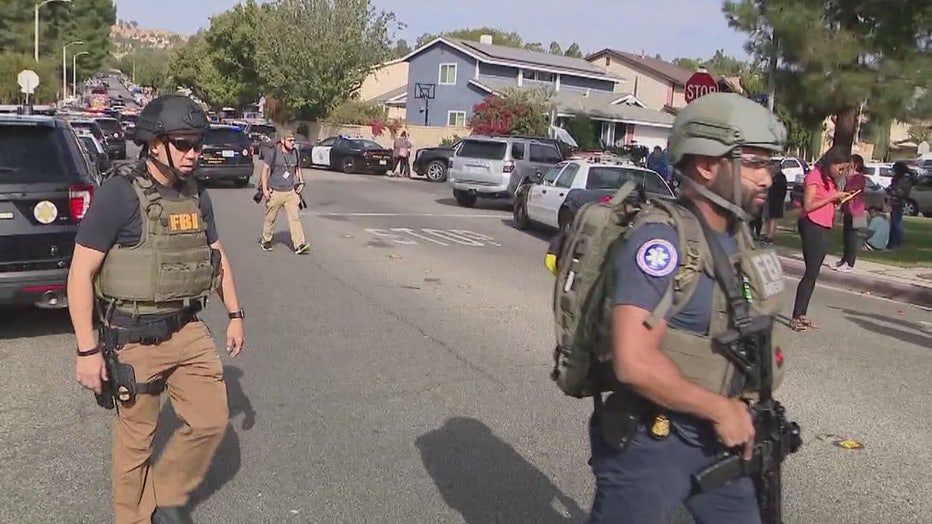 RELATED:
• 2 dead, several hurt after gunman opens fire at Saugus High School in Santa Clarita
• Saugus High School shooting suspect allegedly carried out deadly attack on his birthday, authorities say
• Saugus High School choir director rushes to treat wounded student after gunman opens fire on campus
Students at the school described him as "quiet," and records show he was an athlete on the school's track and field team.
Officials said at about 7:30 a.m. Thursday, school security cameras showed a male student walk into a squad, pull out a .45 caliber semi-automatic pistol out of his backpack and started shooting. The gunman used every bullet and saved the last one for himself.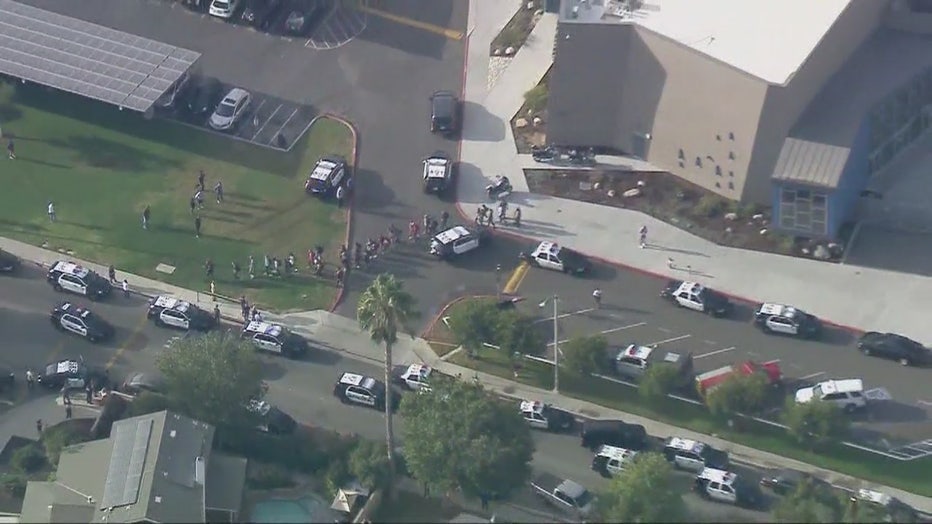 The school was immediately placed on lockdown. The school was later evacuated and law enforcement officers escorted students to Central Park.
The first fired shot sent students running and hiding anywhere they could. 
Many students in the quad fled to the nearby choir room, including a girl who had been shot twice. Other students in the room blocked the door as the choir teacher used a gunshot wound kit to tend to the injured student. One of the students reportedly grabbed a fire extinguisher to protect the other students and prepared to strike if needed. 
"One kid ran inside and he immediately locked the door. Other kids started banging on the door hoping to come in," a student who was in the choir room said.
Another student ran so far and so fast, he ended up at a stranger's home near the school, banged on the door and screamed "There's a shooter! Let me in, please!"
An off-duty Los Angeles County deputy, who happened to be dropping off a student at the school,  rushed to the gunfire and found a girl suffering from at least one gunshot wound. He immediately began performing CPR. 
The Santa Clarity community came together Thursday night and held a vigil at Central Park where students were escorted off campus after the shooting.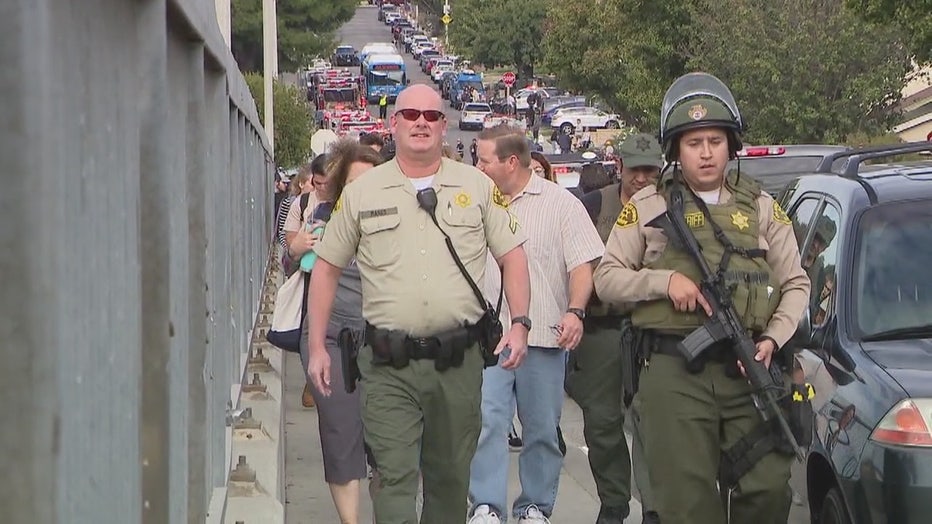 Other members of the community attended a prayer service at Grace Baptist Church. 
Grief counseling was being offered at the City of Santa Clarita Activities Center located at 20880 Centre Pointe Parkway. 
William S. Hart Deputy Superintendent Mike Kuhlan wrote a letter to the district community on Thursday. 
All schools in the William S. Hart District were closed Friday, district officials announced. 
The investigation is ongoing.