Iconic artist honors health care workers with beautiful sketch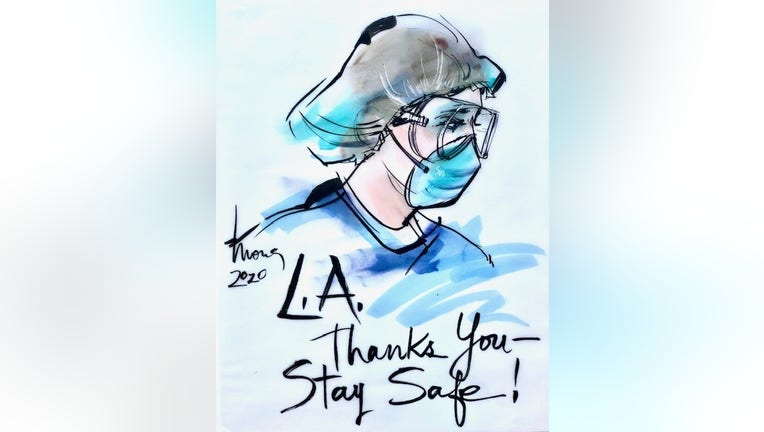 article
LOS ANGELES - Mona S. Edwards is a well-known courtroom sketch artist in Los Angeles.
Her illustrations include high profile trials such as Michael Jackson, O.J. Simpson, the Menendez brothers as well as more light-hearted news like fashion shows and most recently the death of NBA legend Kobe Bryant.
RELATED: Remembering NBA legend Kobe Bryant in beautiful new sketch
But now she's honoring health care workers on the frontline of the COVID-19 crisis with a beautiful new sketch.  
The sketch shows a nurse wearing scrubs, goggles and a face mask with the words "L.A. Thank you – stay safe," written over it. 
RELATED: LA County coronavirus cases rise to 22,485, with 1,056 deaths
As of April 29, Los Angeles County has a total of 22,485 confirmed COVID-19 cases and 1,056 deaths. On Wednesday the county health department reported 1,541 new coronavirus cases and 56 additional deaths, a sharp increase in cases from Tuesday.
Hear Edwards on our podcast Olympic & Bundy by clicking here. 
Mona S. Edwards has been working as a courtroom sketch artist in Los Angeles for more than 25 years. She began her career as a fashion illustrator, and having an interest in news, began using her illustration skills in the courtroom.
Download a copy of this sketch by clicking here.
Get breaking news alerts in the FOX 11 News app. Download for iOS or Android.