'I miss her when she's not here': After more than 58 years of marriage, inseparable couple becomes longest-serving volunteers at Santa Barbara Film Festival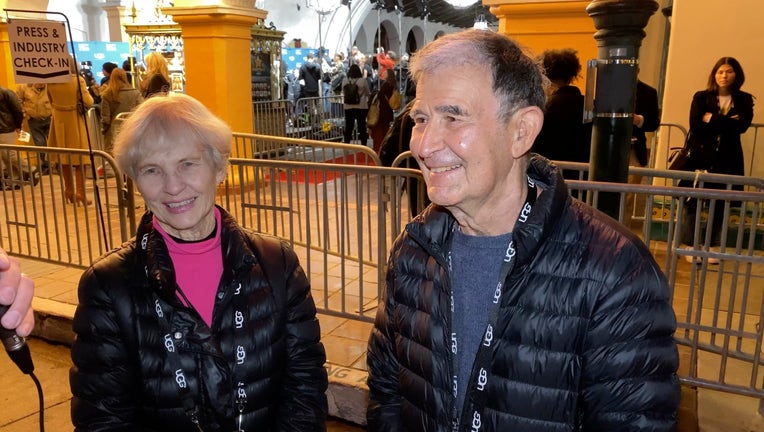 article
SANTA BARBARA, Calif. - After more than 58 years of marriage, Jerry and Judy Headley still love spending as much time together as they can so for the last 20 years, they have been volunteering at the Santa Barbara International Film Festival
The festival can be at many times unpredictable, as Jerry and Judy would tell you, but they have become a welcome sight for many festivalgoers and members of the press that congregate outside the Arlington Theater every year to cover the many celebrities that walk the Red Carpet.
"It's really wonderful seeing all the people here and getting to talk to people from all over the world," Judy said. "And then to watch these films that you don't have a chance to see anywhere else."
Both, Jerry and Judy, worked in the education system in their younger years but are now retired. One aspect of the film festival that the couple has embraced and has become a big part of why they come back to form part of the festival's more than 600 volunteer-force year after year, is the festival's community outreach.
"The community outreach is just wonderful, and they bring kids in from disadvantaged schools, thousands of kids. They have free movies every single day for the public. They do a lot of things for the community," said Judy.
But the festival wasn't always an event that attracted many Hollywood A-listers, international filmmakers, out-of-town visitors, and residents. Jerry and Judy recount a time in the early days of the festival when movies showed only at three small theaters and were not that good. In fact, the films were so bad that a lot of people would actually walk out of the screenings, according to Jerry.
The couple credits the festival's executive director Roger Durling with the success of the festival. 
"Every year it seems to get a little better and a little more prestigious, and it's very impressive," said Jerry.
There have been moments, however, when things don't go according to plan and both Jerry and Judy had front row seats to it.
"I remember, Clint Eastwood refused to come in a limo. He said, 'I can drive myself,' so he drives this old car all the way from Carmel...he would not come in through that entry there, he actually leaped over these [fan] gates to get in, so that was most fun to watch that," said Judy.
"People were three and four feet deep so he had to say 'excuse me, excuse me' and then he climbed over the barrier," Jerry said.
Judy recounted another special time when actor Denzel Washington walked to where they were, something that usually doesn't happen with celebrities arriving at the event, and touched her hand. She jokingly said she couldn't wash her hand for two weeks and didn't want Jerry touching her special hand.
Judy was involved with the film festival four years before Jerry joined her. She started what has now become a popular component to the festival known as "10-10-10," a screenwriting and filmmaking mentorship and competition involving 10 writers, 10 directors, and 10 films.
When they first volunteered, Jerry and Judy decided they wanted to work with the press and started doing just that at Hotel Santa Barbara and Metro 4 Theater. Eventually, they were relocated to the Arlington Theater by festival organizers and continued to stay with the press until this very day.
But, there have been times when Judy has had to miss a day or two of volunteering and Jerry has had to carry on with the show.
"When she's not here -- when she wasn't two nights ago, I missed her," Jerry said.
So despite being married for nearly six decades, these two kids are still crazy about each other and treasure every single moment they are together. They are the inseparable couple.