House votes to censure Rep. Rashida Tlaib over Israel-Hamas rhetoric in a stunning rebuke
WASHINGTON (AP) — The House voted late Tuesday to censure Democratic Rep. Rashida Tlaib of Michigan — the only Palestinian American in Congress — an extraordinary rebuke of her rhetoric about the Israel-Hamas war.
The 234-188 tally came after enough Democrats joined with Republicans to censure Tlaib, a punishment one step below expulsion from the House. The three-term congresswoman has long been a target of criticism for her views on the decades-long conflict in the Middle East.
The debate on the censure resolution on Tuesday afternoon was emotional and intense. Republican Rep. Rich McCormick of Georgia pushed the censure measure in response to what he called Tlaib's promotion of antisemitic rhetoric. He said she has "levied unbelievable falsehoods about our greatest ally, Israel, and the attack on October 7."
With other Democrats standing by her side, Tlaib defended her stance, saying she "will not be silenced and I will not let you distort my words."
Tlaib added that her criticism of the Jewish state has always been directed toward its government and its leadership under Prime Minister Benjamin Netanyahu.
"It is important to separate people and government," she said. "The idea that criticizing the government of Israel is antisemitic sets a very dangerous precedent. And it's been used to silence diverse voices speaking up for human rights across our nation."
That criticism reached new heights after the Oct. 7 attack by the terrorist group Hamas left hundreds of Israelis dead and scores injured. Tlaib, who has family in the West Bank, came under heavy reproval after she failed to immediately condemn Hamas after the attack.
Democrats stood by Tlaib and helped defeat an initial censure resolution against her last week. But since then, many of her colleagues, including prominent Jewish members, have become more conflicted about her rhetoric about the war, especially because of a slogan she has used frequently that is widely seen as calling for the eradication of Israel.
The measure advanced earlier Tuesday and was rushed to the floor for a final vote.
Rep. Brad Schneider, D-Ill., the lone Democrat to vote with Republicans on Tuesday to advance the censure resolution, said he believed it was important to debate the slogan "from the river to the sea."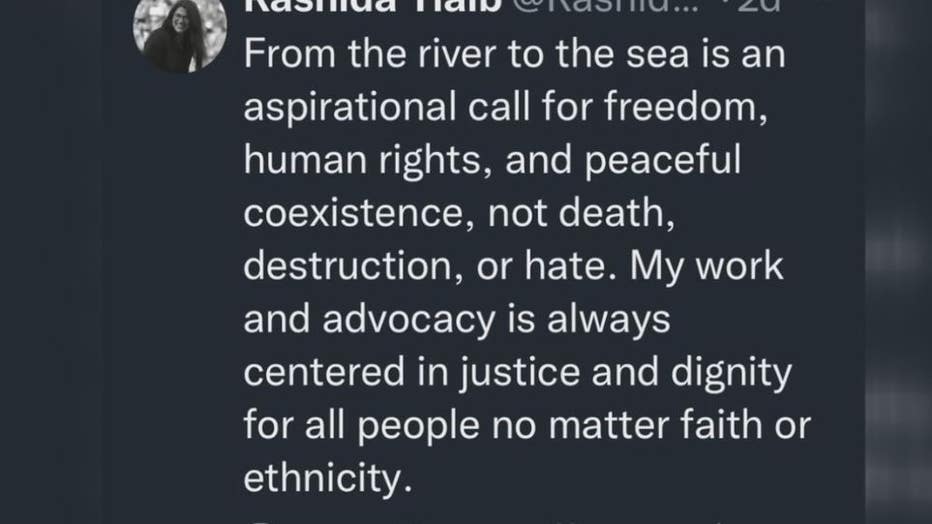 "It is nothing else but the call for the destruction of Israel and murder of Jews," the Jewish Democrat said. "I will always defend the right to free speech. Tlaib has the right to say whatever she wants."
He added, "But it cannot go unanswered." It was unclear if Schneider would support the resolution on final passage.
While the censure of a lawmaker carries no practical effect, it amounts to a severe reproach from colleagues, as lawmakers who are censured are asked to stand in the well of the House as the censure resolution against them is read aloud.
With the vote, Tlaib will become the second Muslim-American woman in Congress to be formally admonished this year for her criticism of the Jewish state. Rep. Ilhan Omar, R-Minn., was removed in February from the House Foreign Affairs Committee for similar comments she made about Israel.
Recently a number of Michigan Democrats have spoken out, critical of Tlaib's pro-Palestinian comments including Michigan Attorney General Dana Nessel, a Democrat.
State Sen. Jeremy Moss (D-Southfield) as well as Nessel, who are both Jewish, had called for Tlaib, a Palestinian American, to take down her posts calling for a ceasefire, which include what they call an anti-Semitic rallying cry for Hamas, "From the river to the sea."
"('From the river to the sea') is a phrase that has been used by those who want to kill, maim, harm, destroy - Jews," said Moss, (D-Southfield). "The phrase has been co-opted as a battle cry for those who want to eradicate Jews who live in Israel from the Jordan River to the Mediterranean Sea."
"Those words are anti-Semitic to us," said Nessel. "And that's why we've asked her to stop using that kind of language. It's still painful - it still hurts us - and we're still asking her to stop."
Both Moss and Nessel and US Congresswoman Elissa Slotkin (D-7th District) took to Twitter over the weekend calling on Tlaib (D-12th District) to delete the posts.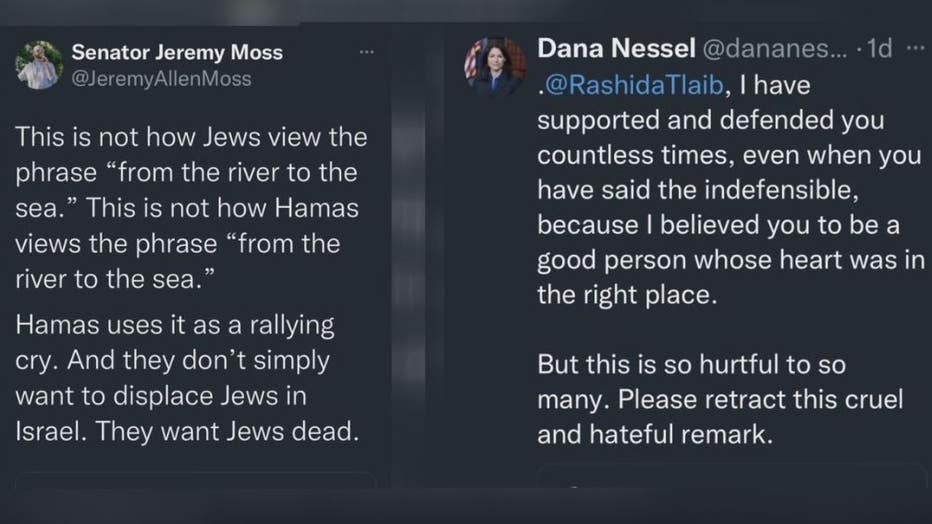 The censure push resulted in a dramatic vote on the House floor amid political tensions over the ongoing, deadly Israel-Hamas war. While the majority of both parties have historically stood firmly on the side of Israel, divisions have emerged in the Democratic Party about the American response.
Some on the left have criticized President Joe Biden's stance and urged him to put conditions on U.S. support for Israel as its aggressive military campaign drives the Palestinian death toll higher.
While the vote against Tlaib will take place against the extraordinary backdrop of the war, the push to censure her is part of a growing pattern in the House.
Censure had long been viewed as a punishment of last resort, just one step below expulsion and to be triggered only for the most egregious wrongdoing. But censure resolutions are quickly becoming routine in the chamber, often wielded in strikingly partisan ways.
Many Democrats and some Republicans who opposed censuring Tlaib cited free speech and warned of the precedent it would set.
"This resolution not only degrades our Constitution, but it cheapens the meaning of discipline in this body for people who actually commit wrongful actions like bribery, fraud, violent assault and so on," said Rep. Jamie Raskin, D-Md., who defended Tlaib against the resolution on the floor late Tuesday.
The Associated Press contributed to the report.
Below is a full transcript of Tlaib's remarks in response to being censured:
I'm the only Palestinian American serving in Congress, Mr. Chair, and my perspective is needed here now more than ever. I will not be silenced, and I will not let you distort my words.
Folks forget I'm from the city of Detroit, the most beautiful, Blackest city in the country, where I learned to speak truth to power, even if my voice shakes. Trying to bully or censure me won't work because this movement for a ceasefire is much bigger than one person. It's growing every single day.
There are millions of people across our country who oppose Netanyahu's extremism and are done watching our government support collective punishment and the use of white phosphorous bombs that melt flesh to the bone. They are done watching our government, Mr. Chair, supporting cutting off food, water, electricity, and medical care to millions of people with nowhere to go. Like me, Mr. Chair, they don't believe the answer to war crimes is more war crimes. The refusal of Congress and the Administration to acknowledge Palestinian lives is chipping away at my soul. Over 10,000 Palestinians have been killed—majority, majority were children.
But let me be clear: My criticism has always been of the Israeli government and Netanyahu's actions. It is important to separate people and governments, Mr. Chair. No government is beyond criticism. The idea that criticizing the government of Israel is antisemitic sets a very dangerous precedent, and it's being used to silence diverse voices speaking up for human rights across our nation.
Do you realize what it's like, Mr. Chair, for the people outside the chamber right now, listening in agony to their own government dehumanizing them? To hear the President of the United States, we helped elect, dispute death tolls, as we see video after video of dead children and parents under rubble?
Mr. Chair, do you know what it's like to fear rising hate crimes? To know how Islamophobia and antisemitism makes us all less safe? And worry that your own child might suffer the horrors that six-year-old Wadea did in Illinois.
I can't believe I have to say this, but Palestinian people are not disposable. We are human beings just like anyone else. My Sity, my grandmother, like all Palestinians, just wants to live her life with freedom and human dignity we all deserve. Speaking up to save lives, Mr. Chair, no matter of faith, no matter ethnicity, should not be controversial in this chamber. The cries of the Palestinian and Israeli children sound no different to me. What I don't understand is why the cries of Palestinians sound different to you all. We cannot lose our shared humanity, Mr. Chair.
I hear the voices of advocates in Israel, in Palestine, across America, and around the world for peace. I am inspired by the courageous survivors in Israel who have lost loved ones, yet are calling for a ceasefire and the end to violence. I am grateful to the people in the streets, for the peace movement, with countless Jewish Americans across the country, standing up and lovingly saying "Not in Our Name."
We will continue to call for a ceasefire, Mr. Chair, for the immediate delivery of critical humanitarian aid to Gaza, for the release of all hostages and those arbitrarily detained, and for every American to come home. We will continue to work for real lasting peace that upholds human rights and dignity of all people and centers peaceful coexistence between Israelis and Palestinians. And censures no one. And ensures that no person, no child has to suffer or live in fear of violence.
71% of Michigan Democrats support a ceasefire. So you can try to censure me, but you can't silence their voices. I urge my colleagues to join with the majority of Americans and support a ceasefire now to save as many lives as possible. President Biden must listen to and represent all of us, not just some of us. I urge the President to have the courage to call for a ceasefire and the end of killings.
Thank you. And I yield.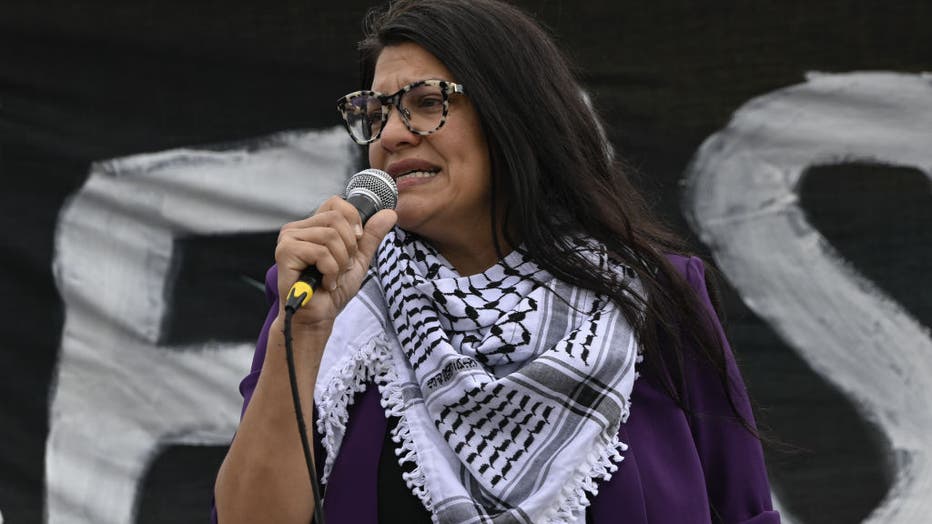 WASHINGTON DC, UNITED STATES - OCTOBER 18: Palestinian descent US Congresswoman Rashida Tlaib takes part in a demonstration organized with the attendance of multiple Jewish groups outside the Capitol Building in Washington DC, United States on Octobe