Hospitalizations in Los Angeles County remain elevated as COVID-19 cases among younger residents rise
LOS ANGELES - Los Angeles County health officials said Wednesday that despite the recent uptick in coronavirus cases and hospitalizations, the county has no plans of returning to another "Safer-at-Home" order, at least not this week.
"We are not planning to shut down this week," said county public health director, Dr. Barbara Ferrer.
RELATED: As cases mount, LA County warns coronavirus is far deadlier than the flu
Health officials said that younger residents continue to emerge as a growing percentage of new coronavirus infections as the number of hospitalizations linger among the highest of the pandemic.
The number of people hospitalized remained elevated at 2,207 Wednesday, down from 2,218 Tuesday and 2,232 on Monday, according to the county Department of Public Health. The number of hospitalizations has topped 2,200 for four straight days as of Wednesday.
Get breaking news alerts in the FOX 11 News app. Download for iOS or Android.
The county reported 3,266 new coronavirus cases Wednesday and 64 additional deaths, bringing the county's totals to 164,870 cases and 4,213 deaths.
County health officials once again noted a continuing trend of younger people testing positive for the virus. Cases have generally been trending younger since the county began lifting health restrictions, allowing the reopening of restaurants and — at least temporarily — bars, which have since closed again.
"The tragedy of what we are witnessing is that many of our younger residents are interacting with each other and not adhering to the recommended prevention measures, while our older residents continue to experience the results of this increased spread with the worst health outcomes, including death," Ferrer said in a statement.
"Our behaviors, including the wearing of face coverings and the adherence of physical distancing — simple acts of kindness and caring — can protect those we love," she said.
Some officials have attributed the rise in overall cases to increases in testing, but county officials said repeatedly that the metrics clearly demonstrate an increase in community spread of COVID-19.
"The seven-day average paints a clear picture of what's happened over the last few weeks," said Ferrer. "Which is that here in LA County, there is an increase in community spread."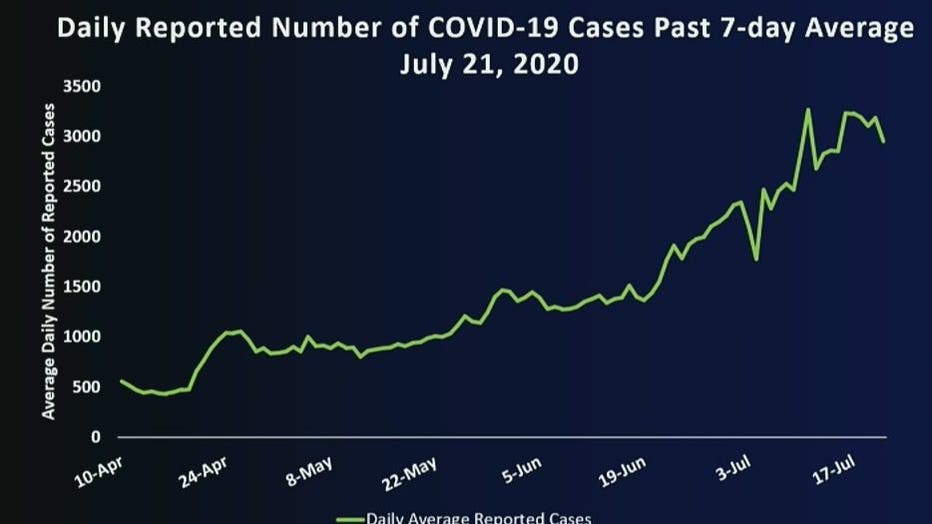 County officials said that COVID-19 deaths have gradually declined since the start of the pandemic, but health officials fear the deaths could spike again due to the influx of cases and hospitalizations the county has seen in recent weeks. 
"The county has reported, on average, about 30 deaths a day for about a month, but these deaths add up quickly," said Ferrer, as she reminded the public that these numbers represent real people whose lives can never be replaced.
Ferrer also noted that the presumption that young people might get COVID-19 but 'it doesn't matter because they will likely survive,' is entirely not true. She said while many have survived, the county has seen a drastic increase in hospitalizations among young people in recent weeks. She also said there have been cases of young people passing from the virus despite having no pre-existing medical conditions.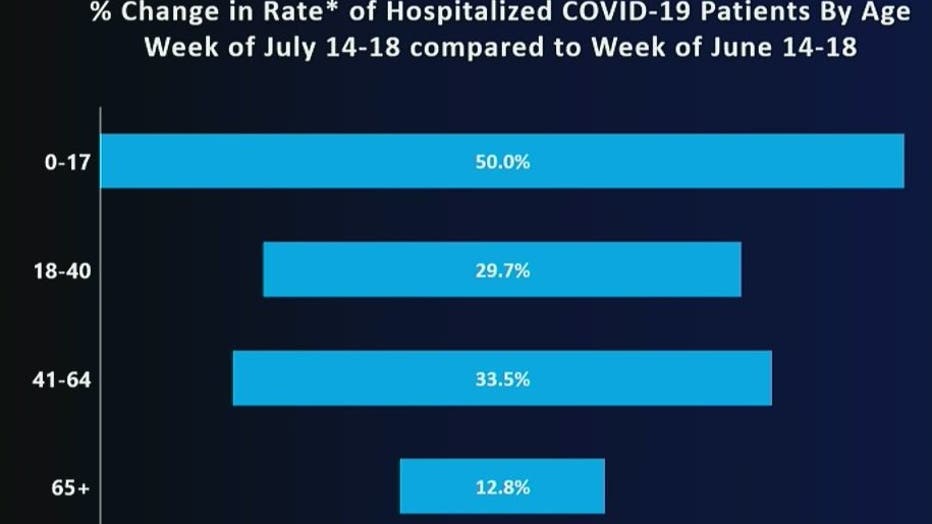 Hospitalizations of people under the age of 17 in the county jumped 50% from June to July, according to data released Wednesday by Public Health.
Governor Gavin Newsom on Wednesday said California once again reported its highest number of new coronavirus cases in a single day — 12,807. This as the number of coronavirus cases in the state surpassed New York's for the most in the nation, according to data from John's Hopkins University.
RELATED: California tops nation in positive COVID-19 cases as state breaks single-day record
Ferrer said Monday that the county is stepping up its contact-tracing efforts in hopes of containing the spread by identifying people who may have been exposed to the virus by confirmed patients. She said the county had allocated $10 million to outreach efforts to community organizations to ensure residents get connected with services and support if they have to isolate or quarantine.
The county has also begun offering $20 gift cards as an incentive for people who test positive for the virus to take part in the contact-tracing interview process, an hourlong process that Ferrer acknowledged can be stressful and requires people to look through their calendars and work schedules to identify their movements over recent weeks.
Ferrer said the county has also established a call center that coronavirus-positive patients can contact -- 833-540-0473 -- to be connected with available resources. The county is also starting to use text messaging to keep in touch with people under quarantine orders to check on their condition, she said.
Last week, the state health department released a four-tier priority system for COVID-19 testing. Those hospitalized with COVID-19 symptoms top the list along with "close contacts" of those with confirmed infections.
RELATED: Testing guidelines revamped in California as virus surges
Next in line are other people with symptoms and those living in high-risk facilities such as nursing homes, prisons and homeless shelters and health care and emergency service workers.
After that, the non-binding guidelines recommend testing for a wide variety of employees who have "frequent interactions with the public," such as employees in retail stores, manufacturing, restaurants, markets and convenience stores; teachers; agricultural jobs, including food processing plants and slaughterhouses; and public transport, including airports and rail services.
The county modified its health officer order last week to align with Gov. Gavin Newsom's rollback on California's reopening plan.
RELATED: Gov. Newsom calls for immediate re-closure of additional businesses in most of California
The order required the closure of the following sectors for all indoor operations at gyms and fitness centers, places of worship, indoor protests, offices for non-critical infrastructure sectors, personal care services, hair salons and barbershops as well as indoor malls.
However, on Monday, Newsom said that salons, barbershops and nail salons can now operate outside. The governor said such plans have been in the works for some time, but figuring out the logistics was more complex than other outdoor business operations because of the use of chemicals in some beauty services, like perms.
RELATED: Gov. Newsom says California hair and nail salons are allowed to operate outside
Bars, indoor dining at restaurants, indoor museums, indoor operations at zoos and aquariums, and cardrooms and satellite wagering facilities remain closed and all events and gatherings remain prohibited.
Recently, the Centers for Disease Control and Prevention expanded the list of symptoms of the virus. Congestion or runny nose, nausea, and diarrhea were added, joining the federal agency's list that already included fever or chills, cough, shortness of breath or difficulty breathing, fatigue, muscle or body aches, headache, new loss of taste or smell and sore throat.
RELATED: CDC adds another 3 new coronavirus symptoms to the list
Anyone who experiences these symptoms should call their healthcare provider or local public health department first before seeking medical care so that appropriate precautions can be taken.
On June 18, the California Department of Public Health issued new guidelines mandating face coverings in most situations while indoors, but also outside when a person cannot maintain six feet of social distance.
RELATED: California governor orders people to wear masks in most indoor spaces
There are exemptions that include children age two and younger because of the risk of suffocation, and for people with a variety of medical or psychological issues that make mask-wearing a hazard.
The use of face coverings is believed to help slow the spread of the virus and help people who may have the virus, without knowing it, from transmitting it to others.
The face coverings can be made at home from common materials at low cost, and the CDC has instructions on how to make them listed on its website. 
Public Health continues to remind the public that while a majority of those who have died from COVID-19 in the county had underlying health conditions, not everyone does. Residents are urged to continue to take the necessary precautions in order to protect themselves from the virus.
In LA County, approximately 92% of all residents who died from the virus had underlying health conditions. Ferrer said this emphasizes the county's need to protect those with underlying health conditions and urges those residents to stay at home as much as possible.
She said this includes, but is not limited to, individuals with asthma, those who have had cancer, anyone with chronic obstructive pulmonary disease, and anyone who is immune-compromised.
"If you're part of one of these groups, you need to take every precaution imaginable to protect yourself from COVID-19," said Ferrer.
Health officials say that social distancing remains our best defense against the virus, and all residents are instructed to abide by current measures in place across the state. Social distancing is not only about preventing the illness itself, but rather, slowing the rate at which people get sick. 
RELATED: Stay up to date on all coronavirus-related information 
The county's health department says that because of the COVID-19 pandemic and the risk of widespread transmission, everyone should always wear a face-covering securely over their nose and mouth and keep six feet apart from others not in their household when out and about.
Health officials say coronavirus infections are being spread by people who have no clear symptoms. In early April, the CDC changed how it was defining risk of infection for Americans, saying anyone may be a considered a carrier, whether they have symptoms or not.
RELATED: Asymptomatic coronavirus cases appear to be on the rise in China, report says
Public Health says that the best protection against COVID-19 is to wash your hands frequently, avoid touching your eyes, nose, and mouth with unwashed hands, self-isolate if you are sick, practice physical distancing and wear a clean face covering when in contact with others from outside your household.
Click here for a list of locations of confirmed coronavirus cases in Los Angeles County.
RELATED: CoronavirusNOW.com, FOX launches national hub for COVID-19 news and updates. 
CNS contributed to this report.