Homeless man suspected of intentionally starting fire in Azusa
AZUSA, Calif. - A homeless man suspected of intentionally starting the Ranch 2 Fire in Azusa is being sought by authorities on Saturday.  
Osmin Palencia, 36, is believed to have a connection to the Monrovia area and possibly a woman known as "Madonna Ortiz."
Azusa police say he is violent and has multiple active arrest warrants.
They posted a photo of Palencia on their social media account and urged anyone who sees him to use caution and contact their nearest law enforcement agency.  
Palencia's last known residence is an encampment in the Azusa Canyon Riverbed, police said.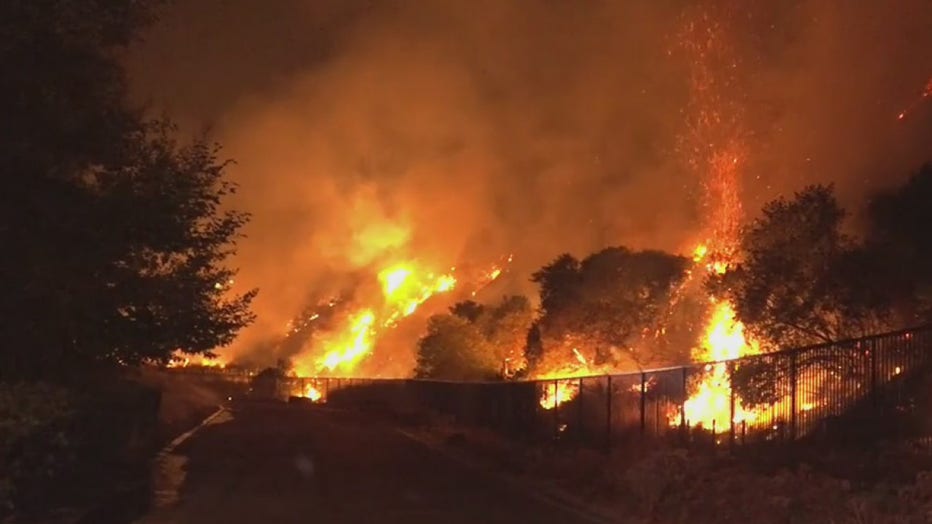 The fire had burned 2,500 acres and was just 3% contained as of Saturday morning.  
The Ranch 2 Fire was reported about 2:45 p.m. Thursday near North San Gabriel Canyon Road and North Ranch Road, according to the Azusa PoliceDepartment and Los Angeles County Fire Department, which called in a second-alarm response.  
Get breaking news alerts in the FOX 11 News app. Download for iOS or Android.
Mandatory evacuation orders were issued at 3:30 p.m. Thursday for Mountain Cove residents living south of Highwood Court, while those north of Highwood Court were asked to voluntarily evacuate.  
Shortly afterward, mandatory evacuation orders were extended to include Mountain Cove residents living north and west of Turning Leaf and Boulder Ridge.  
Police announced at around 11 p.m. Thursday that the evacuation order for Mountain Cove residents were lifted, but emergency vehicles would remain in the area for at least 72 hours to monitor the fire.  
"Firefighters did a really good job securing the perimeter of the fire closer to homes," Zepeda said. That is despite having an army of just 100firefighters and waiting for reinforcements.  
Early Saturday, firefighters were prioritizing the effort to secure the perimeter along Mount Cove and Highway 39. Power poles along Highway 39 were impacted, which prompted Southern California Edison to shut off power, impacting 300 residents.
Heavy smoke made it difficult to determine the northern and western progression of the fire late Friday, and the steep terrain coupled with the heavy smoke made access difficult for personnel.  
Northbound Highway 39 was closed at Sierra Madre Avenue and southbound Highway 39 was closed at East Fork Road.  
The Angeles National Forest changed its Forest Fire Danger Level fro mvery high to extreme and moved into full fire restrictions including prohibiting campfires in developed sites.
Cooking stoves, lanterns, and similar devices that use propane, white gas or similar fuels were prohibited.