Hermosa Beach to close beach, Strand this weekend to protect public health during COVID-19 crisis
HERMOSA BEACH, Calif. - The City of Hermosa Beach announced on Wednesday that it will be closing its beach and beachfront walkway, the Strand, at 6 a.m. Saturday, March 28, to protect public health and prevent a repetition of last weekend, when groups of people congregated on the beach and Strand, city officials said.
These gatherings increased the risk of spreading the novel coronavirus (COVID-19) because people were unable to maintain the required social distance of a least six feet from people who are not members of their household.
San Diego, Laguna Beach, and several other Southern California communities have also announced beach closures. Santa Monica, the City of Los Angeles and Manhattan Beach recently closed their beachfront parking lots.
Hermosa Beach is unique among the South Bay cities in owning its own beach and being able to proactively decide to close it.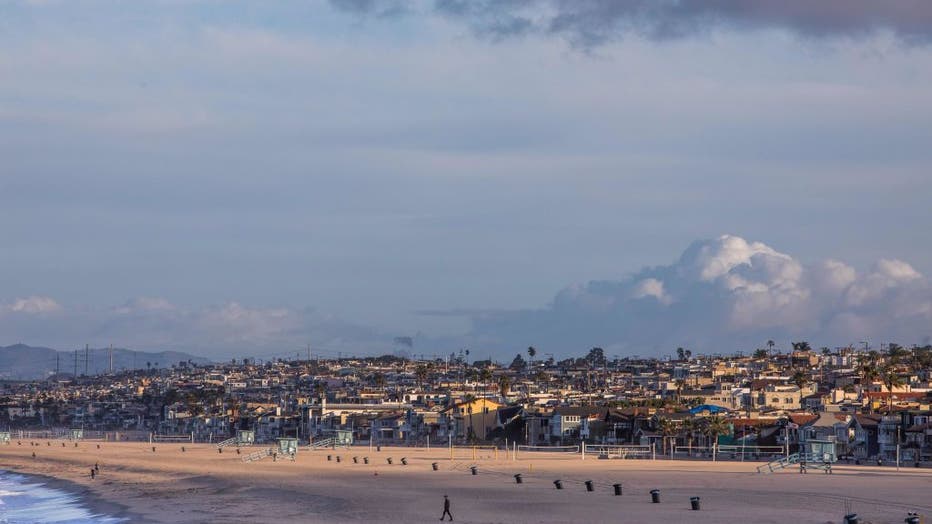 A man walks at Hermosa beach in Los Angeles, California on March 19, 2020. - The US government is now preparing for 18 months of the coronavirus pandemic, including multiple waves of illnesses. The ominous announcement comes after cases in the US spi
Los Angeles County owns the other South Bay beaches and will determine if those will be closed.
"We understand the desire to be outside and in nature is more powerful than ever and being out in nature is permitted if people avoid crowds and maintain six feet of distance from non-household members," said Hermosa Beach City Manager Suja Lowenthal."
While most people are staying home to slow the spread of COVID-19, the actions of a few who choose not to follow the rules can cost the lives of many. The sooner we close the beach and Strand, the better our chance to slow the spread of COVID-19," Lowenthal said.
RELATED: CoronavirusNOW.com, FOX launches national hub for COVID-19 news and updates. 
Public health experts have reported that the virus can spread fast in groups, and the virus can remain on surfaces like benches, railings and outdoor equipment for up to 72 hours.
Get breaking news alerts in the FOX 11 News app. Download for iOS or Android.
"The Governor has said that people can still take short walks and enjoy other activities as long as they avoid congregating with people who are not members of their own households," Lowenthal said.
Hermosa Beach's Downtown Parking Structure also will be closed to the public to discourage people from traveling to the beach and the Strand. Hermosa Beach's closures will go into effect at 6 a.m. Saturday and will remain in effect until the City has determined it is safe to re-open the beach, Strand and parking structure.
Lowenthal said the closures were needed to ensure compliance with Gov. Gavin Newsom's Stay at Home Order, which requires everyone to stay at home except for essential needs. Essential Needs include getting food and necessary health care, caring for a relative or friend or going to an essential job. The governor also allowed for short walks near a person's residence but has said people should not be congregating at public places, including California's beaches.
To implement the closures, City Staff will be erecting signs and barriers at access points to the beach and Strand over the next two days, and the Hermosa Beach Police Department will be patrolling the beach to enforce the closures.
"We are hoping for voluntary compliance, and police officers will initially be informing the public about the closures," said Hermosa Beach Interim Police Chief Michael McCrary. "But police officers will start writing citations and imposing fines, if needed, to keep the public safe. These closures apply to everyone because the beach belongs to all Californians, and the police cannot effectively enforce limited access for just local residents or select groups to use the beach and Strand," Lowenthal said.
Information regarding coronavirus is changing frequently, and the City of Hermosa Beach will provide the latest information about COVID-19 and links to resources on its website.   
To stay informed, please sign up for Hermosa Beach eNotifications, public safety alerts or follow the City on Facebook and Twitter.