Fairview Fire: Crews near full containment of Hemet blaze
HEMET, Calif. - The rain and tropical moisture produced by Tropical Storm Kay has helped firefighters make progress against a massive fire in Hemet, that has left two people dead and prompted evacuations for thousands of residents. 
Due to favorable overnight weather conditions, fire authorities said Sunday crews have reached 98% containment of the blaze mapped out at 28,307 acres. The fire destroyed more than a dozen buildings and threatened about 10,000 other structures.
The fire, dubbed the "Fairview Fire," broke out around 3:30 p.m. on Monday, Sept. 5 near the intersection of Fairview Avenue and Bautista Road. Cal Fire revealed the fire killed two people and injured a third person. At least seven homes were destroyed by the blaze, Cal Fire said.
RELATED: At least 2 people dead in Hemet fire
Officials said the two victims killed were in the same area and were trying to leave when they were overcome by the fire. On Wednesday morning, officials said the two victims, believed to be from the same family, were found dead in a vehicle in the 42400 block of Avery Canyon Road. Authorities have been unable to identify them because their injuries were so severe, however, they were identified by loved ones as Ian Compton and his adopted daughter, Mikayla. A GoFundMe was created to help with their funeral expenses.
On Thursday, fire authorities said the fire remains active to the east, south, and to the north. The east winds at sundown pushed the fire to the west and as the winds calmed, the eastern portions of the blaze continued to spread. 
The Hemet Unified School District closed schools on Tuesday and Wednesday due to the fire.
Additionally, a boil water notice has been issued by the Eastern Municipal Water District for residents on Polly Butte Road and east of 41477 Gibbel Road. Officials said they anticipate normal water service to return within the next 48 hours.
Riverside County has since proclaimed a local emergency in response to the fire, which could help make the county eligible for potential federal and state assistance and cost reimbursement. Additionally, the proclamation allows the county to more easily procure needed services and items to respond to the emergency. The proclamation must go to the Board of Supervisors within seven days for ratification, which will take place during the regularly scheduled board meeting on Sept. 13.
Videos from SkyFOX captured the moments when the fire extended into residential areas, destroying several homes.
EVACUATION ORDERS
Cal Fire announced an evacuation order has been issued for the following areas:
East of State Street
West of Fairview Avenue
South of Stetson Avenue
North of McSweeny Pkwy
East of State Street
South of Stetson Avenue
North of Cactus Valley Road
West of Fairview Avenue
East of State Street
South of Stetson Avenue
North of Cactus Valley Road
West of Fairview Avenue
Bautista Canyon Road
South of Stetson
North of Two Streams Fork Trailhead
Thomas Mountain Ridge South to Cactus Valley to Bautista Canyon to the forest boundary
South of Hwy 74 to Thomas Mountain West Mountain Center
North of Cactus Valley
Anza N Hwy 371 to Forest B. South of Cactus Valley Road
North of Minto Way
North of Red Mountain Road
West of United States Forest Service Boundary
East of Sage Road
West of Wilson Way
South of Hwy 74
East of Fairview Avenue
North of Stetson
South of Minto Way
South of Red Mountain Road
West of Stanley Road
North of Stanley Road
East of Sage Road
EVACUATION WARNING
East Red Mountain Road, and the Cahuilla mountain US forest service boundary
South of Minto Way
South of Red Mountain Road
West of Stanley Road
North of Stanley Road
West of Fairview, South of Hwy 74, North of Stetson, East of Soboba Street
East of Fairview, North of Hwy 74, South of San Jacinto River bed, East of Wilson Way
ROAD CLOSURES
Full road closure Highway 74 from Mountain Center to Borco Street 
EVACUATION CENTER
An evacuation center has been set up at Tahquitz High School at 4425 Titan Trail in Hemet.
The American Red Cross, Salvation Army and Hemet Unified School District are at the center assisting families impacted by the fire.
Small animals are allowed at this location. 
A large animal shelter has opened at the Perris Fair Grounds on Lake Perris Drive. A second animal shelter has opened at 581 South Grand Avenue in San Jacinto.
More information about active evacuation orders, warnings and open centers can be found on the Cal Fire website.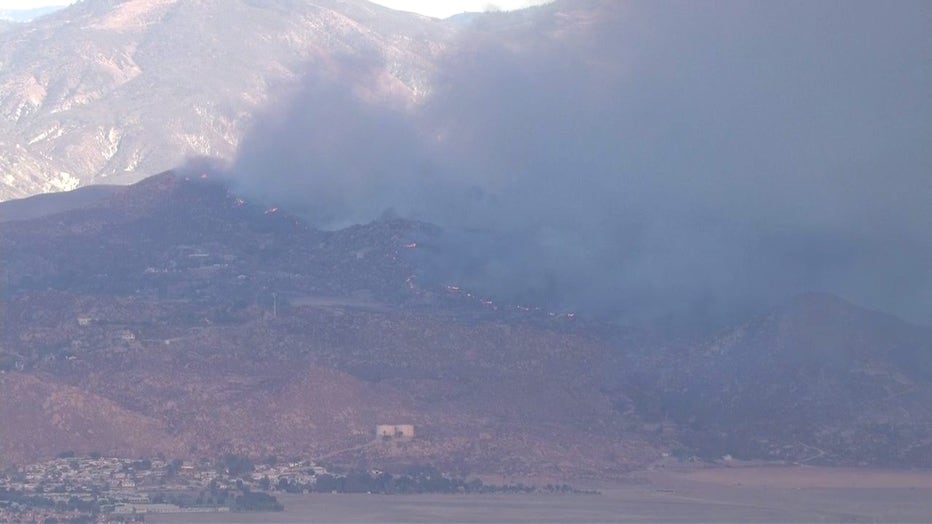 Officials did not say when the evacuation orders will be lifted.
The cause of the fire remains under investigation.
This is a developing story. Stay with FOX 11 News for the latest.