Health officials confirm 606 COVID-19 cases in Orange County with 10 deaths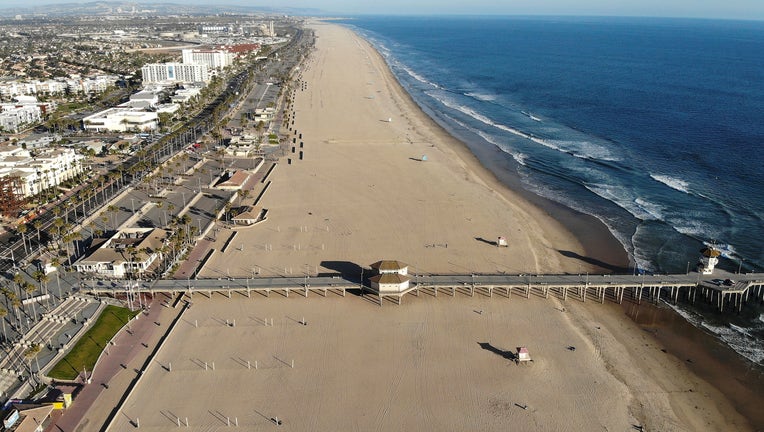 article
SANTA ANA, Calif. - The number of coronavirus cases in Orange County increased by 107 Wednesday, with three new deaths reported, bringing the number of cases to 606 and the death toll to 10.

Despite the increase in cases, the number of people hospitalized dropped from 94 to 67, while the number of patients in intensive care fell from 46 to 31.
RELATED: 502 coronavirus cases in Orange County with 7 deaths, health officials say
Of the county's cases, 39% are between the ages of 45 and 64, 17% are between 35 and 44, 16% are between 25 and 34, 11% are between 18 and 24, and 17% are over 65. One patient is described as a child, but an exact age and gender were not released.
Men make up 56% of the county's cases.
Of the patients who have died of complications from COVID-19, six were 65 or older, two were 25 to 34, one was 35 to 44, and one was 45 to 64. The first death in Orange County was reported last Tuesday. Five of the people who died were female, and five were male.
As of Wednesday, 7,271 people have been tested for COVID-19 in the county. Officials said they currently have enough tests for 1,286 people.
Orange County Supervisor Andrew Do on Tuesday implored residents to stay at home as much as possible to stem the tide of the pandemic.
RELATED: CoronavirusNOW.com, FOX launches national hub for COVID-19 news and updates. 
"Social distancing and isolation is no longer a debate," Do said.
Stay-at-home orders in other countries have lessened the spread of the disease, Do said, adding that Orange County residents might not know for weeks or months how effective their efforts have been. "But we can do more than hope for the best," he said.
Do noted he received multiple text messages and photos of large groups of people gathering last weekend in violation of the social distancing recommendations.
"I have even heard of people hosting coronavirus parties," Do said.
"Stop it. ... Don't make play dates. Don't go see your cousin. ... Just don't."
Do pointed out that "just because you don't feel sick doesn't mean you're not sick," referring to the incubation period of the virus before symptoms flare up.
Two new cases were reported in Orange County's jails on Monday, bringing the total number of men who have tested positive for coronavirus in custody to five, according to Sheriff Don Barnes.
Between Friday and Monday, about 130 inmates were released early to make room in the jail for an expected surge in cases. Forty-three of those inmates were designated at risk because of their age or health, and the rest had 10 days or less remaining on their sentences. Barnes said he would consider releasing inmates with up to 60 days remaining on their sentences if more beds are needed in the jails.
Another 162 inmates were released Tuesday, with 21 considered especially vulnerable because of age or health, sheriff's Cmdr. Joe Balicki told the Orange County Board of Supervisors.
Get breaking news alerts in the FOX 11 News app. Download for iOS or Android.
Since March 1, the jails are down 1,000 inmates, Balicki said.
According to sheriff's officials, that's the lowest the jail population has been in more than a decade.
Ten inmates are in "medical isolation" because they have symptoms associated with COVID-19, Balicki said, and 193 are in quarantine because they came into contact with others who tested positive.
Several staff members have been sent home with flu-like symptoms, but they have all tested negative for coronavirus, Balicki said.
Plaintiffs in a federal lawsuit alleging a variety of issues in Orange County's jails filed a motion in federal court Monday seeking to have more inmates released.
Officials with the city of Anaheim reported two employees at the homeless shelter run by the city and the Salvation Army tested positive for cornavirus on Monday, but none of the residents have tested positive so far.
Irvine has the most cases in the county with 57. Anaheim has 56 and Newport Beach has 54.
Other cities with the most cases include Huntington Beach with 39, Santa Ana with 36 and San Clemente with 30.
Orange County Public Health Director David Souleles said Tuesday there are enough hospital beds to handle patients because elective surgeries have been rescheduled, but that could change when an expected surge of patients happens.
It's possible the state may use the recently shuttered Fairview Developmental Center and the Orange County Fairgrounds to house patients, officials in Costa Mesa said. Last month, Costa Mesa officials vigorously resisted a plan to house COVID-19 patients from a cruise ship at Fairview.
The County Health Officer, Dr. Nichole Quick, said Monday the county is "still far from meeting the need" for personal protection equipment for first responders and healthcare professionals.
Quick discouraged visiting senior citizens, who are most at risk from coronavirus, in retirement communities and nursing homes in the county.