Group of drivers allegedly 'dooring' East Bay bicyclists, leaves 2 hospitalized
OAKLAND, Calif. - A number of bicyclists have reported being targeted by a group of drivers from Thursday through Saturday in Oakland, Emeryville, and Berkeley
The alleged attacks left two riders seriously injured, according to members of the East Bay Bike Party. 
Members and victims alleged the driver would speed alongside bicyclists with the right-side passengers opening their doors, trying to hit the bicyclists at driving speed. Such collisions are known as "dooring." At least 14 were targeted and eight actually hit, the cyclists said.
In two separate incidents, the suspects swerved directly into the bicyclist as opposed to using their side doors, the scyclistsaid. 
EB Bike Party said they aren't sure what the motive is, but called the events "terroristic in nature."
The Oakland Police Department said it is investigating a collision on Friday night where a cyclist was involved in a crash at Boyd Street and Forest Avenue in Rockridge. The bike rider refused medical treatment, police said Monday.
But there were other suspicious crashes, biking advocates say. In one instance, bicyclist Ellie Mead suffered a serious head injury and was allegedly not allowed by police to have a case opened for her and instead to "call back later," according to EB Bike Party.
Mead was attacked Saturday around 8 p.m. on Shafter Avenue and Forest Street by a passenger dooring her as she rode her bike. 
"I have eight stitches and this big gash in my forehead," said Mead during a Zoom interview. "There was this gray sedan. A passenger on the passenger side opened the door and slowed down the car. My bike rammed right into it. I fell to the ground. They drove away. As they drove away they were laughing," she said.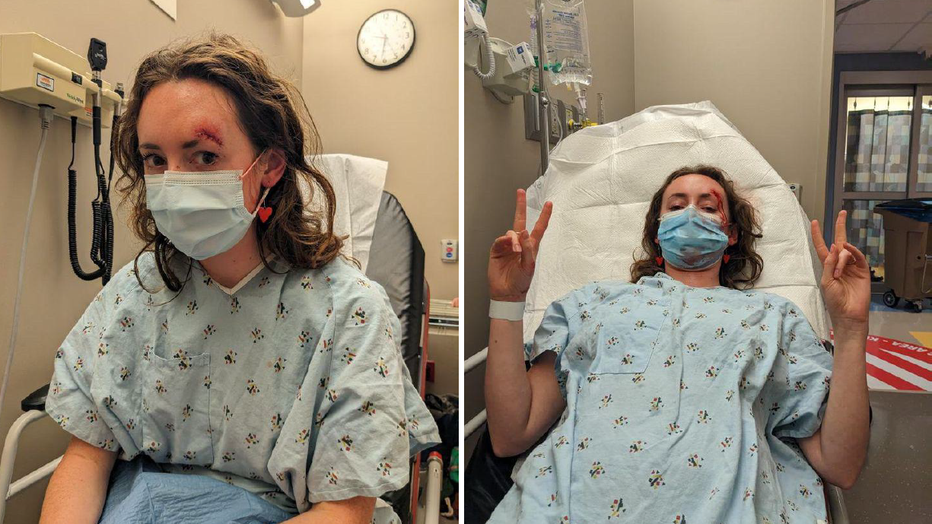 Around this time, other bikers said they were targeted. One was on Shafter Avenue traveling northeast approaching Hudson Street and was also hit by a car door; by 5366 Shafter Ave. The victim did not suffer any physical injuries, but his bike was damaged. 
"They bent his rim, but some amazing Samaritans gave us a loaner, so we could still ride. Don't have more details, unfortunately. Sad this happened to so many people," said a biker.
Many of the victims on Saturday night were in the Rockridge and Shafter neighborhoods and were on their way to the EB Bike Party at Rockridge BART.
A Nest doorbell video captured an attack on Shafter Avenue and Clifton Street, where the car intentionally sped up and chased after a victim traveling northbound, witnesses said.
Victims alleged there was a separate attack on Colby Street, "presumably in the southbound direction as the people on bikes rode towards Rockridge BART. 
The suspected car is described as a gray Hyundai Elantra Sedan bearing a California license plate 8EDX27. 
The victim being chased Saturday evening provided the same car description and provided a partial plate number of "8E."
One of the passengers was seen wearing a gray hoodie, the cyclists said. EB Bike Party counted a total of three suspects and said they were targeting bicyclists in Emeryville and Oakland between 5-8 p.m They were last seen turning right on 44th Street.
SEE MORE: 5 dead in hit-and-run including teens in Sacramento; driver facing multiple charges
On Thursday, a light blue SUV driving southbound on King Street between Alcatraz Avenue and 63rd Street hit another bicyclist, Watson Ladd, around 5:30 in Berkeley. Ladd reportedly suffered no physical injuries. He was riding his bike home from work when the attack occurred.
"This is very scary. It's criminal. I mean the people doing it should really think about the consequences here," said Ladd. "They pulled ahead after the roundabout. As they passed they opened their door smacking me in the shoulder and just drove off."
The incident was caught on a separate biker's helmet camera and in the 4000 block of Adeline St.
Ladd wants drivers to remember the road is shared and cyclists are vulnerable. 
"They opened the door knowing I was there. They deliberately tried to kill me," he said. 
On Friday night around 11:30 p.m., a blue hatchback attacked multiple people riding bikes on Grand Avenue between Park View Terrace and Lennox Avenue and hit at least three riders, according to a witness.
"I was on an e-bike with my friend on the back and right behind me was a girl on her own bike. The car drove right next [to] us fast and opened [their] door to hit us. After they drove off we saw it circle back up the street, so we tried to catch up and on the way found a guy who had also been hit. He said the car swerved into him and knocked him off his bike and he was injured," said a witness.
Suspect in bike rider attacks
Some commented on Reddit about the recent incidents and identified the car as a Hyundai Elantra GT, EB Bike Party said in a statement.
READ ALSO: $10K reward offered in violent death of beloved Oakland baker
"While biking home on [Grand] Avenue I was hit by a car, intentionally. The car also went on to brush a couple [of] other people ahead of me, and apparently, it had done a lap around the block and threatened the group of riders in front of me. I broke a bone in my foot and fractured my elbow; The car was a blue hatchback, I think Honda or Mazda," a poster said online.
On Saturday afternoon, EB Bike Party said a driver with at least one passenger of a Kia Soul attacked a man in southwest Berkeley. They said it was around 4:45 p.m. on Acton Street between Parker and Blake Streets when the car drove into the victim, then turned around to strike him again. In their second attempt, the victim had hidden behind a nearby pole. Berkeley police were contacted, the cycling group said. 
Berkeley police have not responded to KTVU's inquiries.
EB Bike Party said they believe the actions are being done with three separate and possibly stolen cars. The cars in question have been described as Hyundais or Kias, as they are easily and commonly stolen.
"Make no mistake — these were violent, targeted attacks with cars used as literal weapons. Last night was another frightening reminder that local governments must take immediate action to make the streets safe for everyone," EB Bike Party said in a statement. "We'll do everything we can to support [the victims] as they recover from the physical and emotional trauma inflicted on them…Let's turn the anger and sadness we're feeling right now into a force for change so we can make sure this never happens again."
KTVU reporters Elissa Harrington and Allie Rasmus contributed to this report.
O. Gloria Okorie is a digital reporter for KTVU. Email O. Gloria at o.gloria.okorie@fox.com or call her at 510-874-0175. Follow her on Twitter @ogloriaokorie.