Garcetti says he'll sign worker-retention ordinance after council passes it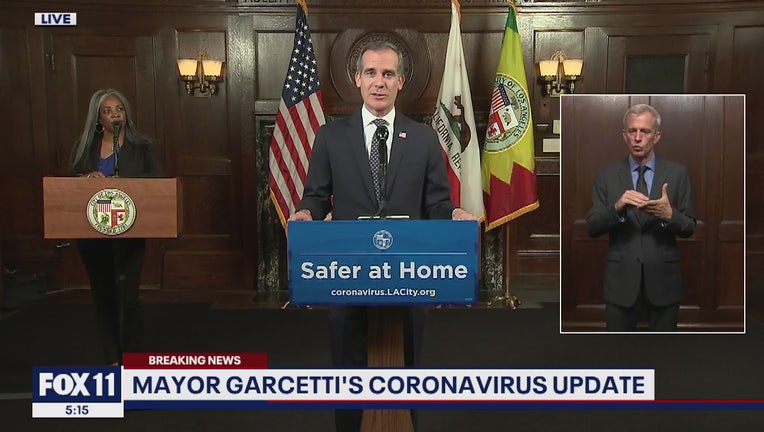 article
LOS ANGELES - Mayor Eric Garcetti voiced support on Tuesday for a City Council proposal designed to ensure hospitality, tourism and janitorial workers laid off due to the coronavirus pandemic regain their jobs after the emergency subsides.
"Right now, I know every single day, this crisis hurts more and more, financially, psychologically and in the health of our county," Garcetti said. "Hospitality and tourism industries as well as janitors and security guards who work in our office buildings have been hit among the hardest in this crisis."
Garcetti said getting those industry workers back to their jobs seems like "a long way off," but the city has to prepare now.
Under city right-of-recall and worker-retention programs, skilled workers with the most seniority with a company are prioritized to be rehired.
The City Council is slated to vote Wednesday on amendments to its right of recall and worker retention emergency laws. The council will also request guidance from the City Attorney's Office and city staff to develop a "Permanent Retention Ordinance" on the mandatory retention of hospitality, tourism and janitorial employees.
But what the city does in response to the pandemic may not be enough, at least financially, Garcetti said. He repeated his call for more federal assistance that he made during his State of the City address Sunday night.
The mayor said he was encouraged by actions the U.S. Senate took Tuesday to provide $480 billion nationally to small businesses, hospitals and to increase coronavirus testing. The House of Representatives is expected to consider the proposal later this week.
But Garcetti also said he was concerned about how certain people are being left behind, such as city employees and undocumented immigrants.
In a poke at President Donald Trump, who said immigration to the United States will be prohibited for 60 days amid the pandemic, Garcetti said no one should be excluded from federal assistance if they need it.
"I will never stop being loud about those that have been left behind, specifically our immigrant communities who still are excluded," the mayor said. "Families, because if they have one person without documents, can't get a (stimulus) check.
"Immigrants are not a threat to America," Garcetti said. "COVID-19 is. And let me be very loud and clear, let us not be distracted by what is at hand, and let us make sure everybody is included in our aid together."