Former St. Vincent Medical Center to be used as surge hospital in COVID-19 fight
SACRAMENTO, Calif. - As the anticipated peak of coronavirus cases nears, the former St. Vincent Medical Center located in the Westlake neighborhood of Los Angeles will serve as a surge hospital to accept transfer patients beginning April 13, state officials said. 
The hospital was named by Gov. Gavin Newsom Monday as one of the many state's new alternative care sites used in the fight against COVID-19.
RELATED: Gov. Newsom sticks with mid-May as anticipated COVID-19 peak
St. Vincent will provide 266 beds for COVID-19 transfer patients from other area hospitals, in partnership with Los Angeles County, Kaiser and Dignity Health.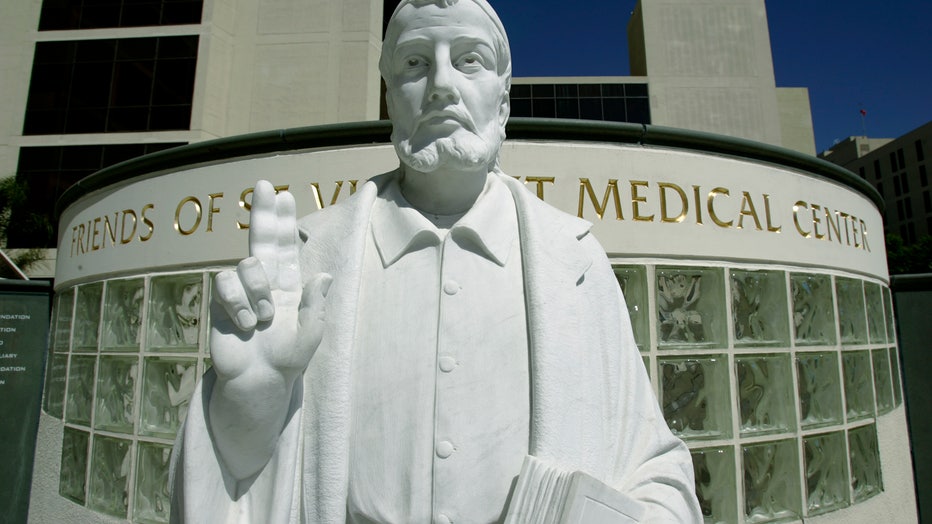 The statue of St. Vincent making a peace sign stands at the front of St. Vincent Medical Center in Los Angeles. It was announced today during a press conference the Liver Transplantation Program has been placed on temporary inactive status and that s
The state is leasing the hospital and will expand the city's ICU capacity. The former hospital will not accept walk-ups and will not have emergency room capabilities. 
The former home of the Sacramento Kings and the arena where NBA superstar LeBron James made his professional playing career will also be used as one of the many alternative care sites in California during the coronavirus pandemic. 
Newsom said the alternative care sites, like the one at Sleep Train Arena, will be utilized to increase beds for patients who have been discharged from state emergency rooms showing mild to moderate COVID-19 symptoms in order to free beds for patients displaying more severe symptoms at state hospitals. 
RELATED: CoronavirusNOW.com, FOX launches national hub for COVID-19 news and updates. 
On Monday, it was also announced California would send 500 ventilators to other states in need. 
 "California is stepping up to help our fellow Americans in New York and across the country who are being impacted the hardest right now by the COVID-19 pandemic," Newsom said. "We still have a long road ahead of us in the Golden State – and we're aggressively preparing for a surge – but we can't turn our back on Americans whose lives depend on having a ventilator now. We're meeting this moment with compassion."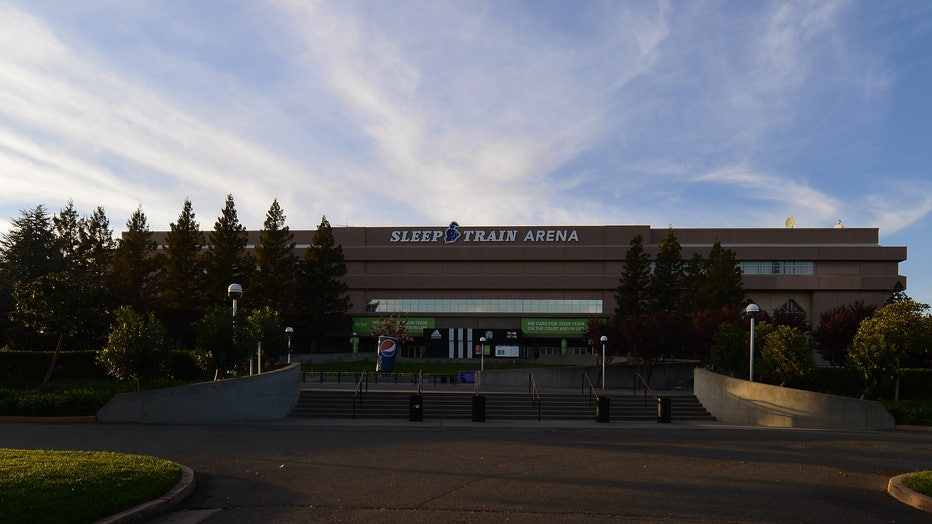 SACRAMENTO, CA - NOVEMBER 13: An exterior general view of Steep Train Arena prior to the start of an NBA basketball game between the Brooklyn Nets and Sacramento Kings at Sleep Train Arena on November 13, 2013 in Sacramento, California. NOTE TO USER:
Sleep Train Arena will be able to provide 400 beds.
"We here at the Sacramento Kings have always believed that it's bigger than basketball and if we can use our platforms to impact the world in a positive way and make a difference, then that's what we're going to do," said Sacramento Kings owner Vivek Ranadive.
The California governor said he is working with partners at a local level to provide 20,000 beds for alternative care sites to focus on building capacity and assets in and around emergency departments and operating rooms with existing staff.
The other alternative care sites are set to begin accepting patients on April 20.
Other alternative care sites include Northern California's Seton Hospital, which will provide 220 beds, Fairview Developmental Center with 520 beds, Porterville Developmental Center with 246 beds, and hotel rooms in San Carlos.
Other sites in progress include locations in Shasta, Butte, and San Diego counties.
It is part of Newsom's ongoing preparation plan as he anticipates the peak of COVID-19 cases into mid-May.
By Monday afternoon, there were 14,336 positive COVID-19 cases in California. Of those, 2,509 were hospitalized and 1,085 were in ICU. In addition, there have been 343 deaths in connection to the virus.
The Coronavirus Task Force urged Americans to stay home and avoid going to grocery stores and pharmacies over the next two weeks. 
RELATED: White House Coronavirus Task Force recommends avoiding grocery stores, pharmacies over next two weeks
Get breaking news alerts in the FOX 11 News app. Download for iOS or Android.