Co-owner of Filipino restaurant in Oakland shot dead in front of son
OAKLAND, Calif. - Loved ones are in shock after the co-owner of a popular Filipino restaurant in Oakland was gunned down in front of his 11-year-old son.
Jun Anabo, 39, was shot outside his restaurant, Lucky Three Seven, at the corner of Fruitvale and Brookdale avenues at about 9:40 p.m. Wednesday.
"He see everything that happened," friend Jose Ortiz said of Anabo's son. "He see his dad going down."
Another friend, Marcus Gamez, said he heard six shots, came outside to find Anabo on the ground and his son screaming. 
Anabo died at Highland Hospital in Oakland, where his son heard the news. 
"He collapsed," Ortiz said. "He said, "Why somebody hurt my dad when he loved people?" 
Groups of people on Thursday came to place flowers and hug each other, mourning a friend and community leader who was known for giving away food to those in need and staying behind in the kitchen even though he co-owned the colorful restaurant that offered traditional Filipino dishes like chicken adobe and lumpia.
Lucky Three Seven posted on social media posts that the restaurant would be closed indefininitely: "We find ourselves lost without him." 
Oakland police would only say they arrived to the scene to find a victim suffering from gunshot wounds and that Falck paramedics tried to save him, but were unsuccessful. Police have not provided any suspect information or a motive. Anabo is the 43rd homicide investigated by Oakland police this year.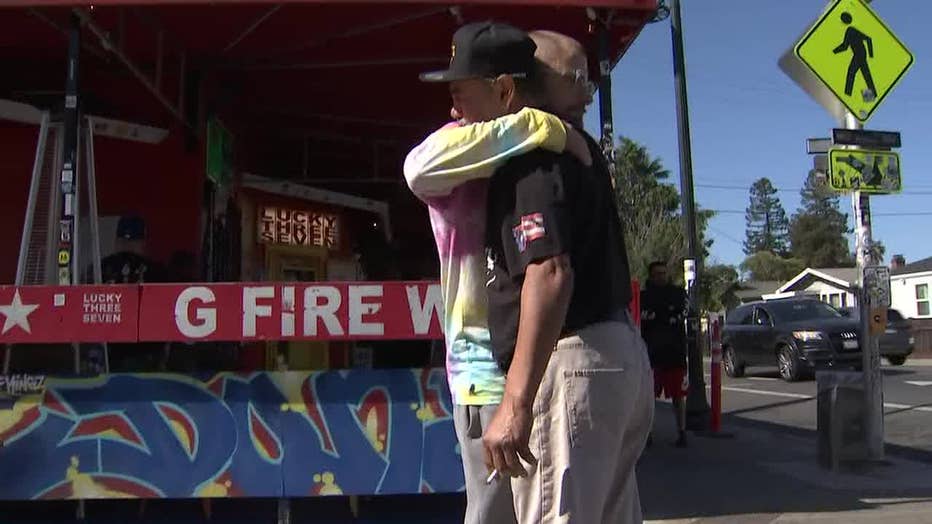 Two men hug outside Lucky Three Seven, where the co-owner was killed on May 18, 2022. 
But KTVU has learned that investigators are looking into whether the shooting had to do with Anabo buying a truck for a relative, only to learn that the vehicle was stolen. The victim may have been trying to get his $15,000 back. 
Anabo and his son were to have been the focus of a party next week celebrating Anabo turning 40 and his son graduating from the 5th grade.  
"He cared a lot about his family," his girlfriend Malinda Bun said through tears. "He made sure everyone was good, even if he wasn't. He put a lot of people first."
Oakland City Councilmember Noel Gallo, who along with Ortiz had helped Anabo and his family start the restaurant, said, "Not only were they committed to their family, they were committed to their neighborhood, their culture."
Hundreds of people wrote notes to the restaurant mourning Anabo's loss.
"This is such a BIG LOSS for Lucky Three Seven Family JUN was a cool guy, who's smile was so delightful to encounter any time you come to the restaurant, my Deepest Condolences n Sympathy TO the FAMILY in the loss of your LOVE ONE. My PRAYERS go out to the FAMILY," Vatima Jomel Riley Ghartey wrote on the restaurant's Facebook page. 
Other customers described him as being generous and welcoming. 
David Robles wrote that when he was giving COVID vaccines, Anabo brought wings to the Native American Center. 
The Lumpia Company, another popular Filipino restaurant in Oakland, wrote on Instagram, "Prayers for our fam @luckythreeseven."
As for the future of the restaurant, according to social media, employees wrote: "We are praying, crying, and hoping for any light."
Anyone who has information abut Anabo's death should contact the Oakland Police Homicide Section at (510) 238-3821.
KTVU's Jacy Lockhart contributed to this report.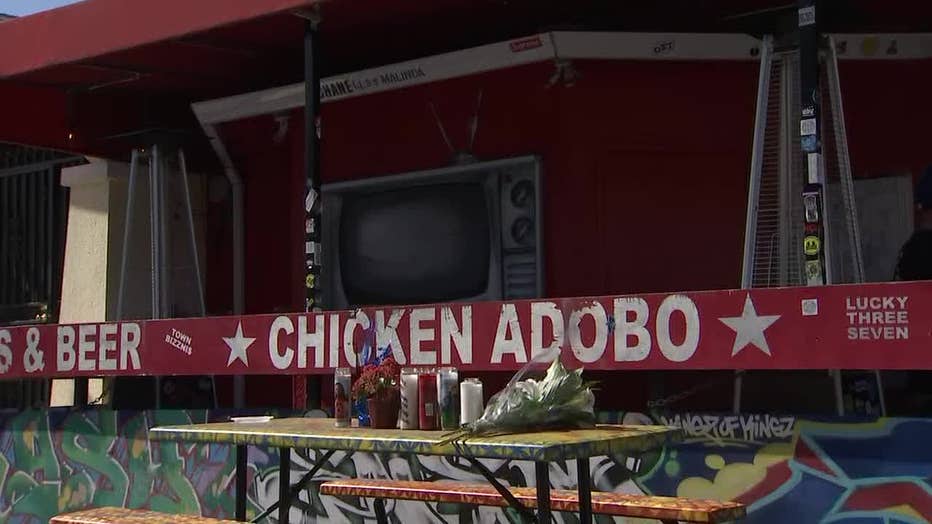 The co-owner of Lucky Three Seven was killed in Oakland. May 18, 2022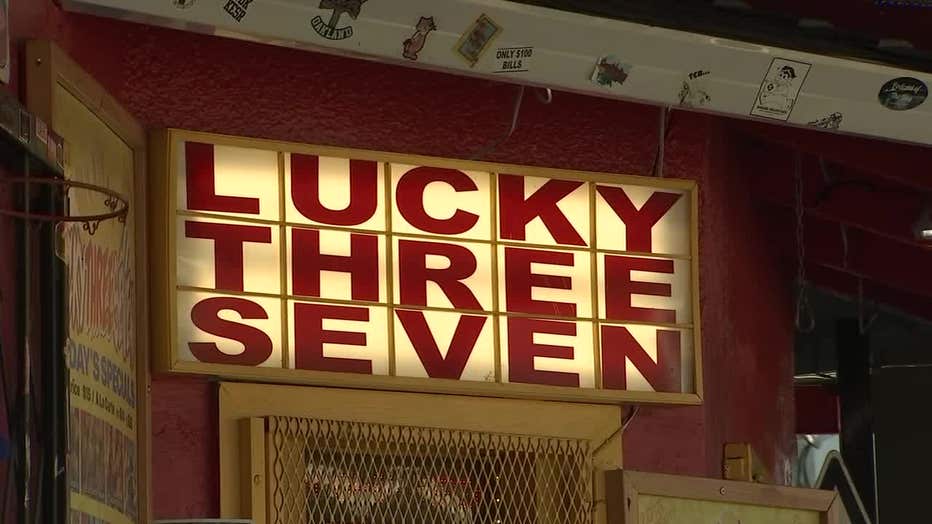 Lucky Three Seven restaurant in Fruitvale.