Feds: Stop making marijuana edibles that look like kids' snacks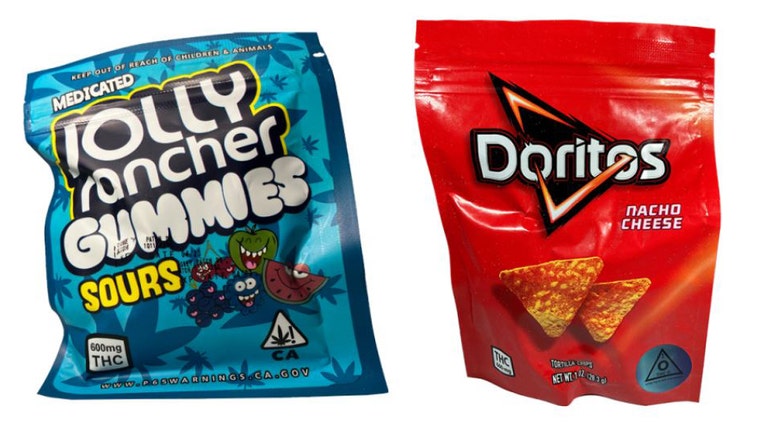 article
The federal government issued a letter to companies that sell marijuana edibles telling them the packaging on their products are identical to kids' snacks.
The Federal Trade Commission and the Food and Drug Administration sent a letter Wednesday to six companies selling marijuana edible goods containing Delta-8 tetrahydrocannabinol also known as (THC) in packaging that is very similar to snacks and candy kids eat, including Doritos, Cheetos, and Nerds candy.
A letter was provided to Delta Munchies, LLC; Exclusive Hemp Farms; North Carolina Hemp Exchange, LLC; Dr. Smoke, LLC; Nikte's Wholesale, LLC and The Haunted Vapor Room.
RELATED: Mom arrested after daughter allegedly brings THC-laced candy to school and shares it with classmates
Delta-8 THC is a psychoactive substance found in the Cannabis sativa plant and is one of more than 100 cannabinoids produced by the cannabis plant, according to the FDA. 
"Marketing edible THC products that can be easily mistaken by children for regular foods is reckless and illegal," Samuel Levine, director of the FTC's Bureau of Consumer Protection, said in an agency release. "Companies must ensure that their products are marketed safely and responsibly, especially when it comes to protecting the well-being of children."
Photo of Delta Munchies and DopeRope bites (Federal Trade Commission)
An example in the letter by the FTC says Dr. Smoke, LLC sells THC-infused Doritos that are marketed in packaging that is nearly the same as that of Doritos Nacho chips, including using the same red background, and the Doritos name and logo, the release notes. 
RELATED: CBD vs. THC: What's the difference?
Dr. Smoke also sells THC-infused Cheetos in a bag identical to the Cheetos Crunchy Flamin' Hot Cheese flavored snacks, including the use of the Chester Cheetah mascot, the letter states.  
According to the letter, the advertising by the companies of these products could violate the FTC Act, which bans what the agency calls unfair or deceptive acts "in or affecting commerce, including practices that present unwarranted health or safety risks." 
FTC officials gave the six companies 15 days to call them to share specific actions they will take to address the agency's concerns. 
Additionally, the letter offers guidance for parents and outlines ways to protect their children from getting their hands on the edibles, including keeping cannabis edibles separate from other foods in the original packaging, child-proofing cabinets and drawers when storing these products, and closing the packaging after each use, and storing it in a safe location away from kids.
This story was reported from Washington, D.C.