Fans react to the Celebration of Life memorial for Kobe and Gianna Bryant
LOS ANGELES - Longtime Lakers fan Reggie Turner stands in front of Staples Center waiting to hear about tickets for the memorial of Kobe and Gianna Bryant. 
"I'm hoping it's going to be a celebration of life ... I mean... which it should be. We know that he's gone and there's nothing we can do about that," Turner told FOX 11. 
 
Turner, who is from Carson, says he wants to attend the February 24th event… which we now know has a ticket price.
Prices range from $224 to $24.02 for seats in the upper deck. Proceeds from ticket sales will benefit the Mamba & Mambacita Sports Foundation.
RELATED: Mamba Sports Foundation renamed in honor of Gigi Bryant
The number 2 is in honor of Gigi's number and 24 is Kobe's number… the public memorial service will be on 2/24 - February 24th.
 
 "I would pay anything to get into this," said Lakers fan Jessica Silva.
She was shocked at Kobe's death. So was Turner who still mourns. He says Kobe is such a huge figure in Los Angeles. But, Kobe was a huge figure around the country and the world.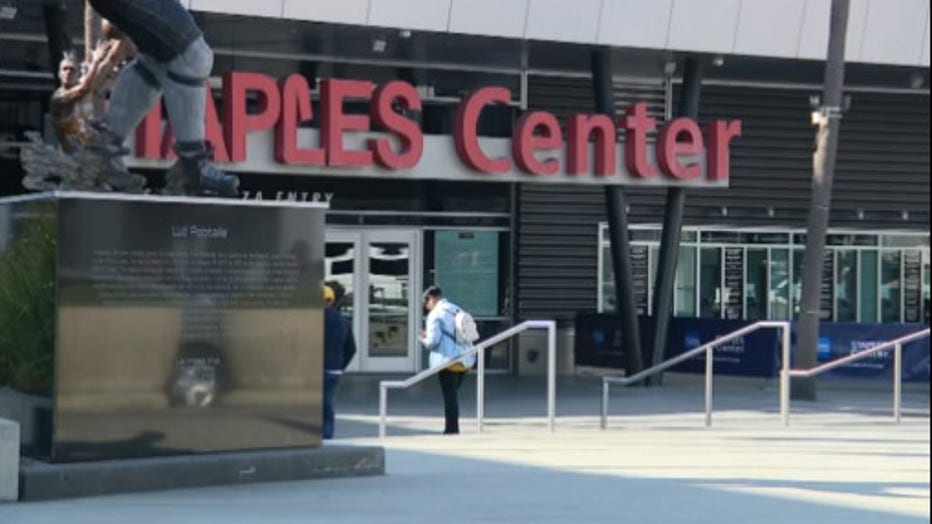 We met Kobe fans outside Staples visiting from Maui, San Jose, Mississippi, Florida... all wanting to be close to the "House Kobe Built" and the place where he will be memorialized.
RELATED: News related to the life and death of NBA legend Kobe Bryant
When he watches the service on TV in his hometown of San Jose Luan Tran Le says there will be a lot of tears, "but, of course, we want to pay our respects for the legend."
 
"I'm going to be thinking about my kid... because I have an 8 year old whose into a lot of sports," said Juliet Calpo from Maui.
"He's really loved. That's what I'll be thinking about... and, his sweet family and all the other people as well that were killed," said Jasmine Mitchell from Mississippi. 
So... how do you get tickets? First you have to register and that's now open online at Ticketmaster until Monday night at 10 p.m. Once you register you'll get an email that's expected to arrive in your inbox Tuesday night... It's supposed to tell you what to do next when ticket sales actually open on Wednesday, February 19th. 
It's expected there will be singers and several entertainers. None of that has been announced yet, but at least for Reggie Turner, "If I get an opportunity - whoever is around me... we're going to rejoice and just thank God for allowing us to have him for 40 years."
Get breaking news alerts in the FOX 11 News app. Download for iOS or Android.