Family of man killed by stolen Amazon truck sues company
LOS ANGELES - The family of 57-year-old Jose Rangel is suing Amazon after the beloved South LA father and street vendor was struck and killed by a man in a stolen Amazon truck. 
Rangel was killed on February 17, 2022 when a suspect, identified by police as 38-year-old Cristian Ramos Sanchez, got into an unattended Amazon truck and took off. Police say Sanchez was driving in the area of East 48th Street and South Main Street when he lost control and slammed into the street vendor and three people on the sidewalk. Rangel was pinned against a building by the truck and died at the scene.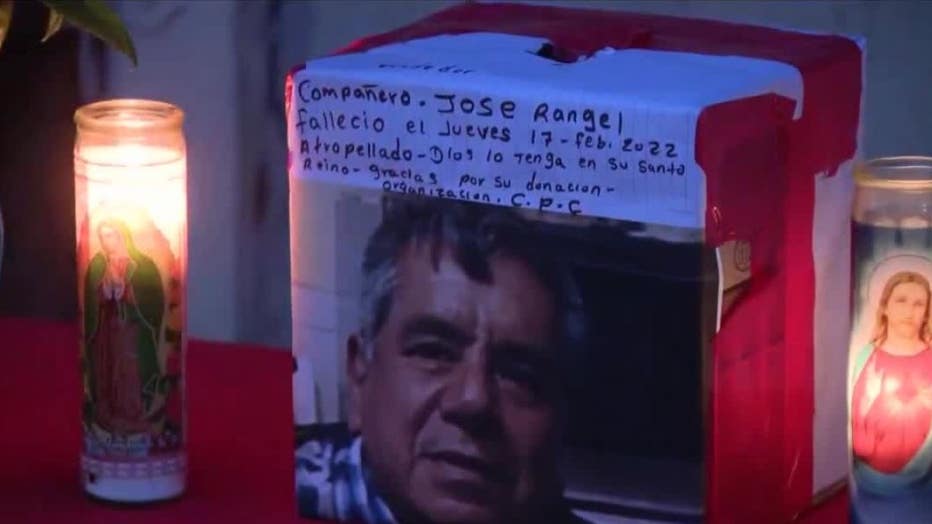 Sanchez took a plea deal and was sentenced to nine years in prison. 
Rangel's family has filled a lawsuit against Amazon, saying the company was negligent in leaving the truck running, unlocked and unattended. They say Amazon should bear some blame for his death. 
"Our family is suffering. My mom, it's very difficult for her. My brother, he's not the same person," said Maria Guajardo, the victim's daughter. 
She said her father was a wonderful man who didn't deserve to die this way and wants Amazon to take some responsibility. 
Amazon said while the company logo could be seen on the uniform and on the truck, Sanchez was never an Amazon employee and therefore the company bears no responsibility. 
According to the lawsuit, filled by Dordulian Law Group, Amazon allegedly creates and implements policies that impose strict deadlines on workers and drivers. 
"Publicly available information has revealed that delivery drivers go as far as urinating in bottles to keep up with the pace of work necessary to meet AMAZON's deadlines. Such deadlines impose undue pressure on drivers, like HENRIQUEZ to sacrifice safety for the sake of meeting deadlines. Thereby, putting profits over safety," the lawsuit stated. 
Amazon has yet to release a full statement.