Ex-Waffle House employee recalls fighting 'extremely drunk' customer in viral brawl: 'Adrenaline and instinct'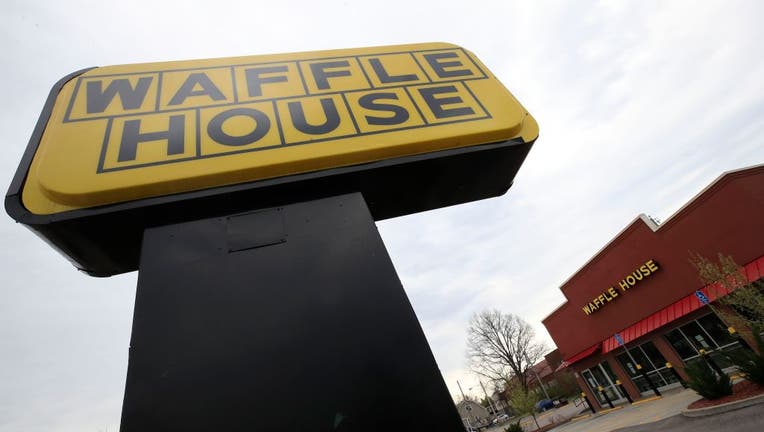 article
A former Austin, Texas Waffle House employee, who became a viral online sensation after coolly deflecting a chair that was chucked at her during a melee, told Fox News Tuesday that her superiors rewarded her by writing her up for property damage, and she has since been blacklisted by the restaurant chain.
"Waffle House" was trending on Twitter last week after a video of a female employee catching and slapping down a chair during a brawl at one of the chain's restaurants in Austin, Texas surfaced online.
Halie Booth, dubbed the "Waffle House Wendy" for her quick reflexes and impressive deflection, spoke out in an interview on "Tucker Carlson Tonight," Tuesday, offering her side of what went on that night and how she was treated by the chain in the months following the incident.
TWITTER ERUPTS OVER VIRAL VIDEO OF WAFFLE HOUSE EMPLOYEE DEFLECTING A THRWN CHAIR: 'A NEW SUPERHERO'
In a video posted online, Booth said that the brawl began when a large group walked in and sat in a section of the restaurant that was closed off. After being told that the section was closed off, the customers continued to sit there and started demanding service, she explained.
As the only cook on site that night, Booth was struggling to keep up with the influx of orders coming in, she told Carlson. The group, she said, appeared to be "extremely drunk" and rowdy.
"All I know is they were extremely drunk, or at least intoxicated, and it was a slow night," she recalled. "I was the only cook. And there was about 30-40 people in there that I had to cook for by myself. It was moving slow. Drunk and impatience creates a volatile situation."
Booth said the girls started "hollering" and demanded employees take their orders, and after a while, she told the customers they could leave. However, they chose not to leave, she explained, and instead demanded that she, "the White girl," cook their food. As the demands continued, the tensions grew with one girl wearing leopard patterned clothing throwing silverware, kicking plates and kicking food, Booth said.
TEXAS WAFFLE HOUSE FORMER EMPLOYEE GIVES HER SIDE OF THE BRAWL THAT WENT VIRAL
After Booth threw the sugar shaker at the woman, the customer climbed onto the counter and fell onto the other side. She was then removed from the cooking area, at which point she grabbed a chair and threw it at Booth. That is when Booth calmly caught the chair with one hand, smacking it down to the ground.
"It all happened so fast. It was mainly a pure rush of adrenaline and instinct that had me going," Booth told Carlson.
Instead of applauding her composure at the moment, Booth said her boss came in to watch the security footage and wrote her up for throwing the sugar shaker, which she said amounted to "destruction of property."
"I actually didn't get any bonus of it. The only thing that I did get from the fight was a write-up for breaking the sugar shaker. You know, telling them – them telling me, you know, hey, we're going to write you up for the sugar shaker, but you did a good job protecting the store, making sure that you were all right," she said.
However, when Booth tried to get a job at a Waffle House restaurant in a different state two months later, she was told she had been blacklisted from the restaurant chain, she told Carlson.
CLICK HERE TO GET THE FOX NEWS APP
"Two months after the fight, my relationship was getting more serious, so I moved out of the city. They had told me I'm always welcome back at that store, you know, we're glad to have you back, you always have a place here. And about six months later, when I went to apply at another Waffle House in North Carolina, I found out that I was blacklisted and on the do not hire list."
Still, Booth told "Tucker Carlson Tonight" she did not believe the brawl had anything to do with her alleged blacklisting but was more of a "if we can't have you, no one can" scenario. She has started a new Twitter page called "The Real WWendy," or Waffle House Wendy, under the user @WitchDragon5 to discuss the experience.
A GoFundMe page was also set up for her, quickly surpassing its $5,000 goal for Booth to use "however she wants."
She said she chose not to press charges against the woman who assaulted her with the chair.
Fox News' Greg Whener contributed to this report. Read more of this story from FOX News.