East LA monument "Wall Las Memorias" honors community members lost to AIDS
LOS ANGELES (FOX 11) - There is a quiet celebration going on in East Los Angeles this month.
It's the 25th Anniversary of the "Wall Las Memorias" which honors members of the community who died of AIDS. 
"I have like 12 names on the wall, most were friends, few were partners. Family members other friends here," said Ron Carrillo. "I just thought what better place than the neighborhood we grew up in."
When Ron Carrillo seeks comfort and reflection, he comes here to the wall of Las Memorias in East LA. 
It's a solemn place. A wall with the names of people mostly from this community, who have died from AIDS complications. 
Ron is HIV positive. He was diagnosed in 1989 and sometimes asks himself...why was he spared?  Over the years, he's experienced profound loss.
"There was a time in the 90's when I was going to a memorial service almost every month," Carrillo added.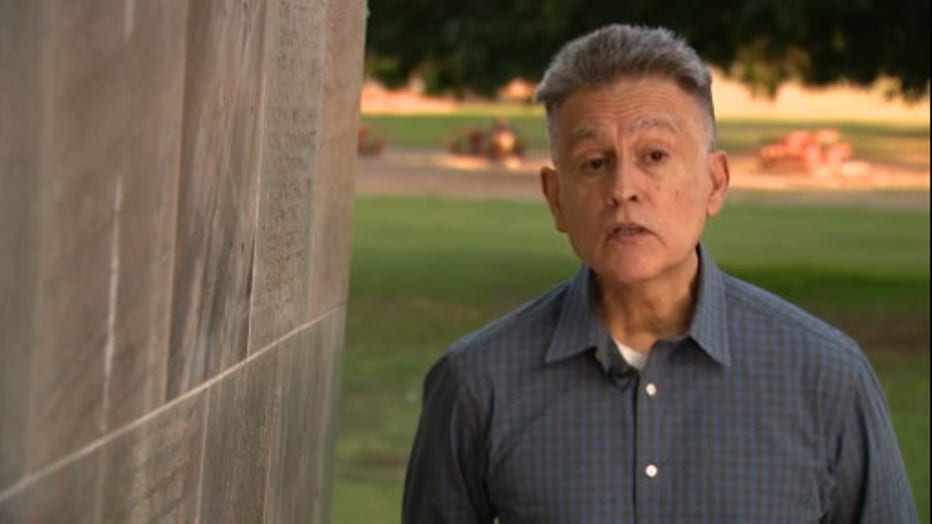 The wall Las Memorias was the vision of Richard Zaldivar a longtime community activist. His quest began in 1993 when he realized the gay Latino community was being left out of the national discussion of HIV/AIDS.
He worked tirelessly to fill that void and ten years later, the Wall was dedicated. New names are added year after year, during a moving ceremony on World AIDS Day. It's an event FOX 11's Laura Diaz was honored to emcee year after year.
"Biggest challenge in the early days was that people weren't comfortable talking about AIDS.
On the other hand the community was ready to talk about HIV/AIDS and they wanted a communication tool," Zaldivar told Diaz. 
Richard's mission is about more than a monument, he runs a community outreach program, which deals with everything from HIV testing to substance abuse programs. But it's the names on the wall that make the personal connection with the community. 
 "I run into workers at Dodger Stadium who say my dad's name is on the monument. They remember their lost loved ones," he added. 
Now with the support of many boosters, including elected officials Gil Cedillo and Hilda Solis the wall is being renovated. It's the next step in turning the wall into what Richard calls an eternal place.